About YDS
Building on its centuries-old traditions, Yale Divinity School fulfills a critical role preparing leaders for service in church and world at a time of dramatic shifts in the theological landscape. The YDS student body represents a wide range of cultures, ethnicities and faith communities from around the world, taught by faculty eager to accept the educational challenges of an increasingly globalized environment. Outside the classroom, but equally important to the YDS experience, are the deeply inspirational daily chapel services reflecting the great variety of worship traditions that have evolved over the millennia.
Following in the footsteps of such Yale theological luminaries and preachers as Jonathan Edwards, H. Richard Niebuhr and William Sloane Coffin, Jr., YDS students may prepare for a life of ordained or lay ministry by enrolling in one of three degree-granting programs: Master of Divinity (M.DIV.), Master of Arts in Religion (M.A.R.), and Master of Sacred Theology (S.T.M.).
In this ecumenical, nonsectarian setting within the broader Yale University community, the Divinity School brings together faith and intellect in service to its mission: "To foster the knowledge and love of God through critical engagement with the traditions of the Christian churches in the context of the contemporary world."
---
History, Mission, and Nature:
---
Nature of the Divinity School
Yale Divinity School is interdenominational and completely nonsectarian. The faculty is drawn from the major Christian traditions as well as other world religions. Students represent several dozen denominations and faith groups. Instruction is provided in the history, doctrines, and polity of all the major church bodies.
Since 1971, Berkeley Divinity School at Yale, an Episcopal seminary, has been affiliated with YDS. Berkeley Divinity School retains its identity through its board of trustees, its dean, and the Berkeley Center located at 363 St. Ronan Street. Episcopal students come under the care of the dean of Berkeley Divinity School for spiritual formation and counseling but are not otherwise differentiated from other YDS students. As a result of the affiliation, there is one integrated student body and faculty.
The Institute of Sacred Music was founded in 1973. It is affiliated with both the School of Music and YDS.
YDS offers programs of study leading to the degrees of Master of Divinity (M.Div.), Master of Arts in Religion (M.A.R.), and Master of Sacred Theology (S.T.M.). Programs for the degree of Doctor of Philosophy (Ph.D.) are offered by the Department of Religious Studies in the Graduate School of Arts and Sciences.
A number of YDS faculty hold joint appointments in the Department of Religious Studies, others participate in the doctoral program, and some Religious Studies faculty offer courses at YDS.
YDS is a graduate professional school of Yale University, which also includes Yale College, the Graduate School of Arts and Sciences, and the schools of Architecture, Art, Drama, Engineering & Applied Science, Forestry & Environmental Studies, Law, Management, Medicine, Music, Nursing, and Public Health.
History of the Divinity School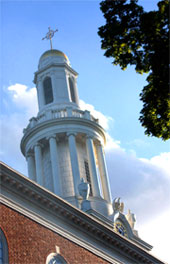 Training for the Christian ministry was a main purpose in the founding of Yale College in 1701. As expressed in its original charter, it was to be a school "wherein Youth may be instructed in the Arts & Sciences who through the blessing of Almighty God may be fitted for Publick employment both in Church & Civil State." That purpose has always been recognized at Yale, and the history of the University is one of increasing development in the facilities for training for religious service.
During the early years of Yale College its general curriculum, supplemented in some cases by a year or two of reading under the direction of its instructors, was deemed sufficient for ministerial preparation. In 1746 an enlarged recognition of the needs of the ministry led to the establishment of a professorship of divinity through the efforts of President Thomas Clap. By 1822 this had developed into a separate department, later known as the Yale Divinity School.
The degree of Bachelor of Divinity (B.D.) was first conferred in 1867. In June 1971, by vote of the Yale Corporation, this degree was replaced by the Master of Divinity (M.Div.) degree. In a reaffirmation of the University's commitment to YDS, a $49 million renovation of Sterling Divinity Quadrangle was completed in 2003 as the School rededicated itself to serving faith and intellect.
The Berkeley Divinity School at Yale was founded by Bishop John Williams and opened its doors on May 3, 1854, in Middletown, Connecticut. The school took its name from George Berkeley, bishop of Cloyne, Ireland, philosopher, educator, and missionary, who spent three years in Rhode Island (1728–30) seeking to establish a theological college in the New World. His plans failed, but he became a benefactor of Yale College, establishing graduate scholarships and donating books to the library. John Williams, while president of Trinity College in Hartford, established a theological department for ordinands. After his election as assistant bishop of Connecticut, he moved to Middletown, taking this department with him as the nucleus of his new divinity school. Bishop Williams was dean of Berkeley until 1899, at the same time serving as bishop of Connecticut and also as presiding bishop of the Episcopal Church.
The Berkeley Divinity School was founded on the one-hundredth anniversary of Bishop Berkeley's death, and its move to New Haven in 1928 commemorated the two-hundredth anniversary of his coming to America. Berkeley was moved to New Haven in order to better fulfill its mission by being in touch with the resources of an urban center and a great university, a purpose fulfilled by its affiliation with YDS in 1971.
The Yale Institute of Sacred Music (ISM) is also affiliated with YDS. ISM was established at Yale in 1973 through a gift from Clementine Tangeman and her brother J. Irwin Miller. The Institute is a successor to the renowned School of Sacred Music at Union Theological Seminary in New York City; the first director of ISM was organist Robert Baker, who had also been director of the School of Sacred Music. Over the decades at Yale, ISM has continued in its primary purpose of training musicians for the churches, and it supports programs in choral conducting, organ performance, voice, and church music studies (with the Yale School of Music) and in liturgical studies and religion and the arts (both with YDS). A focus on the arts and worship within theological education is possible at YDS because of the support given by ISM. ISM also offers generous scholarships to candidates for the M.Div. and M.A.R. in YDS and to musicians in the School of Music.
Yale Divinity School Mission Statement
Yale Divinity School has an enduring commitment to foster the knowledge and love of God through scholarly engagement with Christian traditions in a global, multifaith context. Participating in the vibrant life of Yale University, the Divinity School is uniquely positioned to train leaders for church and society given its ecumenical and international character, engagement with music and the arts, and commitment to social justice. Rigorous scholarly inquiry, corporate worship and spiritual formation, and practical engagement in a variety of ministries enable students to develop their knowledge and skills in a community that welcomes and affirms human diversity. The Divinity School pursues its mission of training students for service in church and world through three principal activities: (1) it prepares people for lay and ordained Christian ministries; (2) it shares with the Graduate School in educating scholars and teachers for theological schools and departments of religious studies; (3) it equips people preparing for public service or other careers to understand more fully the theological dimensions of their vocations.
Yale Divinity School Inclusivity Statement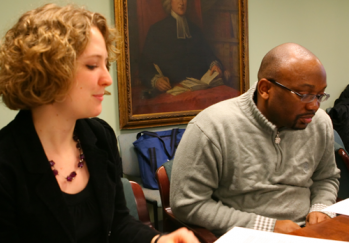 By history, intention, and design, the Yale Divinity School community embraces a wide range of Christian traditions. Committed to serving church and world, it also welcomes people of various religious and nonreligious traditions, drawing wide the circle to include myriad perspectives.
Seeking to foster the knowledge and love of God through critical engagement with the traditions of the Christian churches, the Divinity School upholds the value of broad inclusivity and diversity in our academic, worship, and communal life.
We celebrate the fullness of race and color; denominational, political, theological, and cultural difference; the range of expressions of sexual and gender identity; and the varied voices that come with age, life experience, national and community service, and socioeconomic status.
In ecumenical conversation and in the space created that crosses traditionally entrenched positions, profound educational value is gained and diverse perspectives are presented.
To this end, we foster inclusivity and diversity through our academic, social, and spiritual practices. At the core of our intention is the deliberate encouragement of conversation across the lines of difference; attention to offering access to all aspects of our common life; consistent sensitivity to the uniqueness of each person's background; and particular attentiveness to our words in speech, writing, prayer, and praise.
We value the worth and dignity of every member of the Divinity School community, as we build an environment where inclusivity and diversity are central and consistently affirmed.
Accreditation
Yale Divinity School is accredited by the Commission on Accrediting of the Association of Theological Schools in the United States and Canada. The following degree programs are approved: Master of Divinity (M.Div.), Master of Arts in Religion (M.A.R.), Master of Sacred Theology (S.T.M.)
The Commission on Accrediting of the Association of Theological Schools in the United States and Canada
10 Summit Park Drive
Pittsburgh, PA 15275
USA

Telephone: 412-788-6505
Fax: 412-788-6510
Website: www.ats.edu