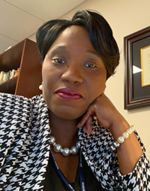 Dear Accepted Students:
Welcome to Yale University Divinity School's Self-Paced Virtual Open House  page. I hope this message finds you and your loved ones well during these very challenging times. Congratulations on your acceptance to YDS! This is a place where we "Inspire the Minds that Inspire the World". This is no small accomplishment for it demonstrates that you are among a select group of individuals we believe represent the future of YDS and the world. Your admission to YDS epitomizes so much more than simply another milestone in a graduate program application process. This marks the beginning of a new and epic journey of extraordinary and untold possibilities for you. Should you decide come to YDS, your colleagues will be among some of the brightest and most creative of our time. Coming from every corner of the world, coming together to create an exciting community of brilliant and bold visionaries with a passion for the possible, all united in a quest to make a global difference.
Since we are still unable to host you physically on our campus this year, we are bringing open house to you in two parts. One part will be a series of live panels from the Dean's welcome message, to academic programs, financial aid and housing Q&A sessions to graduating students and PhD panels, and more. The schedule is below for your guidance. The second part is this page. Here, you will find a series of pre-recorded informational videos designed to give you a broad overview of YDS. Some of you may already know some of the information on some of the video clips but I also know some of you have not. View it all at your leisure and I hope you will find it informative and helpful for your discernment. Please also take advantage of the virtual classes offered to you today. We hope that you will decide to join our extraordinarily supportive family that is YDS and I look forward to personally welcoming you in the Fall!
Best wishes,
Dean Randall
---
A welcome fom Dean Sterling
Open House Zoom Recordings
M.A.R./S.T.M. - Morning Session
M.A.R./S.T.M. - Afternoon Session
M.Div. - Morning Session
Video to be posted after the event.
M.Div. - Afternoon Session
Video to be posted after the event.
Other Resources
---
Note, if you have trouble viewing any of the videos on this page, you will be able to find them all on the YDS YouTube playlist here.