Melissa Pucci, '04 M.A.R., Secretary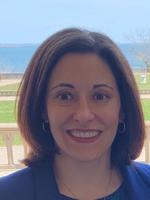 Since graduating from YDS in 2004, Ms. Pucci has had an extensive career in university administration. Since June 2016 she has served as a Senior Program Manager at Technolutions Slate, a software company designed for college admissions and advancement.
Prior to this role, she was the Assistant Dean of Student Affairs at the Yale School of Nursing, a position that included serving as the dean of students as well as the registrar and Director of Admissions.
Before YSN, she served as the Associate Director of Admissions and Recruiting at YDS from 2005-2011. She has also worked at the University of New Haven as both Assistant Director of Financial Aid and adjunct instructor.
She is dedicated to community service in the Lower Naugatuck Valley of Connecticut. She serves on the board of directors at several non-profit institutions including the Valley United Way, and BHcare, which provides comprehensive and integrated care for individuals and families struggling with mental health challenges, substance abuse, and intimate partner violence. She also co-chairs the annual Bowl-2-Benefit the Umbrella Center for Domestic Violence Services, among other involvement.