Nancy Jo Kemper, '67 B.D.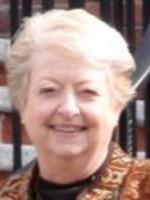 The Rev. Nancy Jo Kemper is a native of Lexington, Kentucky, a graduate of Transylvania University, and of Yale University Divinity School (B.D., 1967). In over 48 years of ministry, she has served United Church of Christ congregations in New Haven, CT; Richmond, VA; Oak Park, IL; St. Louis, MO; and Toledo, OH. In 1991, she was called to serve as the Executive Director of the Kentucky Council of Churches, a position she held until her retirement in 2009. Simultaneously, since 1996, she has served as the minister of New Union Christian Church (Disciples of Christ) in Woodford County, Ky.
She is well-known across the Commonwealth of Kentucky for her work on public policy issues and social justice, which have included such matters as health care reform, environmental stewardship, gun control, separation of church and state, economic justice, tax reform, pay-day lending reform, children's issues, racial justice, abolition of the death penalty, gambling expansion, minimum wage and living wage legislation, housing, domestic violence, and many other matters of public concern. Rev. Kemper has recently served on the Lexington Human Rights Commission, and on the board of the Interfaith Alliance of the Bluegrass.
She has received many honors and recognition. In 2001, she was honored by the Kentucky Conference for Community and Justice with their Humanitarian of the Year Award, and in that same year, Transylvania University bestowed an honorary Doctor of Humane Letters on her, on the occasion of their annual commencement. She was participated in an international gathering of world ecumenical leaders at the Ecumenical Institute at Bossey, Switzerland in 2001, and previously had attended the 8th General Assembly of the World Council of Churches, that met in Harare, Zimbabwe, in 1998.
Yale University Divinity School honored Rev. Kemper with the 2010 William Sloane Coffin, Jr., Peace and Justice Award at its October 11–14, 2010 Convocation. In 2015, Midway College (Kentucky) awarded her the first L.L. Pinkerton Vision Award, given to a recipient who has had a direct impact on improving the lives of women, served as an outstanding role model to women, and displayed leadership, innovative thinking, and influence in her chosen career.
Rev. Kemper is the mother of two daughters, and has two granddaughters.