Giving Back, Going Forward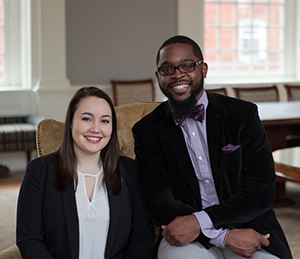 As our studies at YDS come to an end and commencement approaches, we reflect on all the ways we've changed and grown during our years on the Quad. The YDS experience has shaped us in immeasurable ways, and we want students who come after us to have this same, transformative experience.  
We're excited to kick off the 2018 Class Gift because it's one way for our graduating class to change the lives of the students in the next incoming class. Currently, 94% of our students receive financial aid and could not attend YDS without this support. This statistic, and the fact that 100% of every donation to the Class Gift will be used for student financial aid, makes a compelling case.
All of us will go on to be agents of change in our respective careers, whether in service to the church, the academy, or the world. As Co-Chairs for the 2018 Class Gift, we're excited about being change agents for future students. Please join us in kicking off the next phase of your life by giving to the Class Gift. You can make an impact right now.
Thank you!
Amanda Tatlock '18 M.Div. and Qadry Harris '18 M.Div.
In the words of YDS students:
"I will always remember my years at YDS as a fairytale– not because it's fantasy– but because there are worlds within worlds here; worlds where I've been able to explore what it means to know something, worlds of questions, and worlds of wonder. YDS has become a sacred place where I've been able to grow into my questions, and explore more questions. What a precious thing it is to be encouraged to develop those worlds!"
Mia Tabib '18 M.Div.
"Yale Divinity School has shaped who I am today as a person, a scholar, and an advocate. While I feel like not much has changed, as I am in the thick of my theological training, my family and friends consistently tell me how I have developed in my articulation of my thoughts and beliefs. I would not be where I am without YDS and Yale - the doors that have been opened because of my experience here is unmatched by any institution. I am eternally grateful for this learning community for the formation of my relationship with God and with Christ."
Julia Johnson '18 M.Div.
---
Class Agents:
| | |
| --- | --- |
| Amanda Tatlock '18 M.Div., Co-chair | Qadry Harris '18 M.Div., Co-chair |
| | |
| --- | --- |
| Jasmine "Jazzy" Bostock | Sierra Loya |
| Gabby Cudjoe Wilkes | Janet Parker |
| Lauren Griffith | Christopher Phillips |
| Julia Johnson | Mia Tabib |
| Michael Kurth | Ann Jacob |
| Heaven Berhane |   |
|   |   |
|   |   |
|   |   |
2018 Class Gift Honor Roll
Margaret Adler '18 M.A.R.

Georgia Aliano '19 M.A.R. *

Andrea Alvord '19 M.Div. *

Brandon Ashcraft '18 M.Div.

Pearl Batista '18 M.Div.

Heaven Berhane '18 M.Div.

Elizabeth Bickley '18 M.A.R.

John Blossom '18 M.Div.

Jasmine Bostock '18 M.Div.

Hiram Brett '16 M.Div. *

Graham Bridgeman '20 M.Div. *

Gail Briggs *

Althea Brooks '01 M.Div. *

Emily Bruce '19 M.Div. *

Linda Bruce '16 M.Div. *

Thomas Burke '18 M.Div.

Thomas Busteed '18 M.A.R.

Lisa Callahan '18 M.A.R.

Anthony Campbell '95 B.A., '09 M.Div. *

J. Tyler Campbell '17 M.A.R. *

KCM Campbell Morrison '20 M.Div. *

Nia Campinha-Bacote '20 M.Div. *

Andrew Caserta *

Holly Chaisson '18 M.A.R.

Acacia Chan '18 M.A.R.

Holly Clark '18 M.Div.

Sungi Clark *

Sean Patrick Coady '18 M.Div.

James Cogman '19 M.Div. *

Daniel Constantinidi '19 M.A.R. *

Martin Copenhaver '80 M.Div. *

Abner Cotto-Bonilla '18 M.Div.

Dax Crocker '18 S.T.M.

Gabby Cudjoe Wilkes '18 M.Div.

Tayla Daniel '20 M.Div. *

Julie Davis '18 M.A.R.

Maggi Dawn *

Debbie Defelice *

Annemarie Delgado '20 M.Div. *

Randy Derrick '19 M.Div. *

Kaji Dousa '06 M.Div. *

Sarah Drummond *

Jim Elrod '17 M.A.R. *

Diana Empsall *

Nathan Empsall '19 M.Div., '19 M.E.M. *

Samuel Ernest '18 M.A.R.

Moriah Felder '19 M.Div. *

Alexander Fella '18 M.A.R.

Peter Feltman-Mahan '19 M.Div. *

Zachary Fletcher '18 M.Div.

Kristin Foster '77 M.Div. *

Andrew Franklin '18 M.A.R.

Barry Fraser '18 M.Div.

Douglas Furth '18 M.A.R.

Haley Gabrielle '18 M.A.R.

Herron Gaston '14 M.Div., '15 S.T.M. *

Dustin Gavin '18 M.A.R.

Thomas Gilmore *

Bill Goettler *

Timothee Goselin *

Laurel Gray '18 M.Div.

Dale Green '20 M.Div. *

Katherine Green McCreight *

Lauren Griffith '18 M.A.R., '18 M.E.M.

Jean-Fritz Guerrier '18 M.Div.

Nathaniel Gumbs *

Jim Hackney '79 M.A.R. *

Stephanie Hagan '19 M.A.R. *

Kamil Halambiec '18 S.T.M.

Campbell Harmon '04 M.A.R. *

Qadry Harris '18 M.Div.

Daniel Harry '77 M.Div. *

Mark & Melissa Heim *

Jerry Henry '80 M.Div. *

Lisabeth Huck '88 M.Div. *

John Hunt '18 M.Div.

Jihee Hyung *

Marta Illueca '18 M.Div.

Susan Jackson '20 M.Div. *

Ann Jacob '17 M.Div.

Shancia Jarrett '19 M.Div. *

Brandon Johnson '08 M.Div. *

Julia Johnson '18 M.Div.

James & Linda Johnson *

Katherine Johnson '93 M.Div. *

Calvon Jones '18 M.Div.

Jessica Jones '18 M.Div.

Hoonjung Kang '19 M.A.R. *

David Kelsey '58 B.D., '60 M.A., '64 Ph.D. *

Julie Kelsey '84 M.Div. *

Ana Kelsey-Powell '20 M.Div. *

Nancy Jo Kemper '67 B.D. *

Timothy Kennedy '14 M.Div. *

Rodney Kilgore '18 M.A.R.

Nicole Klosterman '18 M.Div.

Brendan Kolb '18 M.A.R.

Tom Krattenmaker *

Andrew Kryzak '18 M.Div.

Michael Kurth '18 M.Div.

Michael Lally '18 M.A.R.

Nicholas Lewis *

Kristina Lewis-Theerman *

Michael Libuano-Macalintal '20 M.Div. *

Brianna Lloyd '18 M.Div.

Peihan Lo '19 M.Div. *

Sierra Loya '18 M.AR.

Benjamin Lyth '20 M.Div. *

Richard Marquette '19 M.Div. *

Sean Massa '18 M.A.R.

Megan McDermott '18 M.Div.

Emma McDonald '19 M.A.R.

Thomas McGraw '18 M.Div.

Kathryn McKey-Dunar '18 M.Div.

Ann-Catherine McNeil '19 M.A.R. *

Hayden McNeil *

Andy McQuery *

Soloman Mengesha '18 M.A.R.

Kenneth Minkema *

Greg Mobley *

Howard Moerschbacher '19 M.A.R. *

Regina Mooney '79 M.Div., '83 S.T.M. *

Rachel Moreno '18 M.A.R.

John Morgan ' 18 M.Div.

Siphosihle Mzongwana '20 M.Div. *

Joshua Narcisse '19 M.Div. *

Kathryn Noonan '18 M.A.R.

Susan Olson '93 M.Div. *

Dustin Osborn '04 J.D., '18 M.A.R.

Evan Parke '97 M.F.A., '19 M.Div. *

Janet Parker '18 M.Div.

Ned Parker *

Kiersten Payne '19 M.A.R. *

Jeanne Peloso *

Christopher Phillips '18 M.Div.

Ann-Marie Piscatelli *

Robert Piscatelli *

Elaine Ranciato *

Jordan Rebholz '18 M.Div.

Wilma Reichard '77 M.A.R., '79 M.Div. *

Emily Reid *

Manuel Reimer '17 M.A.R. *

Allen Reynolds '15 M.Div. *

Samuel Rico '18 S.T.M.

Victoria Rowe '18 M.Div.

Pauline Samuel '17 M.Div. *

Jonathan Sanchez '18 M.Div.

Anthony Sandusky '18 M.A.R.

Lamin Sanneh *

Samantha Silverman '18 M.A.R.

Alexa Smith '18 M.Div.

Paige Smith '76 M.Div. *

Chris Solimene '16 M.Div. *

Rick Spalding '76 B.A., '81 M.Div. *

Chloe Starr *

Gregory Sterling *

Paul Strike '18 M.Div.

Christa Swenson *

Mia Tabib '18 M.Div.

Susan Tachson *

Amanda Tatlock '18 M.Div.

Charles Tatlock *

Michelle Tatlock *

Ben Taylor '18 M.A.R.

Richard Taylor '18 M.Div.

Emily Theus '18 M.A.R.

Arthur Thomas III '19 M.Div.

Mahogany Thomas '20 M.Div. *

Blake Thorkelson '99 B.A., '18 M.A.R.

Anna Thurston '19 M.E.M. *

Anthony Trujillo '19 M.Div. *

Jason Turner '06 M.Div. *

Thomas Gregory Turner '70 M.Div. *

Whitney Waller '13 M.Div. *

Deniqua Washington '18 M.Div.

Tarleton Watkins '18 M.A.R.

Edward Watson '18 M.A.R.

Sarah Watson '19 M.Div. *

Della Wager Wells '18 M.Div.

John White '18 M.A.R.

Kathryn White '19 M.A.R. *

Kyle Wilkinson '18 M.Div.

Emily Wing '18 M.A.R.

Sze-Long Wong '18 M.A.R.

Almeda Wright *

Kristin Wuerffel '19 M.Div. *

Austin Yim '17 M.Div. *
* friend of the class