Give Beyond. Inspire Minds. Change Lives.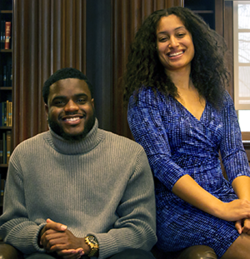 On behalf of the entire Yale Divinity School community, we are grateful that you have considered giving to the 2019 Class Gift Campaign. We are proud to say that every dollar that you generously give will go directly to financially assisting an incoming student in obtaining a world-class theological education. YDS has renowned faculty and exceptionally dedicated staff who are invested in cultivating the next generation of world leaders, and your gift will help provide access to another student. It is inspiring to know that people from all over come together every year to support this project and we are glad that you will also be a part of this great vision.
Our slogan is Give Beyond. Inspire Minds. Change Lives. On behalf of the campaign co-chairs, class agents, and the entire YDS Community, we are excited to Give Beyond so that we can inspire and transform the lives of
future students who impact our global community.
Best,
Kazimir "Kaz" Brown '19 M.Div. and Maurice Tiner '19 M.A.R.
Co-Chairs, 2019 Class Gift Campaign
---
Class Agents:
| | |
| --- | --- |
| Kazimir Brown '19 M.Div. , Co-chair | Maurice Tiner '19 M.A.R., Co-chair |
| | |
| --- | --- |
| Emily Bruce | Erendira Jimenez-Pike |
| Jennifer Campbell | Patrick Keyser |
| Paul Daniels | Richard Lucas |
| Sarah Fox | Hleziphi Mhlambi |
| Henry Ginna | Sihle Mzongwana |
| Shancia Jarrett | Joshua Narcisse |
| Glory Jeon | Arthur Thomas |
2019 Class Gift Honor Roll
Anonymous*

Gail Briggs*

Mary Barnett '19 M.Div.

Jordan Barr '19 S.T.M.

JaQuan Beachem '21 M.Div.*

Emily Bruce '19 M.Div.

Fred Bruce*

Judy Bruce*

Dermot Byrne '20 M.Div.*

Jennifer Campbell '19 M.Div.

KCM Campbell-Morrison '20 M.Div.*

Diana Crocker '19 M.A.R.

Tim Dalton '19 S.T.M.

Jennifer Davis '10 M.Div.*

Annemarie Delgado '20 M.Div.*

Sarah Drummond '93 B.A.*

Diana Empsall*

Nathan Empsall '19 M.Div., '19 M.E.M.

Trent Fuenmayor '20 M.Div., '20 M.B.A.*

Mecca Griffith '20 M.A.R.*

Mark Hand '21 M.Div.*

Susan Jackson '21 M.Div.*

Coleen Jarrett*

Youngkwang Jeon '19 M.Div.

Dawn Jefferson '21 M.Div.*

Torianto Johnson '20 M.Div.*

Julie Kelsey '84 M.Div.*

Patrick Keyser '19 M.Div.

Laura Kisthardt '20 M.Div.*

Tom Krattenmaker*

Catherine Amy Kropp '17 M.Div., '19 S.T.M.

Taylor Lindquist '21 M.Div.*

Richard Lucas III '19 M.Div.

Liren Ma '20 M.A.R.*

Daniel Maier*

Jathan Martin '21 M.Div.*

Blair Nelsen '19 M.A.R.

Quavon Newton '21 M.Div.*

Andrew Ogletree '21 M.Div.*

Janet Parker '18 M.Div., '20 S.T.M.*

Vernice Hopie Randall '11 M.Div.*

Claire Repsholdt '20 M.Div.*

Raye Lee Simpson*

Rachel Spollett '21 M.Div.*

Greg Sterling*

Paul Stroble '82 M.Div.*

Arthur Thomas '19 M.Div.

Maurice Tiner '19 M.A.R.

Anthony Trujillo '19 M.Div.

Savannah Wagner '19 M.A.R.

Grace Woodward '21 M.Div.*
* friend of the class