Beecher Lectures
The Lyman Beecher Lectureship was founded in 1871 by a gift from Henry W. Sage of Brooklyn, NY, as a memorial to the great divine whose name it bears, to sponsor an annual series of lectures on a topic appropriate to the work of the ministry.  The income of this fund is used for an annual series of lectures on a topic appropriate to the work of ministry. 
Leonora Tubbs Tisdale, Clement-Muehl Professor of Divinity
Theme: Women Preachers in the United States and the Transformation of Homiletics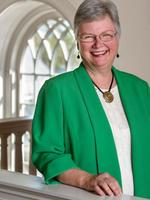 Professor Tisdale teaches the theory and practice of preaching, with research interests in prophetic preaching, congregational studies and preaching, and women's ways of preaching. She is the author or editor of ten books including A Sermon Workbook: Exercises in the Art and Craft of Preaching (co-authored with former YDS colleague Thomas H. Troeger), Prophetic Preaching: A Pastoral Approach;  Preaching as Local Theology and Folk Art; Teaching Preaching as a Christian Practice (co-edited with Thomas G. Long), and Making Room at the Table: An Invitation to Multicultural Worship (co-edited with Brian K. Blount). She also wrote the chapter on the Riverside Church preachers in The History of the Riverside Church in the City of New York.  Her most recent book project is Questions Preachers Ask: Essays in Honor of Thomas G. Long (forthcoming in 2017).  
A former president of the Academy of Homiletics, Professor Tisdale has served on the faculties of Union Theological Seminary in Virginia (now Union Presbyterian Seminary) and Princeton Theological Seminary, and as adjunct faculty at Union Theological Seminary in New York. She also served on the pastoral staff of Fifth Avenue Presbyterian Church in New York City, where she provided theological oversight for the Center for Christian Studies, an innovative lay theological academy offering courses for over 2,000 people in the greater New York area.
Beecher Lecture I– Wed. Oct. 16, 4 p.m.
Beecher Lecture II– Thur. Oct. 17, 10:30 a.m.
 
Beecher Lecture III–Fri., Oct. 18, 10:30 a.m.
---
Pitt Lecture - Berkeley Divinity School
Presenter: TBA
Tues. Oct. 15 - Marquand Chapel (C200)
---
Faculty Talks
Faculty Conversation—Mediated Faith: Digital Media, Christian Life, and Theological Reflection—Niebuhr Hall (N123)
Professor Berger will explore Christian practices of faith that have migrated online, especially those of prayer and worship. From the live-streaming of worship services to daily prayer via tweets or "pray-as-you-go"-apps, Christian practices are flourishing in digital social space, and theological reflection on digital culture is urgently needed.
Presenter: Teresa Berger, Professor of Liturgical Studies and Thomas E. Golden Jr. Professor of Catholic Theology
Wed. Oct. 16, 10 a.m. - Niebuhr Hall (N123)
Faculty Conversation—TBA—Niebuhr Hall (N123)
Details TBA
Thur. Oct. 17, 8:30 a.m. - Niebuhr Hall (N123)
Faculty Conversation—TBA—Niebuhr Hall (N123)
Details TBA
Fri. Oct. 18, 8:30 a.m. - Niebuhr Hall (N123)