Beecher Lectures
The Lyman Beecher Lectureship was founded in 1871 by a gift from Henry W. Sage of Brooklyn, NY, as a memorial to the great divine whose name it bears, to sponsor an annual series of lectures on a topic appropriate to the work of the ministry.  The income of this fund is used for an annual series of lectures on a topic appropriate to the work of ministry. 
Allan Aubrey Boesak
"One More River to Cross: Black Liberation Theology, Black Preaching, and Unanswered Challenges – an Initial Response"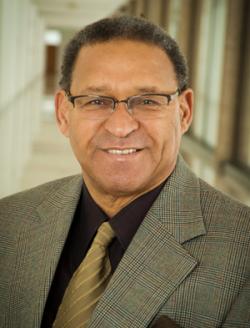 Our 2017-2018 Beecher lecturer is Allan Aubrey Boesak, who served as Desmond Tutu Chair of Peace, Global Justice, and Reconciliation Studies at Christian Theological Seminary in Indianapolis from 2012 to 2017. Born in 1946, in Kakamas, Northern Cape, South Africa, Rev. Dr. Allan Aubrey Boesak is a theologian, humanitarian, prolific author and tireless advocate for social justice. Since gaining international acclaim for his doctoral dissertation, "Farewell to Innocence," nearly four decades ago, Boesak has emerged as one of the world's preeminent authorities on liberation theology.
Boesak studied at the University of Western Cape and earned his doctorate in theology from the Protestant Theological University in Kampen, the Netherlands. His early activism and service led to international recognition as an influential leader in the fight against apartheid. During the 1980s he worked alongside Desmond Tutu and Nelson Mandela to lead efforts against apartheid and promote reconciliation.
A prolific writer, Boesak has authored 17 books, and edited or co-edited four, in addition to publishing numerous articles on theology and politics. 
For more on Dr. Boesak, read his biography on the CTS website.
---
Pitt Lecture - Berkeley Divinity School
Title: "Mission Versus Heritage: Earthquake, Wind and Fire Disturb Identity, Imagination and Memory in 21st Century Aotearoa, New Zealand"
Speaker: The Rt. Rev. Victoria Matthews, Bishop of Christchurch, New Zealand
1:30 p.m., Oct. 17, Marquand Chapel
Kavanagh Lecture - ISM
Title: "Preaching in an Age of Disaffiliation: Respecting Dissent while Keeping the Faith"
Speaker: Edward Foley, Capuchin Duns Scotus Professor of Spirituality and Professor of Liturgy and Music, Catholic Theological Union
2 p.m., Oct. 19, ISM Great Hall
 
---
Faculty Talks
Christian Wiman, Professor of the Practice of Religion and Literature
Title: "Joy: 100 Poems"
10 a.m., Oct. 18, Niebuhr
Bruce Gordon, Titus Street Professor of Ecclesiastical History
Title: "YDS and the Reformation"
1:30 p.m., Oct. 18, Marquand Chapel
Miroslav Volf
, Henry B. Wright Professor of Systematic Theology and Founding Director of the Yale Center for Faith & Culture, in conversation with 
Bishop Laszlo Tokes,
Hungarian religious and political leader
 
Title: "
Meet the Bishop Who Sparked a Revolution: Laszlo Tokes"
2:30 p.m., Oct. 18, Niebuhr
Eboni Marshall Turman, Assistant Professor of Theology and African American Religion
Title: "This is My Body: Black Womanist Christology in Perspective"
8:30 a.m., Oct. 19, Niebuhr
Kathryn Tanner, Frederick Marquand Professor of Systematic Theology
Title: "Christianity and the New Spirit of Capitalism"
8:30 a.m., Oct. 20., Niebuhr