Cathy George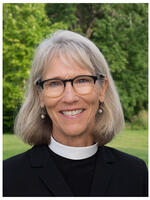 Dir of Formation/Assoc Dean Berkeley Divinity School
The Rev. Dr. Cathy H. George is Associate Dean and Director of Formation at Berkeley Divinity School at Yale.  A graduate of Macalester College and Harvard Divinity School, Cathy completed her Doctorate in Ministry in Transformational Leadership at Boston University School of Theology in 2017. She has served as a parish preist in urban, rural, and suburban parishes, and as a chaplain in prison and hospital settings.
She began her career as Rector of Emmanuel Church, a summer chapel in Dublin, New Hampshire, serving as an Assistant during the academic year at parishes in Belmont, Newburyport and Beverly Farms, Massachusetts. As Senior Associate at Trinity Church in 1994 Cathy designed a Christian formation program for the historic 2000-member parish in Copley Square, Boston. In 1996, called as Rector to St. Anne's in Lincoln, MA, Cathy served for 12 years before moving to serve two at-risk urban churches in Dorchester, MA: St. Mary's and St. Mark's, collaborating with the Diocese, community groups and church partners to forge a future for two inner city faith communities.
As Associate Dean of Berkeley, Cathy teaches a colloquium for first year students on vocational discernment, and a Leadership Colloquium, a three -year curriculum for all Berkeley students. She participates in worship as preacher and presider, and provides academic advising, mentoring and pastoral care to students and their families. She is a Lecturer in Introduction to Preaching and Anglican II.