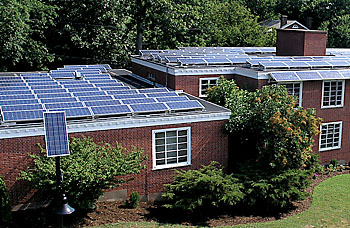 Whether you are coming to YDS as a single student or as a family, several on-campus housing options are available to you.
The standard YDS apartments are UNFURNISHED.
Included in your monthly rent are heat, hot water, electricity, and internet. One parking space per unit will be provided to students who have cars. Proof of vehicle ownership is required. Each building has coin-operated laundry facilities in the basement. Sorry, no pets are allowed.
Monthly rent for 2018-2019* for UNFURNISHED apartments:

Shared Two-Bedroom
$600
Junior One-Bedroom
$900
One-Bedroom
$1050
Two-Bedroom
$1,200
If you are interested in campus housing please visit the Yale Housing website at http://housing.yale.edu/.
Applications for the following academic year open on April 23rd and are processed on a first-come, first-served basis.
Learn More and Apply for Housing>http://housing.yale.edu/
*This indicates the academic calendar of Fall 2018 through Spring 2019. Rates may change in the following semester of Fall 2019.
---
Dining
The Refectory at Yale Divinity School is open five days a week on an academic schedule during the Fall and Spring semester. All full-time YDS students are automatically billed per term for food to be purchased in the refectory on a "declining balance" basis. Part-time students are billed at a reduced rate per term.
Refectory Hours
Monday- Thursday 8:00 am - 5:00 pm
Friday- 8:00 am - 2:30 pm
---
Mail
Each Divinity student is provided with a campus mailbox for university business. The campus mailboxes are located on the first floor of Sterling Divinity Quadrangle in the Commuter Lounge. Residential students are provided with a mailbox in the entrance to their hall for USPS mail.
---
Parking
The Sterling Divinity Quadrangle has two main parking lots with restricted access, one gated lot for residential students, and several visitor parking spaces.
Lot 11 is the gated parking lot directly across from the main entrance to YDS. Lot 12 is the group of parking spaces behind the main Sterling Quadrangle, facing the entrance to the Center for Faith and Culture. Parking in Lots 11 and 12 is restricted to permit parking only from 7am - 4pm  weekdays and free to the public from 4pm - 7am on weekdays. Both lots are open to public parking on weekends. 
Lot 11n is the gated parking lot across from the Divinity residential housing. This lot is restricted at all times to a residential parking permit.
Learn more about parking and apply for a student parking permit online.