Registration is now available!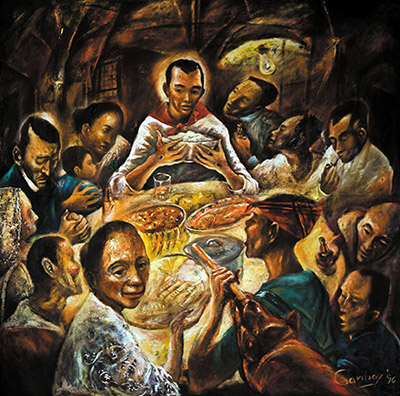 Conference Schedule
April 13-15, 201​8
(Note: Times or Events are subject to change; This schedule is intended as a guide. Final schedule with room locations will be available in conference packets at registration/check-in)
Contact apt2018yale@gmail.com for more information or with any questions.
Thursday, 4/12
6:30 - 9:30 pm

Pre-conference workshop: "Theater of the Oppressed Methods in Teaching Practical Theology" (limited to 35 participants; pre-registration required)
​Friday, 4/13/15
8:30 am - 3:30 pm - 

Pre-conference workshop continues

3:00 - 5:00 pm - 

Onsite registration and Check-in

4:30 - 5:00 pm Conference Opening 

Welcome

Remembering and honoring Dale Andrews

5:00 - 6:30 pm - 

Plenary I  "Practical Theology & Justice: A Musical Conversation"—Don and Emily Saliers

6:30 - 7:15 pm - 

Reception with Book & CD signing

7:15 - 9:00 pm - 

Banquet
Saturday, 4/14/18
8:00 - 9:00 am - 

Breakfast

8:00 - 9:00 am - 

Graduate Student breakfast

8:30-9:15 pm - 

Onsite registration/check-in

9:00 - 10:30 am - 

Plenary II, Dr.

Charrise

Barron "New Songs in the Same Strange Land: Congregational Music for Worship and Liberation in the Age of Hip Hop and Black Lives Matter

10:30 - 11:00 am - 

Coffee break

11:00 am - 12:45 pm - 

Concurrent Paper/Performance Session I

12:45 - 3:00 pm - 

Lunch, Free time, Optional art gallery tours

3:00 - 4:45 pm - 

Concurrent paper/performance session II

4:45 - 5:00 pm - Break
5:00 pm - Transportation (or walking) to Davies Auditorium (off- site venue) 5:00
5:30 - 7:00 pm - Plenary III, Dr. Su'ad Abdul Khabeer "Sampled: Beats of Muslim Life"

7:00 pm - Dinner on your own, New Haven restaurants
Sunday, 4/15/18
8:30 am - Breakfast

9:00 - 9:20 am - 

Worship/Justice/Art–Dax

Crocker, Don

Saliers
9:30 - 10:45 am - 

Concurrent paper session III

10:45 - 11:15 am - 

Coffee break

11:15 am - 12:30 pm - 

Plenary IV:  Emmanuel

Garibay

, "Painting Justice: Decolonizing Material Art"—a Conversation with Dr. Kim

Vrudny
12:30-1:00 pm - 

APT Business Meeting and Conference Closure, Box lunches available

1:00 pm - Departures 

1:00 - 2:15 pm - 

New 2018-2020 APT Executive Committee Meeting
---
Presenters
Don and Emily Saliers:   "Theology and Justice: A Mu​sical Conversation"
In our opening plenary session, Emily and Don Saliers explore how music is related to social justice and the cries of the human heart.  They write: "One of us is a singer-songwriter playing in bars and rock concerts, the other is a church musician.  We are asking how music shapes and expresses human engagement with issues of justice and peace.  What makes music a powerful force for social change?  How is singing together a spiritual practice?   This session will involve the assembly singing as well."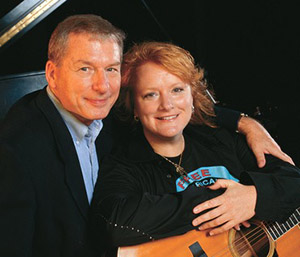 Emily Saliers is one-half of the Grammy Award winning duo the Indigo Girls.  For over twenty-five years they have performed around the world and have recorded 16 albums.  Emily has recently released her first solo album, "Murmuration Nation."   She was co-author with Don Saliers of the book, A Song to Sing, A Life to Live.  Active in social justice movements, she is married to Tristin Chipman and they are raising their five-year-old daughter in Atlanta, Georgia.
Dr. Don E. Saliersis the Wm. R. Cannon Professor of Theology and Worship, Emeritus at Emory University where he also served as director of the Master of Sacred Music Program.  He continues to teach as Theologian-in-Residence at Candler School of Theology. After attending Ohio Wesleyan University, he earned his B.D. degree and a Ph. D. from Yale University.  Dr. Saliers is currently writing on liturgy and theological aesthetics.  Previous publications include: Music and Theology (2007), A Song to Sing, a Life to Live (2004), coauthored with daughter Emily Saliers; The Conversation Matters (1999), coauthor; Human Disability and the Service of God (1998), coauthor; Worship Come To Its Senses (1996); Worship As Theology (1994); Christian Spirituality III (1989), coeditor with critical introduction; Handbook For the Christian Year (1986, 1992); K. Barth's Prayer (1985), coeditor with critical introduction; Worship and Spirituality (1984); and Soul in Paraphrase: Prayer and Religious Affections (1980, 1991).An accomplished jazz and classical pianist, he has lectured widely and teaches in summer sessions at Yale University's Institute of Sacred Music.  He serves as national chaplain to the American Guild of Organists.
Su'ad Abdul Khab​eer, "Sampled: Beats of Muslim Life"
Su'ad Abdul Khabeer is a scholar-artist-activist who uses anthropology and performance to explore the intersections of race and popular culture. Dr. Khabeer is currently an associate professor of American Culture and Arab and Muslim American Studies at the University of Michigan. She received her PhD in cultural anthropology from Princeton University. She is a graduate from the School of Foreign Service at Georgetown University and completed the Islamic Studies diploma program of the Institute at Abu Nour University (Damascus). Her latest work, Muslim Cool: Race, Religion and Hip Hop in the United States (NYU Press 2016), is an ethnography on Islam and hip hop that examines how intersecting ideas of Muslimness and Blackness challenge and reproduce the meanings of race in the US. Su'ad's written work on Islam and hip hop is accompanied by her performance ethnography, Sampled: Beats of Muslim Life. Sampled is a one-woman solo performance designed to present and represent her research and findings to diverse audiences as part of her commitment to public scholarship. In line with this commitment Dr. Khabeer leads Sapelo Square, the first website dedicated to the comprehensive documentation and analysis of the Black US American Muslim experience. She has also written for The Root, the Washington Post, the Atlantic, Ebony Magazine, the Huffington Post, Religious Dispatches and Trans/Missions, and has appeared on Al Jazeera English. Additionally, she is a Senior Project Advisor for the US Public Television award-winning documentary, New Muslim Cool and her poetry was featured in the anthology Living Islam Out Loud: American Muslim Women Speak. 
Emmanuel Garibay : "Painting as a Postcolonial Practice of Justice"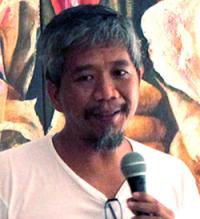 Emmanuel Garibay is the conference artist-in-residence. He will be in our midst painting throughout the conference, and will explore the practical theological dimensions of his art in a plenary conversation at the end of the conference. His art will also be on exhibit. Garibay is a Filipino painter known for his expressionist figurative style. Many of his works feature ordinary people in scenes of political, religious, and social complexity, where controversial issues of justice and truth are presented vigorously and colorfully. He graduated from the University of the Philippines with a BA in Sociology and a BA in Fine Arts, and earned his Master of Divinity degree at the Union Theological Seminary in the Philippines. His first exhibit was held in 1993, since then he has gained recognition, exhibiting in widely in Europe, Asia, and the United States. He believes that "Art is all about an idea that you want to share. [It is] a way of seeing the what you want people to appreciate in their world." 
Kim Vrudny joins Emmanuel Garibay in a conversation about his art for our Sunday morning plenary. Dr. Vrudny is associate professor of systematic theology at the University of St. Thomas, St. Paul, MN. She teaches in the areas of theological aesthetics, theology and the arts, and political theology. In her most recent book, Beauty's Vineyard: A Theological Aesthetic of Anguish and Anticipation, she addresses religious questions raised by contemporary social realists and, in so doing, constructs a socially engaged theology of Beauty. She was on sabbatical in South Africa, Thailand, and Mexico during academic year 2009-2010 to create "30 Years/30 Lives," a photography project documenting thirty people impacted by HIV/AIDS to mark the thirtieth anniversary of the pandemic. Dr. Vrudny is the senior editor of the journal  ARTS: The Arts in Religious and Theological Studies , and previously served on its staff for sixteen years. She is the author of multiple books addressing the intersections of religion and the arts, including Beauty's Vineyard: A Theological Aesthetic of Anguish and Anticipation (Collegeville: The Liturgical Press, 2016); Friars, Scribes, and Corpses: A Marian Confraternal Reading of The Mirror of Human Salvation (Leuven: Peeters, 2010); Visual Theology: Forming and Transforming the Community Through the Arts (Collegeville: The Liturgical Press, 2009), co-edited with Robin Jensen; Arts, Theology and the Church: New Intersections (Cleveland: Pilgrim Press, 2005), co-edited with Wilson Yates; and 30 Years / 30 Lives: Documenting a Pandemic (Seattle: CreateSpace, 2010).
Charrise Barron, "New Songs in the Same Strange Land: Congregational Music for Worship and Liberation in the Age of Hip Hop and Black Lives Matter"
Charrise Barron is a Postdoctoral Associate in the Institute of Sacred Music at Yale University. Her work with us will address the intersections between the folk and congregational music of black Christians which historically has bolstered social justice movements—from abolition to the classical phase of the Civil Rights Movement—and hip hop. The Black Lives Matter Movement represents a paradigm shift in which gospel singers have been conspicuously absent from the musical frontlines of the Movement. Hip hop has emerged as the primary motivating music of Black Lives Matter protesters, helping to decenter Christianity and its music from contemporary black liberation activism. Instead, the most celebrated anthems of the Black Lives Matter Movement, such as Kendrick Lamar's "Alright" have largely been commercial rap and hip hop soul recordings. Hip hop has emerged as the primary motivating music of Black Lives Matter protesters, even as hip hop has remained a liminal music form in many black American churches. This presentation illuminates efforts to bridge hip hop, Black Lives Matter, and Christian congregational music-making. Concomitantly, this session explores the black Christian congregational music-making tradition as a means to: build community across race and denomination; support contemporary black liberation efforts; and reflect Christian witness.
Dr. Barron recently earned her PhD from Harvard University in African and African American studies, with a secondary concentration in music. Dr. Barron also holds a Master of Divinity summa cum laude from Yale Divinity School. Her seminar at Yale, entitled "Gospel Music in the Church and World," analyzes the ways in which African American gospel has been produced and performed for both church and popular consumption. Previously, as a Riley Scholar-in-Music at Colorado College, she taught classes on gospel and black protest music. She has also guest lectured on African American religion and black popular music for several Harvard University courses. Dr. Barron is currently writing a book on contemporary African American gospel music. She is a Forum for Theological Exploration (FTE) Doctoral Fellowship alumna, and a member of the Harvard University Society of Horizons Scholars. Beyond her academic work, Barron is an ordained Christian minister and gospel keyboardist, singer, and composer. She has performed and directed music programming in churches throughout the United States and abroad.
Pre-Conference Workshop on Pedagogy, Practical Theology, and the Arts
In partnership with New York Theater of the Oppressed Lab (TOPLAB), the APT will offer a pre-conference workshop focused on pedagogy, practical theology, and the arts, using "Theater of the Oppressed" methods in the teaching of practical theology. APT Executive Committee members Drs. John Falcone and Evelyn Parker will join TOPLAB trainers in the leadership of this workshop tailored for teaching in practical theology. The workshop will begin Thursday evening, April 12, and continue during the day on Friday April 13 prior to the start of the conference. The Theater of the Oppressed Laboratory (TOPLAB) is a multiracial collective of educators, cultural workers, organizers, and artists. TOPLAB uses Theater of the Oppressed techniques and methodology to promote and engage in democratic processes, and creative approaches to community building for radical social change. TOPLAB was founded in 1990 and is the oldest organization in the United States dedicated to providing ongoing training in the techniques of the Theater of the Oppressed, founded by renown Brazilian director Augusto Boal. TOPLAB has hosted workshops by Boal annually, until his passing in 2008, and continues to host his son, Julian Boal. 
---
Contact apt2018yale@gmail.com for more information or with any questions.