On Dec. 1, Marquand Chapel became a bridge between the YDS community and many thousands of protestors nationwide as students, faculty, and staff gathered for reflection over the news there would be no indictment in the killing of Michael Brown by a white police officer in Ferguson, Missouri.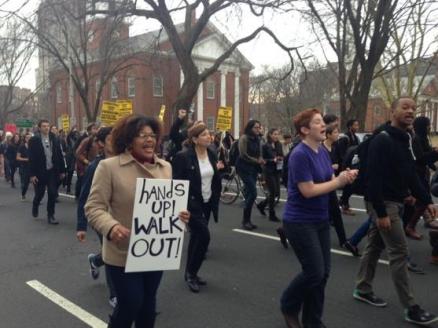 "It's OK to lament," said convener Porsha Williams '15 M.Div. as she began the prayer vigil. "Anger, however, can't sustain a movement. This is our moment to feel comfortable in expressing our grief together with God, acknowledging how unsettled we feel right now."
After Williams shared scripture and encouraged participants to overcome their bitterness through prayerful reflection, other speakers took turns at the microphone. One was Lecia Allman '16 M.Div., who described her frustrations as an African-American daughter whose parents were active during the Civil Rights era. She recalled the joy her parents experienced when Barack Obama was elected president. That historic triumph in race relations, she said, has now been overshadowed by the persistence of police brutality against men of color.
Organizing and marching
Following the late-morning vigil, numerous YDS students hurried downtown to join the larger Yale community in a "Hands Up Walk Out" march that began at 12:01 p.m. (the time Brown was shot). Appearing in television news coverage, Allen Reynolds '15 M.Div. explained why Yale students felt compelled to be in solidarity with those in Ferguson.
"It's important that we advocate for reform in our criminal justice system so that everyone is protected equally, but it's also important [to know] that right now the nation is hurting," Reynolds said. "People in this community are hurting, and there needs to be healing for us as we continue in the fight."
Another YDS student, Frank Roberts '16 M.A.R., went even farther afield in the aftermath of the grand jury decision. Raising money online through his Freedom Ride to Ferguson campaign, Roberts flew to Missouri and attended the marches in Ferguson. In an email statement to the YDS community just before his departure, he urged others to join him in engaging Ferguson as a "teachable moment … that calls for prayer and reflection, and that calls us to put our actual bodies on the line." Roberts, who had made previous trips to Ferguson, said he was impressed by the large and helpful presence of clergy and seminarians on the ground.
Statements and personal stories
Dean Greg Sterling was one of many whose response to Ferguson had a personal dimension. In an email reflection, Sterling recalled an experience he had in 1999 when he learned that an African-American teenager he knew had been shot 12 times by the police. Sterling condemned racial targeting and observed that the outburst of anger in Ferguson was not just about one grand jury decision, but a larger pattern of racial targeting that was "psychologically harmful" and "deadly."
"The reaction to the decision was understandable," Sterling said. "In my opinion, it was a reaction not to a single case, but to nearly 150 years of injustice. It was a reaction not only to the death of Michael Brown, but to the deaths of many, many others."
Sterling's message resonated with a statement from Yale Black Seminarians, which cited a USA Today report that illustrated the pervasiveness of police brutality against black men in this country. YBS also noted the failures of the justice system in Brown's case: "[Brown's] blood was spilled without an arrest, a trial, or a legal conviction. He was suspected of a crime and issued a summary judgment that ended in his execution in the street."
From Ferguson to New York
There was a festive atmosphere on the quad on the evening of Dec. 3, the last day of classes, as the community gathered for the annual Advent Service in Marquand Chapel. Yet Ferguson still lingered in the minds of many. And there was fresh sadness, too, over an eerily similar grand jury decision announced earlier in the day in New York in the case of another killing of an African-American male.
As others rushed to dress up for the service in Marquand, Nicole Tinson '15 M.Div. was busy organizing a group of YDS students who were heading to New York to join protests taking place there in the aftermath of the Eric Garner decision. Tinson was clearly heeding the words she had issued to her fellow students just days before. In a statement to the community the previous week, she had encouraged her fellow students not to give up hope.
"There has been a lot of pain, confusion, anger, disappointment, and loss of hope, among other emotions, experienced by many within communities around this nation. Those emotions are warranted," Tinson said. "With those emotions, however, lies room to breathe, release, communicate,. and create change for the better … We are in a position where we must continue to be critically engaged in fostering the knowledge and love of God and spreading this to others, despite unfavorable circumstances. People are waiting."