In the latest episode of the YDS "Quadcast," Yale alum and former YDS faculty member Allen Hilton '97 Ph.D. discusses the origins of the Gospel of Mark and the distinct characteristics that set it apart from the other three gospels.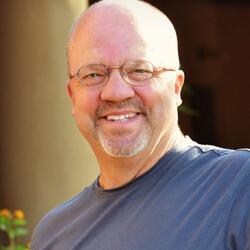 The Rev. Dr. Allen R. Hilton is the Executive Director of House United, a non-profit organization he founded in 2016. He is the author of A House United: How the Church Can Save the World.
A graduate of George Fox College (B.A., 1985), Princeton Theological Seminary (M.Div., 1989), and Yale University (Ph.D., 1997), Hilton taught Bible at St. Mary's College of California and then New Testament at Yale Divinity School before being called into parish ministry in 2001. As an ordained minister in the United Church of Christ, Rev. Dr. Hilton has served churches in Connecticut, Washington (state), and Minnesota.
The YDS podcast series is hosted by Emily Judd '19 M.A.R., who is senior communications specialist at the Higher Committee of Human Fraternity, an international humanitarian organization supported by Pope Francis, the Grand Imam of Al-Azhar, and the leadership of the United Arab Emirates. She previously worked as a journalist in the Middle East.