By Leah Silvieus '21 M.A.R.
Boston's Old North Church is most known for its role in the beginning of the American Revolution. It was there that church sexton Robert Newman and vestryman Capt. John Pulling Jr. climbed the steeple and used two lanterns as a signal from Paul Revere that the British were advancing across the Charles River. However, Jaimie Crumley '15 M.Div., '16 S.T.M. is shedding light on the overlooked stories of the Black and Indigenous people who also shaped the church's early history.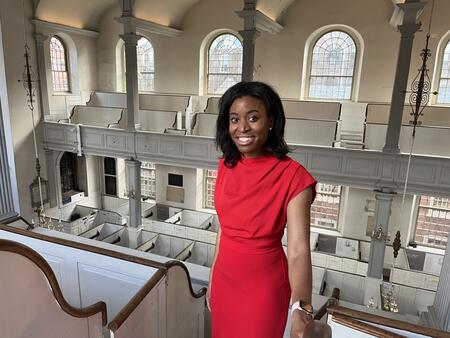 "Most people come to tour the church because they're excited about that one moment in history," Crumley says. "But we also know Old North was a Church of England congregation with historic connections to colonization and slavery. It's important, especially in our present moment, that people of color see our stories represented even in these historically predominantly white churches because we were there. We contributed just as much to the histories of these places."
Crumley is conducting her work as the research fellow with Old North Illuminated, a secular 501(c)(3) organization that maintains and preserves the historic site of Christ Church in the City of Boston, nicknamed Old North for its location in Boston's North End neighborhood and because of its status as the oldest extant church building in the city. She is currently on research leave from her position as an Assistant Professor at the University of Utah. After June 2023, she will return to the university and work on her first book, We Will Live: Black Christian Feminists in the Age of Revolutions, which draws on Black women's speeches, sermons, essays, and other writings to discuss how Black Christian women in New England contributed to abolitionist politics from roughly 1770 to 1870.
In her work at Old North Illuminated, Crumley aims not only to uncover the church's forgotten stories but to make them available to the public. As part of this effort, she has created a video series that takes readers through her discoveries in the church's archival records, maintained at the Massachusetts Historical Society. In each episode, she guides viewers through primary documents and the stories that they tell. Finding information about people in the 18th century is difficult, she says, even the white wealthy men whose lives were relatively well documented. Piecing together the stories of Black and Indigenous people is even more challenging, but these gaps in documentation can also be revealing.
In an episode that recounts her first week as a researcher, Crumley voices excitement over finding a list of baptisms that took place between 1723 and 1775. She assumed the document would give her some of the names of the church's early members and offer a point of departure for piecing together their stories. She was surprised to find, however, that some members were listed only as "Child," "Male," or "Female."
One entry that caught Crumley's attention was an adolescent woman referred to only as "Elizabeth, an Indian." Her name re-appears but with little more detail other than the fact she is an adult and was probably born in 1717 or 1718. She was likely a Massachuset woman and learned her people's sacred traditions—but it remains unclear if she and other Indigenous people took part in the church by force or by will, or somewhere in between.
Crumley had been interested in the intersection of history and social justice from a young age. Early on, she aspired to become a Supreme Court justice. In college, she realized that she also wanted to study religion. But, she says, "I didn't necessarily feel it would mean being in a pulpit every Sunday and serving a local congregation, so I really struggled to figure out what came next."
In her first year at YDS, Crumley took the class Transitional Movements, in which students were asked to find a primary source and write about its connections to American religious history.
"I was anxious because I had never done historical research. I wasn't quite sure what a primary source was," she says, laughing. "I just didn't really know where to go from there."
The teaching fellow for the course encouraged her to think about what she was excited to learn in the class so far and to seek out a source that might tell a similar kind of story. This prompted her to think about Jarena Lee's experience as a Black preaching woman in the late 18th and early 19th centuries.
During Crumley's research at the Beinecke Rare Book and Manuscript Library, she discovered Maria W. Stewart, a Black woman abolitionist, early Black feminist, and preacher. Stewart was the first U.S.-born woman of any race to address mixed audiences of women and men—which she did in her twenties after her husband died.
"I thought, this is fascinating, and I want learn more about these other Black women of the 19th century who expressed their political ambitions using religious discourse," Crumley says.
While at YDS, Crumley also studied with professors Tisa Wenger and Almeda M. Wright, who taught her to apply the theological principles she learned in divinity school to the study of forgotten and overlooked histories of Black women. For her Ph.D. dissertation in gender studies at UCLA, Crumley focused on people she describes as abolitionist theologians—Black women who used theological language to advocate for slavery's abolition.
Through shedding light on the forgotten stories of Old North, Crumley also seeks to reveal the way that history can illuminate the present moment. One of the effects of the Black Lives Matter movement, Crumley observes, is the effort many white-led churches made to reckon with their histories and complicity in slavery, settler colonialism, and sexism. She hopes that her research at Old North can be a call to action for other churches to research their own histories and be changed by what they find.
"One thing that clergy are really good at is being curious," Crumley says. "However often they preach, they go to the Bible and they find new inspiration. Finding new inspiration every single week takes creativity. It takes reading the story from a different perspective. It takes conversation with friends both clergy and non-clergy to help us understand things a little bit differently. The work of history takes similar skills—it takes looking at a source, asking questions, and trying to see a different point of view."
Even if a church doesn't have well-preserved archives, Crumley says, congregations can take steps toward learning about their histories through building relationships with local historical societies, libraries, and community leaders. Learning about similar congregations nearby could help shed light on what their community might have looked like.
"We have to tell the truth," she says. "We have to repent, but we also have to have honest conversations across racial lines, across cultural lines, across gender lines about what does this mean for our future? What does it mean for us to be changed?"
—–
Leah Silvieus '21 M.A.R. is a poet and writer working at the intersection of religion and literature. She is author of the poetry collection Arabilis (Sundress Publications) and is the co-editor with Lee Herrick of the anthology The World I Leave You: Asian American Poets on Faith and Spirit (Orison Books).