Three Transformational Leadership courses will be offered in the Spring semester, 2017. Each course is a two-day intensive, and awards one credit (a third of a normal class) for successful completion. Students may register for no more than two of these courses within any semester; no more than a total of three credits will be applied toward a degree. Direct any questions to william.goettler@yale.edu
Public Conversations with each of our guests will be held on the Friday evening of the weekend listed. All are welcome to join us for these public events, at Yale Divinity School, beginning at 7:30 p.m. Free parking is available in the YDS lot, at 409 Prospect Street.
Spring 2017 Speakers poster (pdf)
---
2016-2017 Schedule of Speakers
Spring 2017
 

February 3-4
"Rekindling a Prophetic Moral Vision for Justice"
William Barber, founder of the  Moral Monday Movement, President of the North Carolina NAACP
Faithful leadership in church and society calls for the building of a progressive agenda and a moral framework that counters the ultra-conservative constructs that seem to be dominating the public square.  Class participants will learn how to frame public policies which are not constrained or confined by the narrow tenets of neo-conservatism. Such faith leaders, whom Barber calls Repairers of the Breach, will spread the vision of a nation that is just and loving. 
"Our communities are torn apart by hateful violence and words, often in the name of opportunistic and hypocritical interpretations of the world's oldest holy books and teachings," writes Barber.  "To repair the breaches caused by centuries old systems of racial and gender inequality, we need clergy and lay leaders who will dedicate their lives to rebuilding, raising up and repairing our moral infrastructure.  
This class will be limited to 50 students, from across the university community
February 24-25
"Called Home: an unlikely journey to Habitat for Humanity"
Jonathan Reckford, CEO of Habitat for Humanity
Your first job probably won't be leading an international nonprofit NGO, addressing issues of poverty and housing at home and around the world.  But it's likely that you something to learn from a leader who is doing just that work. Together, we will consider five different aspects of faith based leadership: God at the center, Leading yourself, Leading a team,  Leading a movement, and Change management. Real stories about one of the best known and most effective nonprofit agencies ever created, by a seasoned leader whose life in business, in church structures, and in the public sphere will prompt your own visioning for the work of your life, and provide you with some of the most important resources you will need along the way.
Public Conversation with Jonathan Reckford, Friday, Feb. 24, at 7:30 p.m.
All are welcome to join us for this public conversation, moderated by Associate Dean Bill Goettler.

March 31-April 1
"Faith Leadership in a Political World"
Melissa Rogers, Special Assistant to the President and Executive Director of the White House Office of Faith-based and Neighborhood Partnerships
How do religious leaders shape public policy decisions?  And how do policymakers grapple with issues affecting religious ideas, institutions and individuals? Through the case study method, students will explore the substantive and leadership issues at play in some of the most challenging church-state matters facing the country today, including whether, when and how to exempt religious individuals and institutions from generally applicable laws; the rules for government funding of programs offered by faith-based institutions; efforts to counter violence committed in the name of religion; and U.S. strategies to promote religious freedom and other human rights around the globe.  Additionally, the course will focus on the role faith has played in the lives and leadership styles of U.S. presidents.
Public Conversation with Dr. Rogers, Friday, March 31, at 7:30 p.m.
All are welcome to join us for this public conversation, moderated by Associate Dean Bill Goettler.
---
Fall 2016
 

September 23-24
"Leading from Within: Personal Transformation and Social Change"
Parker Palmer and Marcy Jackson
Parker Palmer is a widely known writer, speaker, and activist who focuses on issues in education, community, leadership, spirituality, and social change. Marcy Jackson, MSW, MPH, is, with Parker Palmer, the co-founder for the Center for Courage & Renewal, where she supports the development of leadership facilitators and activists around the world.
October 28-29
"Leadership in the Changing World of Publishing"
Matt Malone S.J., President and Editor in Chief, America Magazine
At the time of his appointment, Fr. Malone was the youngest editor in chief in America's history. The recipient of first place Catholic Press Association award for essay writing, he has published his work in the New York Times, Boston Globe, and Washington Post, among other publications. He is the author of Catholics Without Labels, a book urging Catholics to transcend "liberal" and "conservative" and give testimony to the gospel message of Jesus.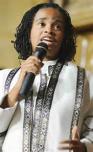 November 11-12
"Continuity and Discontinuity: Leading Beyond Tradition"
Rev. Dr. Leslie Callahan, St. Paul's Baptist Church, Philadelphia
Leslie Callahan leads a historic and vital congregation in Philadelphia. Her pastoral work engages the Black Lives Matter movement. The recipient of a Ph.D. from Princeton, she also teaches modern American religion, with a special interest in African American religions, at the University of Pennsylvania.
2015-16 Speakers