David T. Runia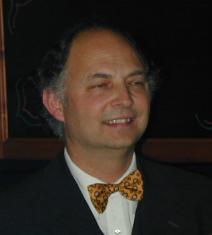 Present position
Master of Queen's College, Queen's College, The University of Melbourne
Professorial Fellow, School of Historical and Philosophical Studies, University of Melbourne
He can be contacted at
Queen's College, The University of Melbourne
1–17 College Crescent, Parkville Vic 3052, AUSTRALIA
email address: runia@queens.unimelb.edu.au
telephone: +61 3 9349 0753
telefax: +61 3 9349 0525
Curriculum vitae
David Runia was born in the Noord Oost Polder, The Netherlands in 1951. At the age of 4 he emigrated to Australia , where he studied Classics at the University of Melbourne , receiving his B.A. (hons) in 1974 and his M.A. in 1976. In 1977 he returned to the Netherlands , where he pursued doctoral studies at the Free University, Amsterdam . In 1983 he gained his D. Litt. degree with the thesis Philo of Alexandria and the Timaeus of Plato. From 1985-90 he was Huygens Senior Research Fellow at the Netherlands Organization for the Advancement of Pure Research (NWO). During this time he was a Member of the School of Historical Studies at The Institute for Advanced Study, Princeton (1986-87) and a Visiting Fellow at the Humanities Research Centre, Australian National University , Canberra (1987). In 1990 he was Von Humboldt Stipendiary at the Westfälische Wilhelms-Universität, Münster , Germany . In 1991 he was appointed Professor Extraordinarius in Ancient Philosophy at Utrecht University . He was appointed to the Chair of Ancient and Medieval Philosophy at Leiden University in 1992. From 1995 to 1999 he was Dean of the Faculty of Philosophy.
In 2001 he was appointed Master of Queen's College at the University of Melbourne , a position he still holds. He was also made a Professorial Fellow of the School of Historical and Philosophical Studies, The University of Melbourne. Aside from his administrative duties he remains actively involved in research. He is a Fellow of the Australian Academy of the Humanities and a Correspondent of the Royal Netherlands Academy of Arts and Sciences.
David Runia has been Editor-in-chief of The Studia Philonica Annual since its beginning in 1989. He is also co-editor of the journal Vigiliae Christianae and of the series Philosophia Antiqua (both published by Brill, Leiden ).
Research Interests
David Runia's research interests lie in (1) the area of Philo of Alexandria and Hellenistic Jewish thought, (2) the tradition of Platonism, (3) the Platonism of the Church Fathers, and (4) the study of ancient philosophical doxography.
His current research projects are:
The preparation of an edition of the ancient doxographical author Aëtius (together with Prof. J. Mansfeld, Utrecht University , and Prof. O. Primavesi, Munich University ).
The preparation of a commentary on Philo's De plantatione in the Philo of Alexandria Commentary Series (together with A. C. Geljon)
Continuation of bibliographical work on Philo through the International Philo Bibliography Project.
Publications (Select)
Books
Philo of Alexandria and the Timaeus of Plato, doctoral dissertation Free University of Amsterdam, 2 vols. (Amsterdam 1983); revised edition Philo of Alexandria and the Timaeus of Plato, Philosophia Antiqua 44 (Leiden 1986).
Philo of Alexandria: an Annotated Bibliography 1937-86, Supplements to Vigiliae Christianae 8 (Leiden 1988) [with R. Radice]; 2nd edition, Leiden 1992.
Exegesis and Scripture: Studies on Philo of Alexandria, Variorum Collected Studies Series (London 1990).
Philo in Early Christian Literature: a Survey, Compendia Rerum ad Novum Testamentum III 3 (Assen-Minneapolis 1993).
Philo and the Church Fathers: a Collection of Papers, Vigiliae Christianae Supplements 32 (Leiden 1995).
Aëtiana: The Method and Intellectual Context of a Doxographer, 3 vols. in 4, Philosophia Antiqua 73, 114, 118 (Leiden 1996, 2009–10) [with J. Mansfeld].
Philo of Alexandria: an Annotated Bibliography 1987-96, Supplements to Vigiliae Christianae (Leiden 2000).
Philo of Alexandria On the Creation of the Cosmos according to Moses: Translation and Commentary, Philo of Alexandria Commentary Series 1 (Leiden etc. 2001)
Proclus Commentary on Plato's Timaeus . Volume II Book 2: Proclus on the Causes of the Cosmos and its Creation ( Cambridge University Press 2008) [with M. Share]
Philo of Alexandria: an Annotated Bibliography 1997–2006, Supplements to Vigiliae Christianae 109 (Leiden 2012).
Philo On Cultivation: Introduction, Translation and Commentary, Philo of Alexandria Commentary Series 4 (Leiden 2013) [with A. C. Geljon]
Some of his more recent articles are:
'Why Philo of Alexandria is an Important Writer and Thinker,' in B. Decharneux and S. Inowlocki (edd.), Philon d'Alexandrie. Un penseur à l'intersection des cultures gréco-romaine, orientale, juive et chrétienne, Monothéismes et philosophie (Turnhout 2009-2011).
Dogma and doxa in the allegorical writings of Philo of Alexandria', Études Platoniciennes 7 (2010) 115–132.
Ancient Philosophy and the New Testament: "Exemplar" as Example,' in A. B. McGowan and K. Richards (edd.), Method and Meaning: Essays on New Testament Interpretation in Honor of Harold W. Attridge, Society of Biblical Literature Resources for Biblical Study 67 (Atlanta 2011) 347–361.
Early Alexandrian Theology and Plato's Parmenides,' in J. D. Turner and K. Corrigan (edd.), Plato's Parmenides and its Heritage: Volume II Reception in Patristic, Gnostic, and Christian Neoplatonic Texts, Writings from the Greco-Roman World Supplements 3 (Atlanta 2010) 177–87.
'God the Creator as Demiurge in Philo of Alexandria,' Horizons: Seoul Journal of the Humanities 3 (2012) 41–59.
'Philon d'Alexandrie,' in R. Goulet (ed.), Dictionnaire des philosophes antiques vol. 5 (Paris 2012) 362–390.
 'The Theme of 'Becoming Like God' in Plato's Republic,' in N. Notomi and L. Brisson (edd.), Dialogues on Plato's Politeia (Republic), International Plato Studies 31 (Sankt Augustin 2013) 288–293.
'Philo and the Gentiles,' in D. S. Sim and J. S. McLaren (edd.), Attitudes to Gentiles in Ancient Judaism and Early Christianity, Library of New Testament Studies 499 (London 2013) 28–45.
'Philo in the Patristic Tradition: A List of Direct References,' in T. Seland (ed.), Reading Philo: a Handbook to Philo of Alexandria (Grand Rapids MI 2014) 268–286.
'Clement on the Origin of Evil,' in Jourdan, F. and Hirsch-Luipold, R. eds., Die Würzel allen Übels: Vorstellungen über die Herkunft des Bösen und Schlechten in der Philosophie des 1.–4. Jahrhundert (Tübingen 2014) 87–99.
'Cosmos, Logos, and Nomos: the Alexandrian Jewish and Christian Appropriation of the Genesis Creation Account,' in P. Derron (ed.), Cosmologies et cosmogonies dans la littérature antique (Vandœuvres-Geneva 2015) 179–209.
'Philon von Alexandria,' in G. Schöllgen et al. (edd.), Reallexikon für Antike und Christentum, vol. 27 (Anton Hierseman: Stuttgart, 2015) 605–27.