Announcement by Dean Greg Sterling:
Dear Colleagues,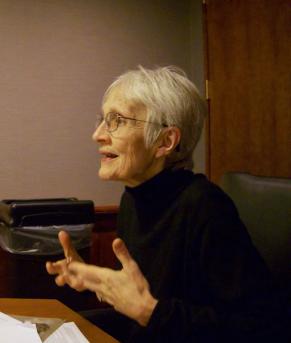 I write with the sad news that Marilyn McCord Adams, the former Horace Tracy Pitkin Professor of Historical Theology at YDS, has died after a battle with cancer.
A graduate of the University of Illinois (B.A.) and Cornell University (Ph.D.), Professor Adams served on the faculties of the University of Michigan and UCLA before coming to YDS in 1993 with her husband, Professor Robert Merrihew Adams. The pair left for Oxford in 2004, Marilyn becoming the first woman, and the first American, to hold that university's Regius Chair of Divinity.
An ordained Episcopal priest as well as a first-rate scholar, Professor Adams was "fiercely dedicated to teaching about the expansiveness of God," Carolyn Sharp recalls. She was also a powerful advocate for the poor and LGBT people.
"Her sermon 'Your God is Too Small' brought many to tears when she preached it in Marquand Chapel on National Coming Out Day," Carolyn remembers. "Marilyn was a brilliant philosophical theologian who studied the problems of suffering and evil with keen attention, and who gave of herself unstintingly as a teacher and mentor to students in the Divinity School and the wider Yale community."
The author of nine books, Professor Adams is perhaps best known for her definitive two-volume study of the work of William of Ockham. Her scholarship also addressed such subjects as Christology, the Eucharist, and figures including Thomas Aquinas and Gilles of Rome.
Much more about the inspiring life and career of Marilyn McCord Adams can be found here.
The YDS family celebrates the life, and mourns the loss, of this onetime member of our faculty and community.