Yale Divinity School's journal, Reflections, has garnered a top prize for its Fall 2016 issue on faith and politics, winning the Award of Excellence for theme issue from Associated Church Press.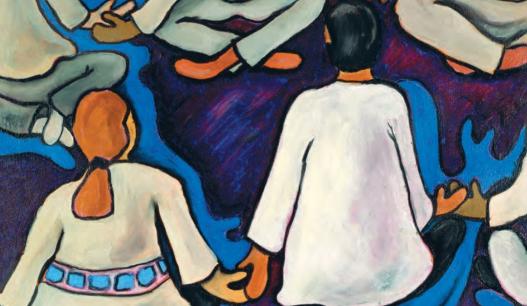 The Fall issue, "Spirit and Politics: Finding Our Way," won the award at the ACP banquet April 28 in Chicago.
The judges commented: "The mission statement for Reflections is theological and ethical inquiry. This issue with a political theme did just that with a vast, exceptional collection of essays, opinions, and analytical reports yielding unparalleled results."
The issue features YDS faculty, alumni/ae and other national scholars and practitioners in articles that provide theological perspective on our embattled politics and arguments for a more humane future. Essays include "Aiming the World Toward Hope" by Willie James Jennings, YDS Associate Professor of Systematic Theology and Africana Studies; "From Vulnerability to Power" by Neichelle Guidry '10 M.Div; "Days of Reckoning" by YDS Dean's Advisory Council member Lane Heard '73 B.A., '78 J.D.; and "A New Search for the Good Life" by theologian Stanley Hauerwas '65 B.D., '67 M.A., '68 Ph.D.
"Our challenge and goal was to produce an election issue that would be of use to readers after the November vote," Reflections editor Ray Waddle said. "That meant assembling pieces that would be relevant no matter who won; our issue came out in October, a month before the vote. I invited writers to address conditions that account for our divisions and also speak to the healing of our political culture. 'Spirit and Politics: Finding Our Way' was the result, and we're honored to receive this Associated Church Press award."
Reflections also received a second-place best-in-class Award of Merit for print journal in 2016. In addition, YDS Dean Gregory E. Sterling won Honorable Mention in the category of theological or scholarly article (all media) for his essay "Religion as a Bridge, Not a Wall" in the Spring 2016 issue.
ACP is the oldest interdenominational religious press association in North America.
Reflections is produced twice a year by YDS and mailed to 17,000 subscribers. Focusing on one theme per issue, the magazine features essays, interviews, poetry and artwork in an effort to extend the YDS mission of serving church and world. See reflections.yale.edu.