2020 awards will be made in 2021 due to the COVID pandemic.
2019 Alumni Award Winners
Kristin Foster '77 M.Div.—Distinction in Congregational Ministry
Neichelle Guidry '10 M.Div.—William Sloane Coffin '56 Award for Peace and Justice
Serene Jones '85 M.Div. '91 Ph.D.—Distinction in Theological Education
Kathy A. Turner '69 M.Div.—Lux et Veritas
---
Distinction in Congregational Ministry — Kristin Foster '77 M.Div.
At the heart of YDS is the commitment to train women and men for the lay and ordained ministries of the Christian church. The award for Distinction in Congregational Ministry is awarded to a lay or ordained individual who has shown exceptional pastoral competence in the work of developing the ministry and mission of local congregations.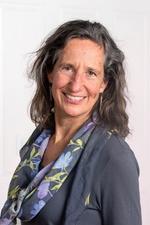 For three decades, the Rev. Kristin Foster provided dynamic leadership to Messiah Lutheran Church, ELCA, in Mountain Iron, Minnesota, a congregation located in the rural-mining-wilderness region known as the Mesabi Iron Range. Before her recent retirement, she guided the church into an unfolding mission by listening to the hopes of people within and beyond the congregation.
Over their decades together, Foster and her congregation embraced visionary and courageous initiatives. They launched the Mountain Iron Neighborhood Network to revitalize neighborhood parks, the Summer Work Outreach Project for youth of the community, and a seminary internship to train future pastoral leaders for dynamic rural ministry. After a lightning strike fire destroyed the church building in 1998, Foster led the congregation in relocating and designing a new structure.
A beacon of hope in its new location, Messiah became the first ELCA congregation in the rural upper Midwest to formally adopt a statement of welcome for LGBTQ people, then called a partnered gay woman as assistant pastor and opened its doors to same-gender weddings. The congregation also initiated the Iron Range Partnership for Sustainability and Iron Range Earth Fest and developed a community kitchen, a community garden, and an afterschool program for community children.
In addition, Foster wrote guest columns in the local newspaper and and convened Ecclesia, an initiative to record and interpret the stories of congregation members. Ecclesia gave rise to the Iron Range Immersion, a two-week experience designed for seminarians to learn how to listen to a congregation's story and encounter the culture and politics of the Iron Range.
From beginning to end, Foster's ministry was shaped by the conviction that the Gospel is met and manifested in the living tissue of the community and place to which the church belongs.  
---
The William Sloane Coffin '56 Award for Peace and Justice—Neichelle Guidry '10 M.Div.
The Coffin award is given in honor of the life and ministry of William Sloane Coffin, former Chaplain to the University and one of the 20th century's most significant religious leaders. The recipient of the Coffin award will be someone who shares Coffin's passionate and prophetic witness, a courageous devotion to the dignity and worth of all persons, and who has made a notable contribution to the work of peace and reconciliation.
Rev. Dr. Neichelle R. Guidry currently serves as the Dean of Sisters Chapel and Director of the WISDOM Center at Spelman College in Atlanta. She is a spiritual daughter of New Creation Christian Fellowship of San Antonio, Texas, where she was ordained to ministry in 2010.
Dr. Guidry is a graduate of Clark Atlanta University (2007, BA, Lambda Pi Eta) and YDS, where she was the 2010 recipient of the Walcott Prize for Clear and Effective Public and Pulpit Speaking. She is also a graduate of Garrett-Evangelical Theological Seminary (2017), where she completed her Doctor of Philosophy in the area of Liturgical Studies with a concentration in Homiletics. Her dissertation is entitled, "Towards a Womanist Homiletical Theology for Subverting Rape Culture." She is the creator of shepreaches, a virtual community and professional development organization that aspires to uplift African-American millennial women in ministry through theological reflection, fellowship, and liturgical curation.
For six years, Guidry served as the Associate Pastor to Young Adults and the Liaison to Worship and Arts Ministries in the Office of the Senior Pastor at Trinity United Church of Christ on the South Side of Chicago, where the Rev. Dr. Otis Moss III is Senior Pastor. She served as the 2016 Preacher/Pastor-In-Residence at the Black Theology and Leadership Institute at Princeton Theological Seminary.
Guidry was listed as one of "12 New Faces of Black Leadership" in TIME Magazine (January 2015). She was recognized for "quickly becoming one of her generation's most powerful female faith leaders" on Ebony Magazine's 2015 Power 100 list (December 2015) and one of "Ten Women of Faith Leading the Charge Ahead" by Sojourners. Additionally, Guidry and the work of shepreaches were featured in the New York Times (April 3, 2015).
She is a contributor to What Would Jesus Ask?: Christian Leaders Reflect on His Questions of Faith (Time Books, 2015), and the author of Curating a World: Sermonic Words from a Young Woman Who Preaches (self-published, June 2016).
Guidry is a member of Delta Sigma Theta Sorority.
---
Distinction in Theological Education—Serene Jones '85 M.Div. '91 Ph.D.
One of the finest traditions of YDS is its commitment to excellence in all dimensions of theological education. This award recognizes alumni whose scholarship, teaching or leadership and contributions to vocational formation for ministry reflect the best traditions of YDS and its distinguished faculty.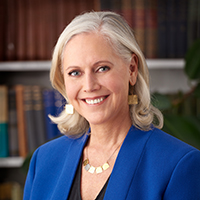 The Rev. Dr. Serene Jones is the 16th President of Union Theological Seminary in the City of New York, the first woman to be president in the school's 182-year history. She is a leading public theologian who contributes to scholarly and national discussions on matters of faith, social justice, and political life.
At Union, Jones occupies the Johnston Family Chair for Religion and Democracy and formed Union's Institute for Women, Religion and Globalization as well as the Institute for Art, Religion and Social Justice. She came to Union after 17 years at Yale, where she was Titus Street Professor of Theology at YDS and chair of Women, Gender and Sexuality Studies in the Graduate School of Arts and Sciences. Besides her YDS degree, she holds a B.A. from the University of Oklahoma and a Ph.D. from Yale University. Jones is ordained in the Christian Church (Disciples of Christ) and the United Church of Christ.
Jones is the author of several books, including Calvin and the Rhetoric of Piety (Westminster John Knox, 1995) and Feminist Theory and Christian Theology: Cartographies of Grace (Fortress, 2000). Her latest is a memoir, Call It Grace: Finding Meaning in a Fractured World, released this year.
---
Lux Et Veritas—Kathy A. Turner '69 M.Div.
The Lux et Veritas award is given to someone who has demonstrated excellence and distinction in applying the compassion of Christ to the diverse needs of the human condition through the wider church, institutional ministries, ecumenical organizations, not-for-profit organizations, government, or industry.
Kathy Turner is a pioneering leader in the movement to train spiritual care practitioners for hospitals, parishes, and other settings and is the first woman to be president of the Association of Clinical Pastoral Education (ACPE) and the International Council on Pastoral Care and Counseling (ICPCC).
Turner originally planned to be a social worker, but her experiences at YDS clarified a ministerial sense of vocation, inspiring her to pursue the field of training spiritual care professionals. During her ACPE leadership, she worked to reshape the Clinical Pastoral Education curriculum to reflect more inclusive values and to foster heightened understanding of the power dynamics of gender and culture.
She regards the immersive approach of CPE as an occasion for students to learn foundational pastoral skills. Her goal has long been to ensure that CPE be truly hospitable as a form of education for ministry. "I have continued over my entire ministry career to be a CPE supervisor because I believe in the transformation that occurs in that process," she has said. "A lot of the students come in thinking it's all about learning 'what to do.'. It's really something that's much more inward-focused. integrating who you are and what you believe into your ministry."
Barbara Sabia
Senior Director of Alumni Engagement and Development
(203) 432-4791
Deborah Jagielow
Director of Alumni Engagement & Annual Giving
(203) 4323871