Gabby Cudjoe Wilkes, '18 M.Div.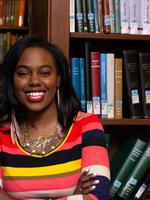 Gabby Cudjoe Wilkes is a pastor and brand strategist whose work is situated at the intersection of faith & culture. Her work in ministry began as a gospel music publicist and event planner. From 2005-2015, Pastor Gabby worked as a publicist for gospel music artists such as Mary Mary, Erica Campbell, Jonathan McReynolds, BeBe Winans, Mathew Knowles & Music World Entertainment, eOne Music and others. Within that time frame, she also worked with entertainment companies such as BET and Viacom. 
From 2013-2018 she served as the Co-Pastor to the young adults of The Greater Allen Cathedral of New York, under the leadership of the Reverends Drs. Floyd & Elaine Flake. In 2018, she  & her husband co-founded their own church: The Double Love Experience Church in Brooklyn, New York. 
Pastor Gabby is committed to the work of justice both domestically and abroad. While enrolled at Yale Divinity School she took a delegation of 6 seminarians and 1 undergraduate student to Flint, Michigan in 2016 to both respond to the Flint Water Crisis and to document the ways in which black communities who seem to be overlooked or ignored by the federal government deal theologically with the uncertainties and the theodicy that natural disasters can bring. Pastor Gabby studied theology for a 3 month term in Cambridge, England in 2017 at The Westcott House and traveled to Ahmedabad, India for a 10 day travel seminar in 2016. 
Pastor Gabby is an advocate of women in ministry and an inaugural member of the Millennial Womanist Project, a cohort of black women millennial faith leaders across the nation. She is the co-host of the digital interview series, Womanists Taught Us. Pastor Gabby holds an M. Div. from Yale University, where she received the Charles S. Mersick prize in preaching, a B.A. in Public Relations from Hampton University where she was a William R. Harvey Leadership Institute Fellow and an M.A. from New York University, a joint program through the Steinhart School of Culture and the Stern School of Business. She is the 2016 recipient of the Queens, New York Guy R. Brewer Religious Leadership Award & The Yale Afro-American Cultural Center Outstanding Graduate Student Award. She and her husband, Pastor Andrew Wilkes were featured twice in Essence Magazine.com, in February 3019 and April 2016, on love and ministry.  
Pastor Gabby is a contributing writer alongside some of the nation's leading faith leaders, to the newly released book (2017): Mr. President: Interfaith Perspectives on the Historic Presidency of Barack H. Obama. She most recently worked as a senior brand strategist to the Dwight Hall Center for Social Justice and Public Service at Yale University.