re·​fec·​to·​ry

ri-ˈfek-t(ə-)rē \  from Merriam-Webster: a dining hall (as in a monastery or college)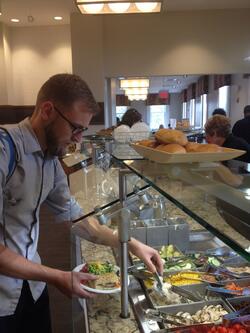 Offering breakfast and lunch Monday through Friday, the Refectory is an inviting place to eat, talk, and spend time together. The Refectory offers continental breakfast with select hot breakfast items and fresh fruit, as well as freshly brewed fair-trade coffee and crafted barista drinks, smoothies, juices, and small-batch craft sodas. For lunch, enjoy a variety of freshly made sandwiches or choose a hot entrée from a daily menu that includes vegetarian and vegan specialties. Customize your salad from the salad bar, or choose from a variety of fresh composed salads, soups, chili, and sushi. 
The Refectory accepts credit cards and Eli Bucks as payment, but not cash. Please see the Divinity Bulletin for information on Divinity campus meal plan cost as applied to Yale Divinity School students.
The Divinity Refectory is part of the Yale Hospitality Services. Eli Bucks and student meal plans are honored at most other campus dining locations that are part of Hospitality Services. Please check the Hospitality Services website for more information about other campus dining locations.
Students are welcome to use the dining area for study or quite space after formal meal times. Campus events are sometimes hosted in the dining area. Current Refectory hours are updated on the Hospitality Services website.