Yale Divinity School is committed to enrolling the best possible candidates for admission, based on academic ability and potential; leadership qualities; spiritual maturity; emotional stability; interpersonal communication skills; seriousness of purpose; personal initiative; and creativity.  To that end, admission is need-blind and unrelated to the student's ability to pay.
The goal of the financial aid program at the Divinity School is to enable students enrolled in its degree programs to manage and meet their institutional and living expenses without diverting undue energy or attention from their educational responsibilities.
Office hours: 8 am to 4pm EST
Financial planning with iGrad
A powerful online organizational tool to assist you in planning for your financial needs now and in the future.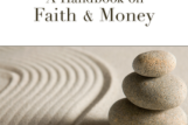 How do we think theologically about money, finance, and economics? YDS commissioned Bob Massie '82 M.Div. to explore the issue in a new book tailored to divinity students, A Handbook on Faith and Money.
God and Money: Turning the Tables
The spring 2017 issue of Reflections magazine addresses how we think theologically about money, profit, debt, and finances. 
Vernice Randall
Associate Dean of Admissions and Financial Aid, Lecturer in Homiletics
(203) 432-9802

Doreen Generoso
Senior Administrative Assistant, Financial Aid
(203) 432-5026