You are here
Martin B. Copenhaver, '80 M.Div.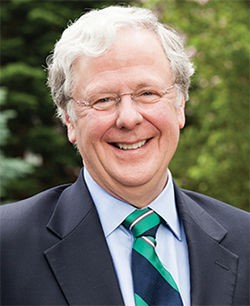 Martin B. Copenhaver is the President of Andover Newton Theological School. He is a magna cum laude graduate of Dickinson College in Carlisle, Pennsylvania and received his Master of Divinity from Yale Divinity School in 1980. Upon graduation from Yale, Copenhaver was awarded the Mersick Prize for preaching, and subsequently has had many sermons published in the Harper and Row Best Sermons series. He is an ordained minister in the United Church of Christ.
From 1980 to 1982, Copenhaver served as Associate Minister of Saugatuck Congregational Church (UCC) in Westport, Connecticut. From 1982 to 1991 he served as Senior Minister of First Congregational Church (UCC) in Burlington, Vermont. He was also a Visiting Scholar at Duke Divinity School during the spring semester of 1990. From 1991 to 1994 he served as Senior Minister of the Church of the Beatitudes (UCC) in Phoenix, Arizona. In 1994, Copenhaver became Senior Minister of the Wellesley Congregational Church (UCC) in Wellesley, Massachusetts, where he served until 2014.  He serves on the Yale Divinity School Dean's Advisory Council.
Copenhaver has published six books. They include Living Faith While Holding Doubts (Pilgrim Press, 1989; revised 2003) and To Begin at the Beginning: An Introduction to the Christian Faith (United Church Press, 1994; revised by Pilgrim Press, 2002). He is a co-author, with Anthony B. Robinson and William H. Willimon, of Good News in Exile (Eerdmans, 1999). In 2003 Pilgrim Press published another book he co-authored with Anthony B. Robinson: Words for the Journey: Letters to Our Teenagers about Life and Faith. He also co-authored with Lillian Daniel, This Odd and Wondrous Calling: The Public and Private Lives of Two Ministers, published by Eerdmans in 2009. Abingdon Press published, Jesus Is the Question: The 307 Questions Jesus Asked and the 3 He Answered, in September 2014 and Eerdmans will release Room to Grow: Meditations on Trying to Live as a Christian in October 2015. He has also been a regular columnist for newspapers in both Burlington and Phoenix and has published over a hundred articles in a variety of periodicals. He also serves as Editor at Large for The Christian Century.
Copenhaver is married to Karen Faulds Copenhaver, an attorney with a practice in intellectual property law. They have two children: Alanna, a recent graduate of Yale Divinity School and a Ministry Fellow at Harvard University's Memorial Church, and Todd, a research analyst in the credit sector.