Acclaimed New Testament and Early Christianity scholar Teresa Morgan has accepted an appointment to the YDS faculty beginning in 2022. She will come to Yale from the University of Oxford, where she is Professor of Graeco-Roman History and Nancy Bissell Turpin Fellow and Tutor at Oriel College.
Morgan becomes the inaugural holder of the newly established McDonald Agape Professorship in New Testament and Early Christianity, funded through a gift from the McDonald Agape Foundation.
***
RELATED STORY: McDonald Agape gift funds creation of endowed professorship
***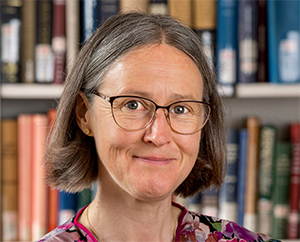 Renowned for her work in New Testament and Early Christian Studies, Morgan has made major contributions to a deeper understanding of pistis, or faith, in the ancient world, as well as literate education in Hellenistic and Greek culture.
YDS Dean Greg Sterling said, "Teresa Morgan began her career as a 'theologically interested classicist,' as she puts it, and has become a 'classically interested theologian'—a theologian, I would add, of the highest quality. Her presence at YDS, in combination with Laura Nasrallah and other faculty in New Testament and Early Christianity, will make Yale one of the premier places in the world for these fields."
Former Chair of Oxford's Faculty of Classics, Morgan focuses her work on ancient history, biblical studies, patristics, and theology. Among her books are Literate Education in the Hellenistic and Roman Worlds (Cambridge, 1998), Popular Morality in the Early Roman Empire (Cambridge, 2007), and Roman Faith and Christian Faith (Oxford, 2015). The recipient of a 2017 Major Research Fellowship from the Leverhulme Trust, Morgan is currently working on the second and third books of a trilogy on the nature of Christian faith.
Morgan lectured at YDS in 2018 on "Preaching Cathedrals and Temples of Christ: Faith in Church in the Fourth Century c.e." and is scheduled to give the Divinity School's Bainton Lecture on September 16, a talk titled "Travels in the Interior: The Evolution of Fides Qua."