By Timothy Cahill '16 M.A.R.
In the midst of the Covid crisis and its dread effects, in the wake of hurried goodbyes and virtual commencements, Harold W. Attridge, former Yale Divinity School dean and Sterling Professor of New Testament, has stepped into retirement. For the renowned Biblical scholar, the transition ends a 23-year career of service to YDS, where he will always be remembered for leading the school through turmoil and renewal.
Attridge, known to most simply as "Harry," is the great before-and-after presence of the Divinity School's last quarter century. When Gregory E. Sterling took over as dean in 2012, he inherited "a very different place" from the crumbling and academically adrift institution that Attridge found upon arriving as a professor in 1997, or the school still whelmed by challenges when he ascended to the deanship in 2002. 
"Harry resurrected YDS and Yale's standing in the larger theological world," Sterling said. Attridge helped lead the school's physical renovation, built a world-renowned senior faculty, and dramatically improved the School's financial health. In the process, he revitalized the Divinity School's tradition of excellence and transformed the school into a locus of intellect and faith. 
Habit for learning
The discipline, imagination, and wisdom Attridge brought to resurrecting the Divinity School were formed in childhood. Harry's voice still retains the rounded "pahk-the-cah" vowels of his upbringing in the Boston suburb of Somerville, in a Catholic, working-class neighborhood of Irish and Italians. Attridge's mother worked in state government; his father fought in World War II, sold shoe-making machines until all the shoe factories left New England, then took a job with the post office. His parents may not have been lettered, but they instilled in their son a a respect and habit for learning.
"They enjoyed books," Attridge recalls. "I was encouraged to read a lot and take that part of my life seriously."
Young Harry was educated in Catholic schools, where he took naturally to the scholastic rigors of the nuns and priests. He attended Boston College High School, an all-male Jesuit prep school affiliated with its namesake college. He played hockey and excelled in Greek and Latin. In his junior year, he joined a team of students who read the whole of Homer's Odyssey in ancient Greek, then sat for an oral exam on the epic before an audience, including spontaneously translating passages into English.
Sixty years on, "I can still recite passages of the poem in Greek if you like," he assured me.
Attridge's schoolboy acuity earned him the chance to graduate from high school a year early and advance to Boston College tuition-free. There, under the college's Jesuit scholars, he majored in Classics, advancing his love of ancient languages and honing his rhetorical skills on the debate team. At one debate tournament he met a political science major from the University of Massachusetts named Jan Farren. She has been his wife and debate partner for 52 years.
In his senior year at B.C., Attridge was named "Scholar of the College," which exempted him from regular coursework to concentrate on an in-depth research project. He was introduced to New Testament scholar George MacRae, who set him to examining a second-century Christian homily and writing a thesis-length commentary. The experience, Attridge said, "convinced me that that sort of thing was fun." 
Serendipity
After Boston College, the budding academic delayed doctoral work at Harvard to accept a Marshall Scholarship to Cambridge University. He spent two years reading philosophy in Greek and exploring England, then returned to the States in 1969 to begin his Ph.D. in New Testament Studies. He finished in five years, writing his dissertation on the Hellenistic Jewish historian Flavius Josephus, who recorded in passing the death of one "Jesus, who was called Christ." As part of his coursework, Harry spent a year at the Hebrew University of Jerusalem. He went to study Judaic history, but in keeping with the cascading fortune that has illuminated his life, while there he met and was soon assisting Bentley Layton, then at the beginning of his own esteemed career.
Layton went on to make his name as a Yale religion professor and authority on ancient Coptic, the language of early Egyptian Christians. In Jerusalem, he was a visiting professor translating the sermons of an early Coptic saint. He invited Harry to work with him, and the two men forged a lifelong friendship. Back at Harvard, Attridge completed his degree and was named a junior fellow with the Harvard Society of Fellows, a prestigious three-year post-doc appointment. He worked with Layton again, translating the Nag Hammadi cache of so-called "Gnostic" manuscripts, third-century Coptic texts that present an elaborate, often baroque, alternative Christianity. The collaboration eventually led Attridge to prepare the first major English translation of the Gnostic Tripartite Tractate.
In 1977, Attridge became a New Testament professor at Southern Methodist University, where he quickly earned tenure and was asked to write what became his important Commentary on the Epistle to the Hebrews. After seven years, he moved to the theology department at the University of Notre Dame, recruited there at the urging of John Collins and Adela Yarbro Collins; Adela was his colleague in New Testament scholarship, while John had known Harry since their days together at Harvard. (All three, of course, would wind up at YDS.)
At Notre Dame, Attridge made his first foray into academic administration, when he was named Dean of the College of Arts and Letters in 1991. After six years leading the undergraduate college, "I'd had enough of deaning," he says, and was in search of a "new academic space" where he could concentrate on scholarship. Layton helped secure him an appointment at YDS, and on the cusp of his 50th birthday, Harry, Jan, and their two children moved to New Haven.
"I don't know of any recruitment in my tenure that came with more excitement or pride," recalled Richard Levin, Yale's president from 1993 to 2012. "Harry [had] a towering reputation as a New Testament scholar and early church historian, and he arrived with much enthusiasm from his colleagues: 'We got Harry Attridge!' It was quite a coup."
A dark time
Attridge's arrival on Sterling Divinity Quadrangle in the fall of 1997 was a bright spot in a dark time. Decrepit buildings, declining admissions, and low morale cast a pall over the school.
Physically, the place "was a mess," Attridge remembered—loose shutters, leaky roofs, peeling paint, mold in the classrooms. There was scaffolding around Marquand steeple, not for repairs, but to hold it in place. "And it wasn't just YDS, it was Yale as a whole," he said. "The whole place had a deferred-maintenance problem."
For YDS, however, the question was more existential than mere crumbling bricks and mortar. In the mid-'90s, the Divinity School's future at Yale was not at all clear. Its deteriorating condition and slumping student rolls convinced some in the university that the best action was to raze the hilltop campus and move the school to a single building downtown.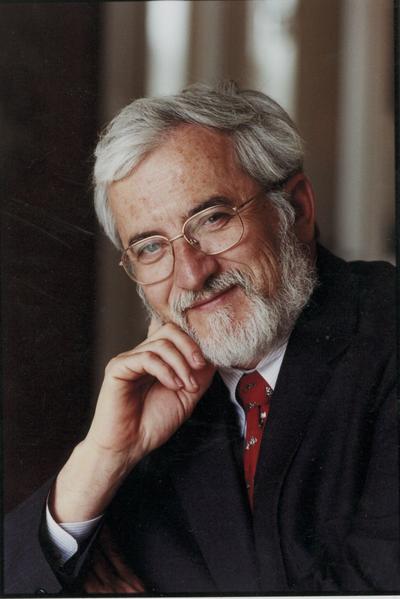 The proposal raised more than a few alumni hackles. "They thought it was an abomination that would make things desolate," said Attridge. "Rick Levin told me that he received more correspondence from alums and friends about the destruction of Divinity School while he was president than all other issues combined."
The decision was made to keep and restore the campus on the hill, and renovations were in progress when Harry arrived. Within two years, he had assumed the chairmanship of the building committee and showed a distinct skill at juggling the innumerable balls involved in the $45-million renovation project.
"It wasn't long before we discovered Harry's [management] skills," said Levin, "that he loves planning, loves numbers, and is facile with budgets. It came naturally to him. It was very clear that this was a person cut out for leadership."
Questions about the Quad were not the only turbulence at YDS, however. In 2000, with Attridge's deanship still two years away, a rape allegation against a student, charges of racial discrimination, and other controversies shook the campus and led to the premature departure of the sitting dean. Religious scholar Rebecca Chopp was named to fill the vacancy, the first woman to occupy the role. Less than a year later, though, Chopp roiled the campus again when she stepped down to become president of Colgate University.
"When Rebecca told us she was leaving, it was obvious to everyone that Harry was the person to take over," Levin said during a recent telephone interview. The search committee went through the motions of weighing options, he recalled, but "it wasn't a protracted process. It was very quick."
"I obviously have bad karma," Attridge remarked drolly of that time. "I'd left Notre Dame to concentrate on academics. Five years later I was dean again."
Clarity and morale
When the new dean took the keys to YDS in September 2002, "the place was [still] quite unsettled," President Levin said. "There had been concerns about leadership for many years. There was a lack of clarity about what the school's direction and purpose were, and about the relative roles of scholarship and preparation for ministry. Faculty morale was not high."
Attridge set about raising morale and clarifying the Divinity School's purpose.
"I wasn't in the business of creating some new identity," for the school, he explained. "I wanted to restore its high tradition of excellence."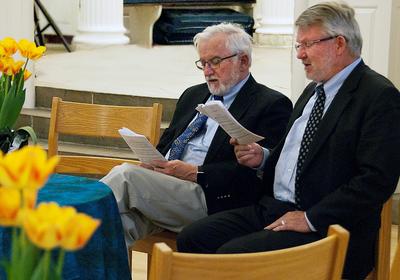 He began by building the faculty. Having already helped secure positions for John and Adela Collins, as dean Attridge assembled a team of scholars whose presence has done much to define the YDS experience in the 21st century: John Hare, Bruce Gordon, Mary Moschella, Chloë Starr, Kathryn Tanner, Denis Turner, and others. Responding to student calls for coursework in spirituality, he recruited Janet Ruffing from Fordham. 
In all, Attridge appointed more than a dozen senior faculty and created three endowed faculty chairs.  
"Harry made a series of stellar appointments that matched the renovations of the physical campus," said Dean Sterling. "I've used the same high bar for faculty hires that Harry used."
Attridge also revived the Divinity School's public presence, saying in an interview with the old alumni magazine, Spectrum, that the school must stand "as a force for good in shaping matters religious and moral."
He spoke out against capital punishment; organized conferences on the environment, immigration, poverty, women scholars, and Christian-Muslim relations; and publicly debunked claims in The DaVinci Code. Attridge oversaw formation of the Yale Center for Faith and Culture and brought back Reflections, the school's journal of theology and ethics.
"The Divinity School articulates the meaning and truth of religious traditions, and those traditions have impact on all manner of human activities," he said, reflecting this spring on the changes he made as dean. "We must be engaged in issues of society, justice, environment, ethical issues of all sorts."
A Catholic dean
Attridge's commitment to social action grows from his Catholic roots, from the ethos of "living a life for others" instilled by his Jesuit teachers. As the first Catholic dean of YDS, Harry embodied the school's movement toward ever greater ecumenism and intellectual exchange.
As Attridge explained, "Catholics were rare to nonexistent [at YDS] before the Second Vatican Council (1962-65), when the Church opened up to ecumenical relations." The School's first Catholic faculty member was ethics professor Margaret Farley, who came to YDS in 1971.
At YDS, the old Reformation divide had closed considerably by the beginning of the new century. But Attridge still had to assuage the fears of some old-school Protestant alumni. "One of the big challenges at the beginning was connecting with alums and assuring them that having a Catholic as the Divinity School's dean was not the beginning of its end."
"It was important that YDS have a Catholic dean," Greg Sterling observed recently, "otherwise it would be hard to claim the school was truly ecumenical." Today, Roman Catholics represent the student body's third-largest denomination, a fact the present dean attributes partly to his predecessor.
"Harry made it possible to be Catholic and feel completely at home here," he said.
Enrollment rose generally under Attridge. With that came a more diverse population of students, including international students not just from Europe but from Africa and Asia. He forged partnerships with theological schools in Hong Kong and Singapore, expanding YDS student exchanges. And he increased financial aid from $1.6 million to $5.4 million annually, while creating 40 endowed scholarships.
By the time Attridge stepped down as dean in 2012, his accomplishments also included completing a $37 million capital campaign, collaborating with the Institute of Sacred Music on a $4 million renovation of Marquand Chapel and installation of the balcony organ, and establishing, with Berkeley Divinity School, the Educational Leadership and Ministry (ELM) program.
Accolades and prayers
Even as Attridge was raising the Divinity School's profile as dean, he was also continuing to enhance its reputation with his scholarship. His C.V. is every bit as impressive as one would imagine, in achievement and breadth. And while he is widely known for his work on the Book of Hebrews, Gnostic literature, and the Gospel of John, he's also touched uncounted seminarians, students, and exegeting clergy with his work as general editor of the Harper Collins Study Bible.
Then there are the accolades and honors: election to peer-reviewed societies, prestigious awards and grants, even inclusion in a PBS documentary on the life of Jesus. In 2013, YDS immortalized him with a fine painted portrait that now hangs in the gallery of worthies in the Common Room. Two years later, Attridge was elected to the American Academy of Arts and Sciences, joining the likes of Thomas Jefferson, J. Robert Oppenheimer, T. S. Eliot, and Duke Ellington.
Retirement will give Attridge time to add to this scholarly reputation. ("I'm being much more productive in quarantine than I might have been when there were so many social options," he said.) He is currently at work completing a commentary on the Gospel of John, a text he has written extensively on throughout his career.
He first encountered the "Fourth Gospel" as a boy in church, when the Prologue was read as the concluding prayer of the old Latin Mass.
In that encounter, and in many others, his life was formed by what he characterized as "the fundamental values that come out of Catholic tradition and the Gospel mission—to be of value to my fellow human beings."
"I often pray the 'Prayer of St Francis,' he continued, lightly skimming over the orison's sweet surface — "make me an instrument of your peace … where there is hatred, let me bring love … it is in giving that one receives… ."
"I've prayed that quite a lot," he said. "I think it gives an impression to what has motivated me."
Timothy Cahill '16 M.A.R. writes on religion and art. His book Selling Norman Rockwell: Art, Money, and the Soul of an American Museum is forthcoming in 2021.