By YDS Dean Greg Sterling
I am happy to announce two exciting additions to the YDS staff: Alison Cunningham '84 M.Div. is joining us as our Director of Professional Formation, and Kelly Morrissey is coming to YDS as Associate Director for the Youth Ministry Institute and Yale Bible Study. Here is more about them.
Alison Cunningham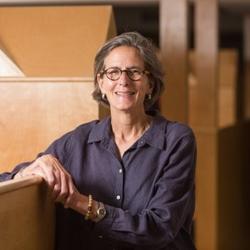 Alison Cunningham is a visionary nonprofit leader who for the past 20 years has served as CEO and Executive Director of Columbus House in New Haven, which serves people who are homeless or at risk of becoming homeless. Many of you will recall that we recognized Alison last fall with the William Sloane Coffin '56 Award for Peace and Justice. In addition to her work for Columbus House, she has been an internship supervisor for us since 2010 and a practicum lecturer since 2016.
Alison will be the inaugural director in a position that we created as part of the restructured ministry and professional formation team led by Bill Goettler, Associate Dean for Ministerial and Social Leadership. She will be charged with providing resources, training, and support for students who discover a vocational direction in nonprofit service. We need to serve the growing number of students who are primarily interested in nonprofit leadership and other professional careers. Those who go into congregational ministry also need to understand the nonprofit world and vice versa.
Alison Cunningham is the ideal person to launch this program. Under her leadership, Columbus House has found homes for thousands of people and has grown to the point where it now employs 170 people and manages an annual budget of $13 million. Alison's professional experience and broad network with nonprofits throughout Connecticut will enable her to quickly develop a program of opportunities for our students to enter nonprofit placements, and to provide a campus-based program to train students in all aspects of nonprofit leadership.
Alison will begin her work at YDS at the end of August.
Kelly Morrissey
Kelly Morrissey comes to YDS from the Congregational Church of New Canaan, CT, where she has been Chief Operating Officer since 2012, following 10 years of service as the church's Executive Assistant and Church Administrator. A 1988 Ithaca College graduate, Ms. Morrissey previously ran an event consulting company, worked as a senior program manager at a business consulting company, and served as vice president of the sports marketing agency Millsport.
In these and other roles, Kelly has developed an array of management, fundraising, and communication skills that will serve her well in her administration of YMI and the Bible study program. Both programs are important expressions of the YDS mission of service to churches, and both will be in excellent hands with Kelly.
Kelly will assume many of the administrative responsibilities previously performed by Skip Masback '94 M.Div., who has retired and moved to Vermont. In case you missed it, here is a link to our recent Notes from the Quad profile of Skip and his efforts to found the Institute. We wish Skip and Amy all the best in this new phase of their life.
Kelly begins her work in her new position on Monday, June 3rd.
It is with a high degree of expectation and great enthusiasm that we welcome these talented and experienced professionals, Alison Cunningham and Kelly Morrissey, to YDS.