By Leah Silvieus '21 M.A.R.
Sandra Fischer '12 M.Div. first felt called to ministry in grade school, but her call took time to develop.
Fischer grew up in a conservative denomination in the Midwest that did not allow the ordination of women. And although her upbringing led her to a strong faith, it also discouraged her natural intellectual curiosity.
"I figured that if God had given me this intellect," she says, "then I ought to use it."  
She is using it now. Fischer leads Congregation Collaboration, a consulting service she started that assists congregations in considering whether a multi-church relationship might be the right next step for their ministries—an increasingly urgent question for churches in a time of religious disaffiliation.
Although Fischer's vocation developed over time, she says each experience along the way deeply informed Congregation Collaboration's approach and ethos.
After being discouraged from pursuing ministry as a young person, Fischer searched for other ways to use her gifts to help people and found herself drawn to the law.
"Both the law and ministry attract people who want to help individuals deal with the challenges of life," Fischer says.
After attending law school, Fischer went into private practice. She eventually became an administrative law judge, returned to private practice, and then semi-retired when she had children.
Her call to ministry, however, always remained in the back of her mind.
When she moved to the Northeast, she witnessed examples of women in ministry, and she finally gave herself permission to attend divinity school. She says she was particularly attracted to YDS because of its focus on bringing students together to develop both their faith and intellect.
She was ordained at one UCC church, First Church in Granby, Conn., and was called to her first position at South Church, another UCC church in the same town of 11,000 people. The separate churches resulted from a split 150 years ago, but over the years, the populations of both congregations had declined. When the two congregations began having informal conversations about deeper collaboration, Fischer discovered there was insufficient institutional guidance available to assist them, along with a dearth of available professional resources,
She saw an opportunity to use both her legal education and her ministerial setting to pursue research for her D.Min. degree at Hartford Seminary (now Hartford International University for Religion and Peace). There, she developed a step-by-step process that congregations could use to discern how to further their mission within their communities. She used the First Church/South Church process as one of the case studies in her dissertation.  
Working with her project advisor, Professor of Sociology Scott Thumma, Fischer co-drafted a survey designed to give each congregation deeper insight on their own institutional condition and provide a starting point for assessing compatibility with another congregation. (Thumma is giving the YDS Ensign Lecture on October 12, titled, "An Endemic Church: Exploring its Perils and Possibilities.")
After graduating in May 2020, Fischer provided a copy of her dissertation to members of the church leadership team for their consideration. Two years later, the two churches voted to merge.
Two Granby churches reunite after 150 years apart: Read more.
After her experience with the Granby churches, Fischer decided to start her own consulting service to assist congregations as they discerned their path forward in the current religious landscape.
In addition to consulting, Fischer also currently serves as a part-time minister at East Granby Congregational Church. She says that continuing to serve in pastoral leadership is valuable to her role as a consultant because she can bring the perspective of someone who has been in the congregation's shoes: she guides people through the work she herself is experiencing.
"What Sandra Fischer is attempting with Congregation Collaboration is critical for the future of mainline congregations in New England," Thumma says. "The future of many small Northeastern congregations is as small, struggling communities with too few volunteers in a high maintenance building and a part-time clergy—much of the pain of this situation can be diminished by collaborative efforts. Sometimes it takes a village to sustain the spiritual life of its people."
Although Fischer primarily works with UCC churches, she says her process can be tailored to different polity structures, and a congregation can choose to terminate the process at the completion of any stage. 
"Valuable knowledge will have been gained whether or not a congregation chooses to proceed to the next stage," she says.
A concrete, five-step plan tends to give people a sense of relief, Fischer says.
Wherever a church is in its life cycle, Fischer says the initial education phase can be useful in helping the congregation learn more about its relationship to the changing religious landscape and begin to explore its identity and passions.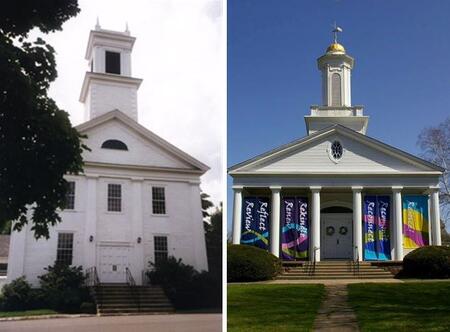 It's important, she says, that congregations understand that many of the attendance issues they face are not a result of their doing something wrong but are part of a 20-year downward trend across all denominations in the U.S.
"It is not that they are not faithful. It is not that they haven't tried enough. It's not that they haven't thought outside of the box, or they're too attached to their buildings," she says. "I educate the congregation on that hard truth. But 'the truth shall set you free,' and truly, I see that happening as people understand that this is a system outside of their control."
Next comes the exploration stage, where congregations explore their vision, identity, and mission in order to understand their strengths, weaknesses, and the kind of community they aspire to be.
If a congregation decides to move forward, they enter a preparation stage that uses the survey that Fischer and Thumma co-developed. The survey helps congregations learn about their points of health and unhealth and gauge their interest in collaborating with another congregation.
The final two steps are negotiation and culmination.
The culmination stage looks different for each community. Examples include joining with another congregation to operate a specialized ministry, using their buildings in different ways, creating a yoked ministry with one pastor serving two different congregations, or pursuing a full merger, dissolving the existing congregations to create a new church community.
Despite the changing religious landscape, Fischer says there's "absolutely hope" for congregations. They remain at the center of their communities as they host AA meetings and food pantries and provide support for basic needs like fuel oil. But they may need outside support in navigating their way forward.
As primarily volunteer-led organizations, congregations are often fully occupied with their on-going ministries and sometimes find it challenging to respond rapidly to what is changing around them. An outside consultant can help give the congregation perspective and support as well as assurance that they are not alone in this process.
"Whether or not people walk across the threshold on a Sunday morning, congregations hold up their communities," she says. "We are all responding to the command that we love God, act justly, be kind and be humble, but the rapidly evolving religious landscape now requires us to do it together."
Leah Silvieus '21 M.A.R. is a poet and writer working at the intersection of religion and literature. She is author of the poetry collection Arabilis (Sundress Publications) and is the co-editor with Lee Herrick of the anthology The World I Leave You: Asian American Poets on Faith and Spirit (Orison Books).