During this year's Bicentennial observance, YDS is imagining its future in addition to looking back on its two centuries of history. The future-oriented side of that was in evidence in recent weeks at special-edition iterations of two endowed lecture series, the Parks-King Lecture and the Bartlett Lecture.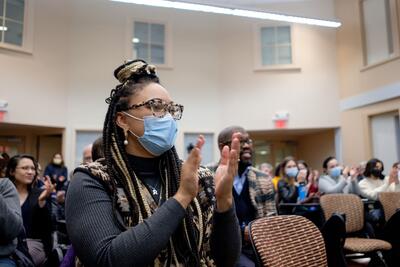 At both, YDS eschewed the usual format—a lone established scholar traveling to New Haven to speak—and instead organized three-person panels of younger alum scholars to present the lectures, with senior professors from the YDS faculty moderating.
When putting together Bicentennial events, planners realized "an apt way to celebrate our past and also to look at our future would be to (organize) these lectures a different way," Professor Emeritus and Bicentennial Committee Chair Harry Attridge said in welcoming the audience to the March 6 Bartlett Lecture.
The format not only explored what's ahead for the two fields—Black theology, in the case of the Feb. 24 Parks-King Lecture, and East Asian theology, in the case of the Bartlett Lecture—but showcased the considerable talent of YDS alums who are making their way in the theological academy.
Book charts Divinity School's mission over two centuries: Read more at YaleNews.
Titled "From Where We Stand: Envisioning the Future of Black Theology," the Parks-King Lecture was moderated by Willie James Jennings, Associate Professor of Systematic Theology and Africana Studies. The panel was framed around the emergence and establishment of Black theology in the theological academy and invited the audience to think through the continued significance of Black theology for intellectual formation in the theological academy and beyond. 
The panelists were: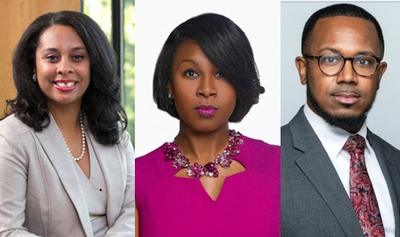 Dr. Keri Day '04 M.A.R., Associate Professor of Constructive Theology and African American Religion at Princeton Theological Seminary
Dr. Alisha Lola Jones '07 M.Div., Associate Professor in the Faculty of Music at the University of Cambridge in the U.K.
Dr. Jeremy L. Williams '16 M.Div., Assistant Professor of New Testament at Brite Divinity School at Texas Christian University
Moderating the Bartlett Lecture was Chloë Starr, Professor of Asian Christianity and Theology. Titled "Understanding the Divine from an East Asian Perspective," the panel brought together three alum scholars who are shaping debates on Chinese and Japanese Christianity in new ways at the intersection of theology, philosophy, literature, history, and ethics.
The panelists were:
Dr. Haruka Umetsu Cho '15 M.Div., Assistant Professor in the Department of Religious Studies at Santa Clara University
Dr. Stephanie Wong '13 M.Div., Assistant Professor of Global Religions at Villanova University
Dr. Peng Yin '12 M.A.R., Assistant Professor of Ethics at the Boston University School of Theology