Anna Carter Florence '84 B.A., the Peter Marshall Associate Professor of Preaching at Columbia Theological Seminary in Decatur, GA, will deliver the Beecher lectures at Convocation and Reunions 2012.
Her Beecher lectures will be on the topic "The Word in the Repertory Church."  Titles of the three lectures are: Lecture I: "The Script in the Scripture, the Word in Rehearsal: Proclamation in the Repertory Church."  Lecture II:  "It Could Have Gone Differently: Repertory Readings of Texts of Terror."  Lecture III:   "Old Texts, New Works: The Repertory Preacher and the Company of Grace."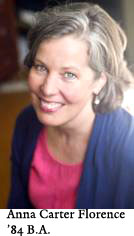 In describing the lectures, Florence writes that she is thinking about the church as a repertory theatre and the biblical text as the "script" we perform, year after year, over the course of our lives.
"Every faith community is its own repertory company.  The script is passed from hand to hand, different players step up to a role or seem particularly suited to it, in one season of life or another, and so the words are lived and preached and heard differently, as the community shapes and is shaped by the Word proclaimed.  Because there are certain 'givens'—the script itself, the God who is revealed in that script, the repertory structure of players—the company of the repertory church is free to trust one another, to push a text to its interpretive edge.
"It is free to explore how a text might have played differently, in other times and circumstances, or how (and perhaps why) it is playing differently in other faith communities today.  The repertory church might even find itself ideally suited to address and bridge those differences that currently plague the church: beginning with a text, rather than a doctrine, allows us the opportunity to play before we vote.  It opens up spaces for lived interpretation and grace-filled understanding.  It even allows us to enter a biblical text of terror, and emerge with deeper trust and faith in God and one another."
Her published works include Inscribing the Word (2004), Preaching as Testimony (2007), and numerous chapters and articles.  Some of her more recent articles have appeared in Feasting on the Word: Preaching the Revised Common Lectionary, Year A, Vol. 2 (X) (Westminster John Knox Press, 2011), edited by YDS Professor Emeritus David Bartlett '67 B.D. '69 M.Phil. '72 Ph.D. and Barbara Brown Taylor '76 M.Div.
Florence preaches and teaches widely, both in the U.S. and abroad.  Earlier this year, she delivered the Trinity College Mair Lectures on Preaching at the University of Glasgow in Scotland.  Her current research interests are in the areas of performance studies, poetry, textual interpretation, and the formation of preachers and listeners. Every spring she and her students perform a different book of scripture, as part of her "Back to the Text" class; she is thinking about ways to bring that practice to congregations.
Florence earned her B.A. at Yale in history and theatre studies, an M.Div. in New Testament at Princeton Theological Seminary, and a Ph.D. in homiletics, also at Princeton Theological Seminary.   At Princeton, one of her faculty advisors was Leonora Tubbs Tisdale, now the Clement-Muehl Professor of Homiletics at YDS.
She was ordained in the Presbyterian Church (U.S.A.) in 1988, and for five years served as an associate pastor at the Westminster Presbyterian Church in Minneapolis, MN.  In 1998, she joined the Columbia Seminary faculty and so has been living and teaching preaching in the Deep South, quite happily, since then.  She and her husband, the Rev. David Carter Florence, have two lacrosse-playing sons, Caleb (Kenyon College, 2014) and Jonah (Decatur High School, 2014).  They also have three dogs, two cats, some sheep and a flock of chickens.  When she is not listening to sermons, Florence is usually knitting, reading, and watching British murder mysteries (or lacrosse).