February 3, 2023
Yale Divinity School Dean Greg Sterling made the following announcement today to the campus community.
——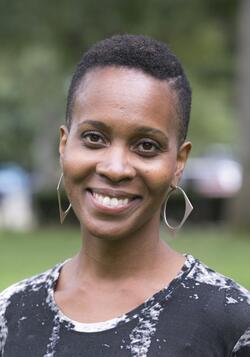 Todne Thomas, an ethnographer whose work sheds important new light on Black Christian communities in the U.S., has accepted our offer to become a member of our faculty. Dr. Thomas, who has been with us this year as a Presidential Visiting Fellow, will join Yale as a tenured Associate Professor of Divinity and Religious Studies beginning July 1, 2023. This is a fully joint appointment, and I am deeply grateful to Religious Studies, especially Frank Griffel, and the Dean's Office in FAS, particularly Katie Lofton, for their collaboration.
A graduate of Cornell University (B.A.) and the University of Virginia (Ph.D.), Dr. Thomas is currently Associate Professor of African American Religious Studies at Harvard Divinity School. She does highly original scholarship using ethnography to understand the racial, spatial, and familial dynamics of black congregations and how they are shaped by evangelicalism and neoliberalism.
Her first book, Kincraft: The Making of Black Evangelical Sociality (2021), explores community life among Black evangelicals. The monograph not only tells the story of two Black Evangelical churches via superb ethnographic work but demonstrates the complexities within Black churches. Her new, forthcoming book, From Hate to Hallows: Reframing Black Church Arson, explores the burning of the College-Hill Seventh Day Adventist Church in Knoxville, TN. She uses reparative ethnography to explore the possible causes of this unsolved arson. She has also co-edited New Directions in Spiritual Kinship: Sacred Ties across the Abrahamic Religions (2017) and authored peer-reviewed articles for the Journal of Africana Religions, Anthropology and Humanism, and the Journal of African American Studies. These publications and her numerous presentations have established her as one of the most important figures in the emergence of "ethnographic ecclesiology."
Dr. Thomas is also a gifted pedagogue and won the Outstanding Teacher of the Year award at Harvard Divinity School for 2017–2018. We are thrilled that she has elected to remain at Yale in this new and more permanent role.  Please join me in welcoming Todne Thomas to our community.
Best wishes,
Greg Sterling