A theology rooted in the thought and experience of the least powerful, most dehumanized segments of the American population would appear to have little chance of making an impact. But black liberation theology has had a profound influence on churches and the academy and will continue having it.
So testified the man credited with founding black liberation theology, James Cone, in remarks at Yale Divinity School on April 19.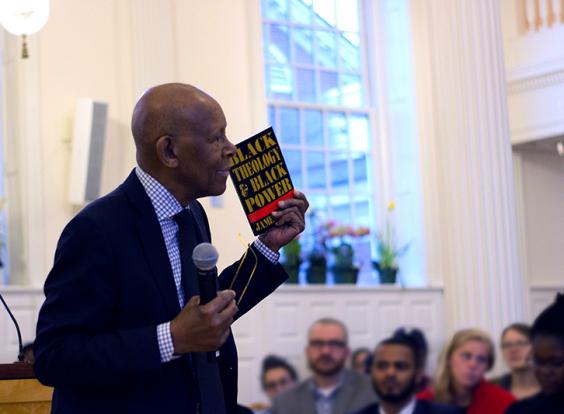 Cone, the Bill and Judith Moyers Distinguished Professor of Systematic Theology at Union Theological Seminary, came to YDS as the culmination of this semester's All School Read program. The YDS community has been reading Cone's Black Theology & Black Power, the 1969 volume that is credited with establishing the field of black liberation theology and Cone as its principal articulator.
***
Related story: Leading scholars and practitioners highlight spring semester
***
"This is a theology that comes from slaves, sharecroppers, janitors, and maids. That was why most people thought it could not be important intellectually or theologically," Cone told the overflow gathering in Marquand Chapel. "But they were wrong. Black liberation theology is alive and well and being taught at colleges and seminaries, and being preached in churches, all over the world."
Entering Marquand to a standing ovation, Cone told the story of how he came to write Black Theology & Black Power and the important books that followed, including A Black Theology of Liberation (1970), God of the Oppressed (1975) and, closer to the present, The Cross and the Lynching Tree (2011).
Evoking a consistent thread in his work, Cone observed, "God is always found where we don't expect. With a slave in Egypt. On a cross in Jerusalem. On a lynching tree in the U.S."
Although sharply critical at times of white theologians and largely white institutions, Cone ended his lecture on a note reminiscent of Martin Luther King, Jr., suggesting that overturning structures of racism brings freedom and redemption not only to African Americans, but to their white oppressors as well.
"What they do to blacks," he concluded, "they do to themselves."