By Joseph Becker
Earlier this year, Blair Nelsen '19 M.A.R. made the crowded commute to midtown Manhattan for the first United Nations Water Conference in a generation. She joined representatives from across government, business, science, the environmental movement, and civil society organizations like hers, the Congregation of the Sisters of St. Joseph of Peace (CSJP). The objective: to make progress on the UN's sustainable development goal of universal access to drinking water, sanitation, and hygiene by 2030.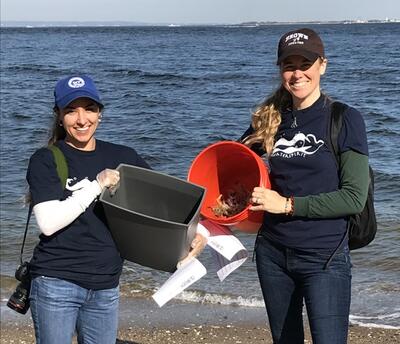 Faith traditions have long recognized that "water is sacred and the source of life," says Nelsen, who works out of an office just 25 miles south—as the gull flies—at the First Presbyterian Church in Rumson, N.J. In addition to being a representative to the UN, she is the executive director of Waterspirit, a leading center for ecology and spirituality, as well as a board member for the Investor Advocates for Social Justice.
At her desk in the church basement, she sits just a couple hundred yards from the shore and a few feet below sea level: "I think about that every day, what happens if the water were to come inside," Nelsen says. Her concern is not unfounded. Waterspirit's previous residence, just a few miles away, was heavily damaged in Hurricane Sandy.
From this location, vulnerable to storms and rising tides, Nelsen charts the future of the nonprofit that shares her outsized ambitions for faith and environmental justice. She'd been thinking about the climate crisis for a long time when, in the spring of 2019 and about to graduate from Yale Divinity School, she saw the job posting in the newsletter of the Yale Forum on Religion and Ecology: "That night I woke at 3 a.m. and said, 'I have to apply for this right now.'" 
Founded in 1998, Waterspirit is sponsored by the CSJP, an international Catholic community that practices "radical hospitality, nonviolence, and care of creation." Through its multifaith approach, Nelsen notes, it brings together people from many different backgrounds who share a commitment to protecting the environment.
Nelsen happens not to be Catholic: "My approach to life is Earth-centered and coming from many perspectives at once. I have an academic background in liberation theology and familiarity with Pope Francis's Laudato Si' and the work of Thomas Berry, and so forth," says Nelsen. Sister Susan Francois, assistant congregation leader and treasurer of the CSJP, says, "Blair's theological education from Yale allowed her to step right into this role and make it her own while continuing the legacy of founder Sister Suzanne Golas."
The sisters felt confident in Nelsen's background in leadership, so they invited her to take on an additional role: "We are proud to have Blair represent the Congregation on environmental issues, especially water, at the United Nations," says Sister Francois. "She represented the Congregation at the World Oceans Conference in Portugal, and she is a leader of the NGO working group on mining."
Addressing climate anxiety and grief
As the pandemic bore down, Nelsen, fresh in her new roles, used her skills as a "digital native" to lead Waterspirit's small, dedicated staff in moving operations online. "Blair and her staff expanded programming to reach wider audiences, including a younger generation," says Sister Francois. Born out of necessity, this approach opened new possibilities for creative collaborations. Nelsen asked, "where are our coalition points now that everybody's a click away?"
Among other initiatives, she worked with Australian activist Jessica Morthorpe to create an online Climate Pastoral Care course. This self-paced training is designed to give ministers, priests, chaplains, Sunday school teachers—indeed anyone providing care in church and community contexts—a basic introduction to climate psychology and mental health. "Churches are used to finding complicated hope in situations of adversity. They are used to helping people through anxiety and grief," Nelsen says.
"This is a tool to get communities more aware of climate distress and the many ways it can show up within their churches—knowing how to be of help and knowing when to turn to professional help," she says. In addition to virtual training, Waterspirit now hosts 10-week eco-anxiety support groups, using methods created by the Good Grief Network, as well as community events including seasonal celebrations on the solstices and equinoxes. "Intentionally connecting with the cycles of nature is an eco-spiritual practice that helps regulate our inner lives and strengthen our connection with Earth," Nelsen says.
Getting from here to there
Nelsen was raised in Texas in a Lutheran household. She always loved fantasy books and was about 12 years old when she picked up her first book about Wicca. "I was in a section of Barnes & Noble that showed me, oh, some people practice magic as a spiritual tradition," she says. "Wicca's Earth spirituality was something that just sang inside of me. I never had to work to believe." Nelsen carried this feeling on from adolescence, and it fueled her decision to major in environmental studies at Brown.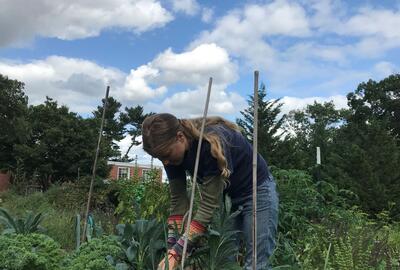 "Another aspect of it, which really didn't hit me until I was in college, was that my father worked in oil, which allowed me to have the wonderful life that I did," she says. "Climate change was starting to hit the national conversations, and it just became very clear: I have a personal responsibility to protect the earth and make things better." She adds, "This makes for interesting dinner table conversations and family get-togethers."
Nelsen attended high school in Venezuela, and during her time at Brown she both studied abroad and completed her undergraduate thesis research in the Brazilian Amazon. After graduating, she worked to bring environmental education and community building projects to small riverine communities of the region.
Along the way she experienced activist burnout, met her future husband, studied meditation through the yogic Self-Realization Fellowship Church and, after 11 years in Brazil, began to look at postgraduate education opportunities back in the United States. "It just so happened that YDS that year was launching both its Latinx and Latin American Christianity and its Religion and Ecology concentrations. I saw that there was energy moving in these directions that I loved. And so, it just looked like a perfect fit."
'Apostles of the environment': Learn how YDS is integrating sustainability in curriculum, teaching, and operations
Mary Evelyn Tucker and John Grim of the Yale Forum on Religion and Ecology introduced her to the same thought and spiritual lineage that informs Waterspirit. "And a key part of getting prepared to step into the role were my classes with Willie Jennings and Ben Valentin on liberation theology," Nelsen says. "It was just professor after professor giving me the knowledge to be a well-informed person, putting faith into action. YDS brings together an amazing community of people that I'm grateful to have spent two years with."
No one is 'sacrificial'
Although environmental justice has long been part of Waterspirit's strategic plans, Sister Francois says that the organization under Nelsen's leadership increasingly collaborates with communities impacted by environmental racism, such as in Newark's Ironbound district. Nelsen says, "We've been in discussion about the way that capitalism relies upon creating sacrifice zones and sacrificial people in order for its business model to function. We need new life-affirming ways of doing things moving forward. I don't deem anybody or anywhere 'sacrificial.'"
With this approach in mind, Nelsen recently became a member of the board of the Investor Advocates for Social Justice, which is responsible for faith-based shareholder advocacy for a number of Catholic organizations. As she says, "Principally, they try to enact change from the inside where they have their money invested. So, they have a really interesting model of doing the work they do to enact racial justice, peace through justice, and environmental justice. I'm excited to be a part of the effort."
Growing awareness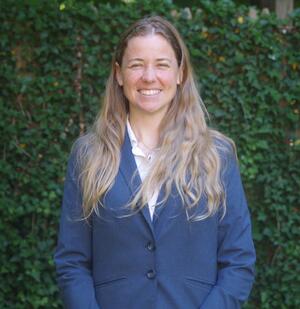 "Water has always been the element I felt most connected to. I've felt most at peace on or near the water," Nelsen says. "And, from a protection or advocacy standpoint, water is one of the easiest points at which we can perceive ecological sin. We all know that three days without water and we're gone, right? So, violations against it become an instance of crystal-clear moral wrongdoing. Thinking strategically, it's interesting to have an organization like Waterspirit that focuses on water as a portal to and a connection with something bigger—as the place where you start protecting water and communities and people together."
In a time when the seawater at the southern tip of Florida reaches 100 degrees Fahrenheit, when microplastics and so-called forever chemicals show up in rivers, lakes, oceans, and drinking water across the globe, and on and on, a bright spot is appearing: growing belief in and awareness of the ecological predicament. According to a study by the Yale Program on Climate Change Communication earlier this year, fewer and fewer people deny that something big is happening to the planet. More and more we realize the need to join together to do something more.
On this, Blair Nelsen is hard at work—whether in the halls of power, virtually, or with her team in the shared church basement by the shore. "If there is anything divine about climate change," she says, "perhaps it is the dawning awareness of our own interconnectedness."