The second guest-lecturer in YDS' new program in transformational leadership for church and society, U.S. Sen. Chris Coons '92 M.A.R. came to the Quad last weekend with a candid reflection on the tension between two major parts of his life: his role as a politician and his role as a committed Christian.
A Democrat from Delaware, Coons spoke with Associate Dean Bill Goettler before a large audience in Marquand Chapel on Friday night—the public-event component of his one-credit Transformational Leadership course on leadership and public service.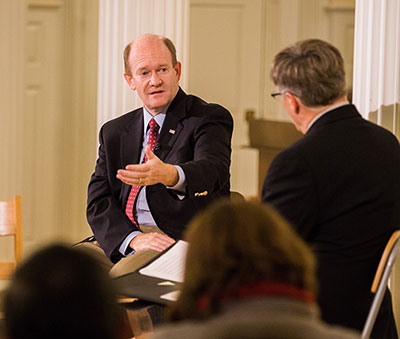 Coons (also a Yale Law School alumnus) pointed out that his state is a haven for major corporations and the banking industry. "We have every major bank in Delaware," Coons noted. "I find a tension between being a vigorous advocate for those companies, which employ tens of thousands of my constituents, and being clear about the legitimate ethical challenges with some of their business practices, and with the equity challenges of some of the work they do.
"Humility requires that I be unassuming about how much progressive and prophetic change I can make. … There is a limit to how aggressive I can be in demanding economic and social justice," Coons said, adding that the prophetic voice is often "more appropriate coming from the pulpit or street corner than an elected post."
Formerly the executive head of New Castle County government, Coons was elected to the Senate in a 2010 special election and re-elected to a full term in 2014. His decision to go into county government, he said, was motivated in part by his wife pointing out how much he benefited from county services and how that obligated him to serve.
In fielding interview questions from program director Goettler and audience members during the Friday night event, Coons also made some of the following observations.
The Senate is disturbingly divided, Coons said—probably more so than at any time since the Civil War. 
"Faith has a central role in the daily life of the Senate," Coons said, noting the senators' bible study groups and the prayers that open every session. On a related note, Coons said, "It would be hard for me to do this job if there wasn't a possibility for forgiveness. As a Christian, I need and ask for forgiveness every day."
"Those of us open to listening should have felt discomfort at the Pope's message to Congress," Coons said, saying that aspects of Francis' message were challenging to both liberals and conservatives. "Where Francis went and who he chose to be with was powerful," Coons added, pointing out that the Pope followed his address to Congress by serving lunch to homeless people.
His advice to current and prospective divinity students was to take time to read and think deeply during one's time as a student before the demands of career and family make that more difficult. When you begin your professional life, Coons said, "You won't have the clarity and time for study and reflection that you have here."