Good ideas are like good intentions. There are a lot of them out there, and they don't mean much unless they are translated into real action. So what separates the good ideas that take off and change lives and society from the many that float away in the wind?
Structure, says Chris Sawyer '75 M.Div., very much including a team of people to build on an idea, make it real in the world, and sustain it for the long term.
Sawyer, who spoke to the YDS community on February 25 during his weekend guest-lecturing in the school's new program in transformational leadership, can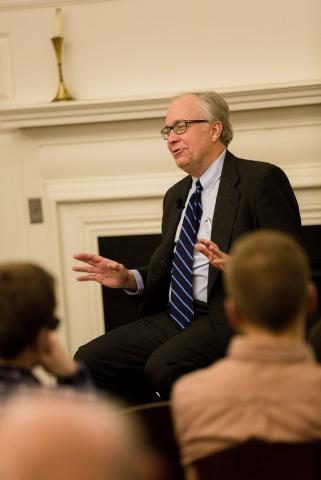 point to his own life as a prime example. Once referred to as the "Billy Graham of conservation," the Atlanta lawyer and environmentalist has been a national leader in the effort to place prospective park lands into public trust through his many years of leadership with the Trust for Public Land (TPL).
Great ideas and inspiration are necessary to any vital enterprise, said Sawyer, whose course was subtitled "Leadership that Gets Things Done!" But, Sawyer emphasized, "95 percent of leadership is running programs and institutions day in and day out. There has to be a structure that is set up right to execute a plan, and with the right people surrounding you."
And how does one know whether she or he has the right team of people? Sawyer offered an impressively non-pretentious litmus test: whether people do what they say they are going to do.
"Guess what—it's extraordinarily hard and usually doesn't happen," he said. "Original sin—that's as good an excuse as any, right? In business, though, you get to a certain level where you don't deal with anyone who doesn't do it."
Sawyer is a successful corporate lawyer with the Atlanta law firm Alston & Bird, specializing in corporate governance, finance, the environment, and real estate. He found his calling, however, in land conservation. After getting his first taste of nonprofit experience as a board member of an Atlanta ballet and dance organization, he was invited to join the state board of the Nature Conservancy.
Since then, he has never stopped working to create parks and save valuable public lands for public enjoyment and the benefit of communities' environmental health. Following his Nature Conservancy service, he served on TPL's national Board of Directors from 1993 to 2006, chairing the board from 1995 to 2003. He also chaired the Chattahoochee River Coordinating Committee, a TPL project to create a park and greenway along 180 miles of this Georgia river.
Sawyer, who chairs the YDS Dean's Advisory Council and has lectured in Yale's School of Forestry & Environmental Studies, said his public lands advocacy is, ultimately, about people.
Conservation efforts, he said, usually start with a few "who love a place so much they are willing to work hard to save it for others to enjoy. If you are trying to create a park, you'll never be successful unless you create a coalition to buy it. In the process, you end up creating a community of users, which is how you keep a park alive."