"If forgiveness is a gift—and I send that gift to my sister, but she doesn't open it—didn't I still send a gift?"
So begins a recent conversation during "Christ and the Good Life," a new course offered this year at Yale Divinity School. If it seems like unusual fodder for classroom discussion, that's probably because it is—by intention. The course is supported by the Yale Center for Faith and Culture (YCFC) and is co-taught by YCFC founding director Miroslav Volf and director of research Matthew Croasmun '06 M.A.R. '14 Ph.D. With a mission to "critically examine and promote practices of faith which advance authentic human flourishing and the global common good," the Center pursues the good life through a multiple avenues: supporting graduate and undergraduate courses, creating resources for theologians, hosting conferences, and working to transform and enliven Christian youth ministry, among other projects. In September, YCFC was awarded a $4.2 million grant from the John Templeton Foundation to continue its work on developing a theology of joy and the good life.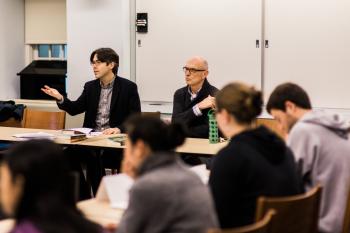 "Christ and the Good Life" is one of YCFC's most recent endeavors and the one that affects current YDS students most directly. Drawing on both ancient and modern sources, rooted in the charges of the Gospel of Luke, and employing story and narrative alongside theory, the discussions address the most basic questions of our humanity: What does it mean to live the good life and—more important—how can I live the good life?
Setting the course apart from those typically offered for graduate students in theology, the second question invites students and professors to participate in the conversation not as theorists of the good life, but as hopeful participants in it. Each session takes on a different major issue: responsibility and vocation, freedom and bondage, wealth and poverty, suffering and death, temporality and desire, repentance and forgiveness.
As a guest to the conversation on repentance and forgiveness, I watched the discussion circle around: "But isn't the fullness of forgiveness contingent on repentance? If the unopened gift on your sister's doorstep hasn't been received, it hasn't reached its final end—isn't that a problem?" Or as someone else asserted, tentatively, "But in Luke's Gospel, we all are instructed to repent first—so maybe forgiveness follows from repentance, not vice-versa?"
The investigation is not merely cognitive. Although it's a room full of highly intelligent question-askers, they are seeking to understand the role, function, and power of forgiveness and repentance in their own lives. Personal vignettes pepper the conversation, making it clear that, while reading assignments prompt and frame certain questions, life experience is as valid and primary a source as Schönborn or Nietzsche.
"I think this class is different from other classes," explains Ann-Marie Ramsaroop, an M.A.R. student in Women, Gender & Sexuality Studies who is taking the class, because "the theology discussed has a more practical feeling to it. This class is less about church history or theology—though it includes those things—and more about the actual biblical text and its application to current social issues. This makes each reading, each discussion, feel incredibly relevant to my own life."
In fact, the conversation is so compelling that—without having closely read any of the assigned coursework—this reporter sacrificed her own journalistic distance to chime in on a question of how forgiveness can be full when lingering effects of the misdeed still remain. Is there a different between the act—for instance, punching someone—and its effects—for instance, a bruise? And if so, can we forgive the act in full while the effects still remain? My urge to participate reveals the kind of space Volf and Croasmun have created in this course: a space to apply the intellect to questions of real human experience.
"This course approaches the 'big questions' using a second-person pedagogy," Croasmun explains. "What is it about your life that makes these questions matter? By framing and orienting the conversation toward the second-person, we invite first-person responses." The class implicates participants in the real stakes of the conversation, rather than discussing the commands of the Gospel in a way that is only abstract.
It's more common in academia—and, certainly, appropriate and important—to approach questions from a more objective third-person perspective. For instance: "What did Luke say to his audience about repentance?" Though this question has great value for academics, the professors and students in the "Christ and the Good Life" course find it helpful not to stop there. "We have to remember that the most important figure in Luke's Gospel isn't Luke," Croasmun explains. "It's Jesus—and Luke's primary audience is both his ancient readership and also us, Christians trying to live according to Christ's words today." What could be more valuable for divinity students, Croasmun asks, than "to discuss these ideas in order to apply them to one's life?"
As if to confirm the attraction to a course, and space, like that created by "Christ and the Good Life," student interest in the course was so high that the instructors had to set up an application process. Five weeks into the semester at the time of my visit, I found an element of community had clearly formed in this classroom as those enrolled continued to take the opportunity seriously: sharing, reflecting, and struggling toward answers together.
Brian Kelly, M.Div. '16, a student in the class, admits there's not always—not even often—a resolution or conclusion to the conversations. "They [Volf and Croasmun] don't try to wrap it up in a box and put a bow on it"—instead, "it's more of a living process."
Ellen B. Koneck is a second-year M.A.R. student interested in Roman Catholic theology. She has previously written for Commonweal and Whether. You can follow her on Twitter.