By Kimberly Winston
There was point, about two decades years into her career as a church pastor, when the Rev. Dr. Susan Williams Smith '86 M.Div. was so exhausted she considered giving up the pulpit to flip burgers.
"I was so tired, I was so burnt out," she said from her home in Columbus, Ohio, where she raised two children while leading a United Church of Christ congregation. "I didn't know if I wanted to do church or talk about God ever again."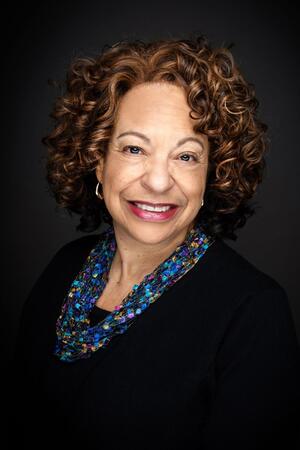 So, she resigned as head pastor and entered a period of deep confusion and reflection. Eventually, out of the haze came clarity in the form of a mantra — a mantra that became the title of a collection of spiritual biographies that she published as a book in 2009.
"In my spirit I kept hearing, 'crazy faith, crazy faith, crazy faith,'" she said. "I was recalling some stories I wrote about how you have to have that kind of faith to get through difficult times. And I realized I was still called."
Five months after she resigned from her traditional congregation, Dr. Smith started Crazy Faith Ministries, a non-denominational and pointedly non-traditional organization that, for lack of a better description, might be called a "distilled" church.
"I formed this ministry with one clear vision," she said. "I believe that church is not a place where you go, it is something you do. I decided this ministry would be about us doing things for other people, with no building, no trustees, no deacons, no formal worship at all — just us."
That was eight years ago. Today, Crazy Faith has no bricks-and-mortar home of its own but meets wherever there are social justice issues to confront. They have a relationship with a local Methodist church that provides them space when they need it; but they mostly meet on their feet. Members–Christians, Jews, Muslims. and atheists–walk the streets of Columbus to hand out food and clothes to the homeless, purchase gifts for the children of incarcerated persons at Christmas, reach out to homeless veterans, and operate a program to provide sanitary products to women going through homelessness. They've even been known to walk into bars and chat up patrons who seem troubled or otherwise in need.
Along the way, Smith found herself on the receiving end of the ministry, too. "It makes me feel I am really doing something," she said. "It's a way of making a sermon not just words, but action. It makes my soul sing."
Smith came to ministry a little late in life. She was born in Akron, Ohio, raised in Detroit and schooled in California. She started a career as a newspaper reporter in Baltimore but felt there was something more she was meant to do.
"I heard God, heard a call to preach and it scared me and pissed me off," she said, with characteristic bluntness. "I didn't want to do that. I wanted to be an international reporter. I thought, 'Well, I'll just move,' — like you can run from God. I went to the Port Arthur (Texas) News. It was like God followed me. So, I applied for divinity school but only to Yale. I figured I could say, 'Well God, I tried.'"
When she received her acceptance letter, she was out of excuses. While at Yale, the Rev. Jeremiah A. Wright Jr. of Chicago's Trinity United Church of Christ came to speak, and Smith recalls being "fascinated" by his sermon and his prophetic voice. After graduating, she became an intern at Trinity for two years and then became an associate pastor. Her second book, The Book of Jeremiah: The Life and Ministry of Rev. Jeremiah Wright Jr., was published in 2014.
While at Trinity, Smith sharpened her passion for social justice and liberation theology and brought that with her to Columbus when she became pastor of Advent United Church of Christ. While there, she took a church group to Accra, Ghana, on a pilgrimage to sites of the trans-Atlantic slave trade. There, they visited a church built on top of a slave dungeon by white European Christians.
"They would gather there on Sundays, and they could hear the screaming of the men in the dungeon as they had worship," she said. "That, to me, says 'Enough!' People need to hear about how the church has been complicit and responsible for where we are in terms of racism in this country today."
She began reading widely about racism and religion, including histories of slavery, the South, and the Civil Rights movement. She keeps close a copy of "The Slave Bible," a version of scripture from which all reference to freedom and justice is cut — for occasional doses of outrage and purpose.
"One day, I was reading about the White Citizens Councils" — Southern separatist organizations whose members were often associated with the Ku Klux Klan — "and it just hit me," she said. "These people who say they love Jesus are the people who would go out on a Saturday night and lynch somebody, then go to church the next morning and serve communion. That just took the breath out of me. What is that? How can you do that?"
When she couldn't read anymore, she started to write. Thus was created her seventh book, With Liberty and Justice for Some: The Bible, The Constitution and Racism in America, which was published by Judson Press in 2020. The book reads like a wake-up call to an increasingly divided and polarized America and implores people of faith to strive for reconciliation and repair.
The book has been well-received. Rev. Jacqueline J. Lewis, Senior Minister at New York City's fabled Middle Collegiate Church, called it, "a brilliantly written, well-researched, must-read book for such times as these." It was recently awarded an Independent Press Award in the cultural and social issues category.
Despite Smith's success, the subjects of inequality and religion continue to pester her. She feels the book needs a part two and is starting to seriously work on a sequel. "When you look at this stuff, it is like peeling back an artichoke to see how this all affected white supremacy in America," she said. "It is miraculous that Black people were able to hold on to their notion of God."
In the view of the senior pastor of the Methodist Church that serves as the sometimes-base of Crazy Ministries, Smith has a rare combination of abilities.
"Susan has what I would call a prophetic voice," said the Rev. Kimberly Wisecup, Senior Pastor of Columbus's Summit United Methodist Church. "It is the beautiful combination of a voice that can challenge us to grow and make us think while it encourages us and comforts us at the same time. Not many people can do that."
Wisecup remembers a time Summit and Crazy Faith collaborated on an exploration of the importance of being a multi-cultural church.
"Susan would ask questions that made people uncomfortable," Wisecup remembered. "But never so uncomfortable that they wanted to leave the table. That is rare — that she can challenge people to think and also keep them in the conversation. She kind of pushes us to dream bigger, to speak more boldly, to act with more courage and to step out in our faith."
—
Kimberly Winston has been reporting on religion for 25 years, her work appearing in outlets including the Washington Post, Los Angeles Times, USA Today and NPR.org. She is a graduate of the journalism school at Columbia University and lives in the San Francisco Bay Area.