Meredith Jane Day, visiting YDS in 2012 and trying to decide where to go to divinity school, was amazed to encounter the cordial YDS student dean who already knew her name and background before they even met.
"My feeling was, if someone this thoughtful and helpful can be a leader here, then this is where I want to be," she recalls.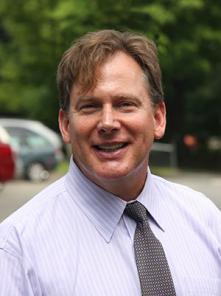 She was talking about Dale Peterson, beloved friend of YDS who decided last fall to retire in order to take care of his 92-year-old mother in Virginia.
Peterson had been YDS dean of students for 15 years, following after 12 years as a Yale chaplain. His 27 years at Yale leave a wake of great affection and gratitude.
"He's the best advocate for students I've ever met–a beautiful liaison between institutional concerns and individual betterment," says Day, who graduates with an M.Div. in May. "He always made space for students who needed it. He sees the best in people and brings out the best in people."
Dale lore and legacy are readily recalled across the YDS world – his acquaintance with virtually every student (about 190 new faces a year), his pastoral gift of stepping into a student's life in moments of personal crisis or conflict. The candy bowl outside his office embodied Petersonian geniality. The school's email communication network remains branded with his name: Dale Mail.
Peterson says he is stunned and humbled by all the well wishes he has received these past months.
"My heart is still fully there in New Haven as well as here in Virginia," he says. "I still feel as fully connected there as here. My issue now is how to maintain the connection. I pray every day for the students, faculty and staff. I keep in mind all the seasonal rhythms of life there. It's very much on my heart."
He continues to write references for YDS students and others, and is making plans to visit. He still keeps a New Haven apartment that he has had for decades, although he knows the time will come soon to let that go and move its contents.
"I miss chapel, I miss the hallway conversations," he says. "People at YDS are doing great work everyday, and I'm not there to help! But others will always come after us, continuing the work. The work of that school is something larger than any of us."
His decision to take early retirement–he turns 60 in September–came after his sister died of cancer last year, leaving his mother's increased need of help at home in Chesapeake, Va.
"She's an amazingly vibrant and vital 92-year-old, but she needs someone with her to maintain that vibrancy and vitality," he says.
"With her church and friends and medical support here, this is the best thing for her now."
Colleague Lisabeth Huck, the YDS registrar, says Dale has a remarkable talent for making everyone feel affirmed and loved. And she misses something else: his laughter.
"He has a joyfulness that just spills out of him," she says. "I'd hear it down the hall, his laughter, maybe a hundred yards away, before it slowly got closer and closer, and that's when I'd start to smile because I knew Dale would soon be in my doorway."
Many remark on his ability to turn a crucial administrative position into a daily ministerial practice, easing student life anxieties and extending a compassionate ear.
"That's part of who he is – bringing a sense of joy and hopefulness to the work," Huck says.
Today Meredith Day says she aspires to find her "inner Dale" whenever she needs it.
"He has a willingness to step out of his comfort zone at any moment for people who need help. When I think of the best parts of YDS and what we can be, I think of him."
Peterson grew up the churchgoing son of a Baptist minister in Virginia. Both his parents went to seminary.
"As the story goes, I was born on a Monday, but I was in church by Wednesday night!" Peterson has said. "I don't think I missed a service from the time I was born. Our household was right there—we always lived next door to the church."
He was an undergraduate at the University of Virginia and received an M.Div. from Southern Baptist Theological Seminary in Louisville. He became a college chaplain at Dartmouth, then did work as a nursing-home chaplain in Waco, Tex., where he was ordained a Baptist minister in 1987. After coming to Yale the next year, he eventually served as pastor of two Congregations. In 2011, he was elected to a one-year presidency of American Baptist Churches of Connecticut, a network of 120 congregations.
To him, his whole career whether as chaplain or administrator or mentor has been a gospel endeavor. "Without my personal faith, there's no way I could be present to others."
"As much as I will miss him, I admire him immensely for his commitment to care for his immediate family," YDS Dean Gregory Sterling said in a statement to the YDS community a few weeks ago.
"To say that we will miss Dale is inadequate. Dale has a special place in our hearts and we wish him the very best. This will always be his home."