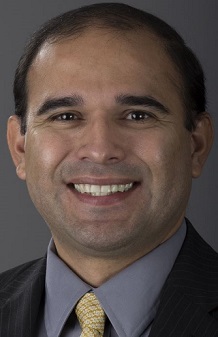 Leadership roles
Together with Pam Stevens '17 M.Div., Maria Del Mar Martin Goula '16 M.A.R., and others, I have worked to rally Hispanics to start an active and vibrant student group, now known as La Comunidad. We have fought for the addition of Hispanic professors, Hispanic courses, and lectures by Hispanic academics and the honoring of Hispanic alumni—and we have made progress in all those areas! YDS now has Hispanic faculty as well as a Hispanic religion specialist on tenure track and teaching at YDS. We now offer an M.A.R. concentration in Latinx Christianity; we have a gallery of YDS Hispanic alumni published online; and we have celebrated the first Hispanic Theology Conference at YDS featuring the most academically accomplished YDS Hispanic alum, Prof. Justo Gonzalez '58 M.Div.
I have also been active at YDS's Marquand Chapel curating Hispanic-themed and Pentecostal-themed chapel services and student-led bilingual services. I have been Marquand Dean Maggi Dawn's adviser on Hispanic religions. ​
Outside of YDS, I have been a student leader of the Yale University Sanctuary Campus Students Group. Together with my peers, I have led rallies for undocumented Yale students, and I have helped lead the effort to call on the Yale University administration to protect and assist undocumented and DACA students at Yale.
I have also worked at St. Rose of Lima Church in New Haven for the last two years under Fr. Jim Manship on behalf of the church's many undocumented members. A big part of this has been leveraging Yale resources (faculty, students, and buildings) to organize and plan for the worst. For instance, I have run meetings to find safe housing for high school students born in the U.S. whose parents are undocumented, in case their parents are deported and they want to stay in the U.S. to continue their studies. My colleagues and I have been finding financial help for families if the breadwinner is deported, and translations services for free legal consultations with pro-bono immigration and family attorneys.
Last but not least, I have been working with Yvonne Lodico '09 M.A.R., former head of UNITAR at the United Nations and now leader of the Grace Initiative. I became interested in working for her because her approach to peace can prevent forced migration of peoples. I am her adviser for national reconciliation and immigration-related issues. We are presently working to ensure that the peace agreement in Colombia signed by the FARC and the government is permanent, and we are pursuing a sustainable communities strategy.
Role of YDS
YDS is a rich intellectual and faith community where social justice is at the center of much of what we do and study. My life and work have been influenced by courses like "Christianity and Capitalism" with Prof. Kathryn Tanner, in which I learned how capitalism has shaped and sometimes deformed the Christian faith, placing more value on utilitarian concepts than the Imago Dei; "Radical Pedagogy" with Prof. Almeda Wright, in which I learned about faith-based community organizing; and a course on James Baldwin with Prof. Clarence Hardy III, in which I learned the African American critique of white supremacy.
What's next
In the fall I will be pursuing a S.T.M. in Latino Pentecostal political theology and homiletics. It is a research project to find principles of political theology in Latino churches in the U.S. that can be applied to sermons in order to inspire American Hispanics to engage politics and issues of public interest.