By Emily Judd '18 M.A.R.
This summer 30 people of diverse backgrounds and educational experiences will come to Yale Divinity School to study America's original philosophical theologian: Jonathan Edwards.
It marks the tenth Jonathan Edwards installment in the school's Summer Study program. Summer Study offers week-long YDS courses to the public and welcomes adults of all backgrounds, professions, and ages. 
Since it launched in 2009, the Jonathan Edwards class has grown in number, to about 30 students, and in diversity, with students journeying from Canada, Brazil, Poland, and South Korea. Kenneth Minkema, executive editor of the Jonathan Edwards Center at Yale, has led the course since its inception. He said the student diversity is not just in geographical background, but life experience. 
"Students include Yale alumni, pastors, scholars from other universities, and people who just have a love of Edwards and a love of the fellowship we have created here," said Minkema.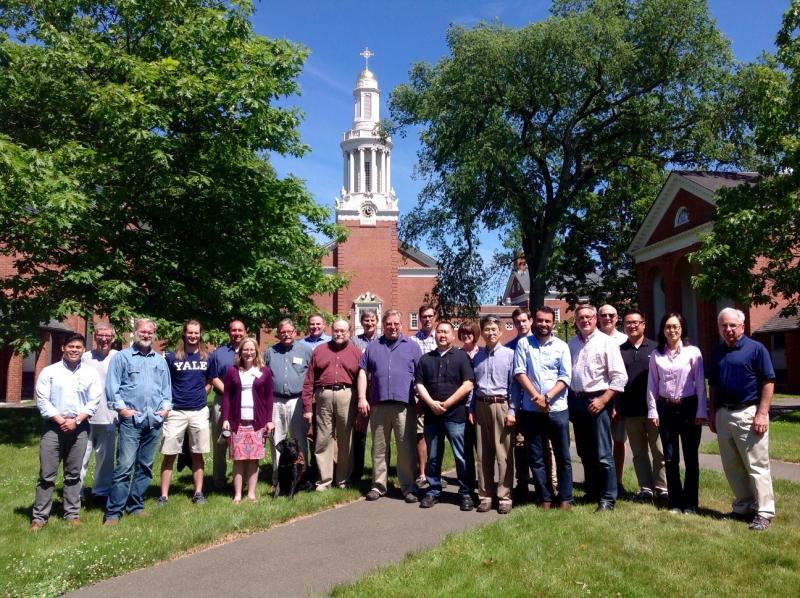 A core group of about ten students return every year, most of whom are not affiliated with Yale. Daniel Smuda was working as a systems analyst for Mass Mutual Life Insurance Company in Springfield, Mass., when the course began. He took a week of vacation time to attend.
"The expert knowledge of the two instructors of the session, Ken Minkema and Adriaan Neele, combined with my intense interest in Edwards, made continuous attendance in these sessions a must for me," Smuda wrote in an e-mail.
Smuda has attended all ten sessions of the program and views them as a vacation that is both intellectual and spiritual.
"It got to be that my manager and some of my coworkers knew that I would always take a yearly vacation to attend the JE session at Yale. It sometimes was an interesting conversation piece," Smuda said. 
***
Classes offered June 4-8 and June 11-5. Read more on Summer Study 2018.
***
Another returning student is Craig Woods, a recently retired information technology director from Virginia, who first attended in 2013. 
"I wanted to be on Edwards' turf, experience New Haven and visit Beinecke Library, learn from the experts, and be with fellow Edwards enthusiasts," Woods explained in an e-mail. 
For Woods, one particular experience stands out—a field trip to Stockbridge, Mass., where Edwards served as a pastor to the English colonialists congregation and missionary to the Native Americans. Other years, the class has made field trips to two Connecticut towns: East Windsor, the birthplace of Edwards, and Enfield, where Edwards preached his famous sermon Sinners in the Hands of an Angry God in 1741.
Woods' role has evolved from studying Jonathan Edwards to helping edit his sermons for the Jonathan Edwards Center at YDS. 
"To date I have worked on editing more than 200 of Edwards' sermons. I love working with the manuscripts, and spending time daily 'with' Edwards, considering and savoring the content of the sermons," Woods said. 
Both Smuda and Woods plan to attend this year's iteration of the Jonathan Edwards summer study course at YDS. "Jonathan Edwards on the Nature of Sin" will be taught by Minkema and Adriaan Neele, professor of historical theology at Puritan Reformed Theological Seminary. Minkema is looking forward to seeing the regulars again in-person.
"We keep in touch throughout the year. Most are non-Yalies, who come to get a taste of New Haven and academic life," he said.
Emily Judd is a second-year M.A.R. student who has reported for the Associated Press and other news organizations. She plans to pursue a career in religion journalism upon graduation.