By Joyce Hollman
Harold "Skip" Masback '94 M.Div. recalls an eye-opening moment when a group of high school seniors told him, "We're dying and there's no one to talk to about it." He listened in shock while they detailed the many ways youth suffer today: suicide, depression, anxiety, eating disorders, substance abuse, gender-identity questions, and so on.
Few adults would be heartless enough to turn a deaf ear to testimony like that. But how many would internalize it and do something about it?
Masback did—so much so that he devoted much of the rest of his career to ministering to youth and training and inspiring many more to do the same.
Newly retired as the founding Director of the Yale Youth Ministry Institute at YDS, Masback can now take stock of three decades of youth ministry leadership work—and take heart in the knowledge that the mission will continue atop the foundation he and others have laid at Yale Divinity School.
'A culture of child abandonment'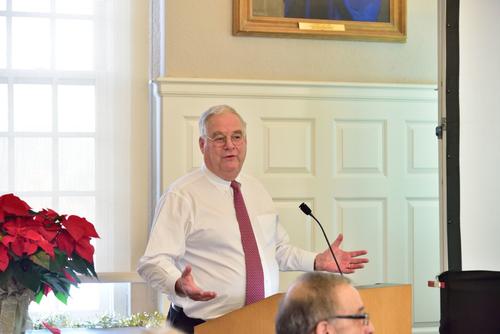 "We think we are the most child-centered culture in history," Masback reflected in a recent interview from his retirement home in Vermont, "and parents do pay for, organize, and support an endless array of activities for their kids. But in truth, many parents have constructed a complicated and costly culture of child abandonment.  So eager to boost their children's prospects of competitive college admission and so unsure of their own abilities or time to teach and coach their kids adequately, parents increasingly subcontract out the tasks of mentoring, teaching, guiding and coaching their kids to professionals. Too often the kid on an Olympic development soccer team learns that their value derives not from being an unconditionally loved child but rather from the number of goals they score or shots they block. As a culture, we have set out a highly contingent performance track for our kids driven by anxious striving to buff up their resumes."
Such issues were far from Masback's mind during a pivotal moment in the early Nineties when he was in the first year of his studies at YDS, where he matriculated following a high-powered career as an attorney. At that juncture, Masback struggled with a more fundamental question: "Am I called to be a minister?"
He'd come to YDS mainly as a searcher, he says, and not necessarily to become a pastor. "I don't have a particularly orthodox faith," he explains. "I'm not that nice a guy. And I don't like committee meetings." Yet something was tugging.
***
'Gospel Epiphany': Read this 2013 profile of Skip Masback
***
Masback shared his quandary with his wife, Amy. She responded, "I don't know exactly how you're going to find answers to your question, but I know it doesn't work by you sitting in your room. You have to go out and do something. Get in the car. Not tomorrow … right now. We're going to the Div School to find you an internship."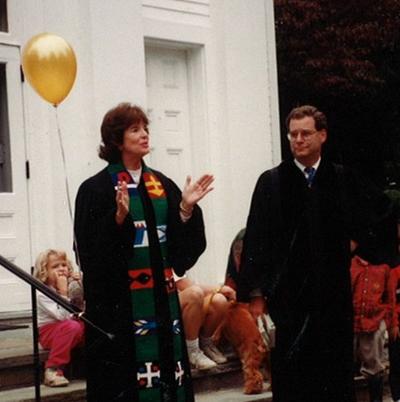 Looking through a folder of possible placements, Masback found only one that seemed remotely suitable. It was a position as youth ministry intern at the First Congregational Church of Guilford, Conn. Despite grave doubts—"I was 40 years old, out of shape, didn't have a beard, didn't play guitar, wasn't cool, and, since I already had children entering adolescence, I knew well enough that teens can be the most terrifying cohort of the species"—Masback took the job.
"In rather short order," he recalls, "I realized youth ministry was the most fulfilling, meaningful, joy-producing, fun thing I'd ever done."
An abiding passion for supporting youth
After finishing his M.Div. and his exhilarating work at the Guilford church, Masback accepted a position as Associate Pastor at the Congregational Church of New Canaan, with responsibility for youth programming. There, he inherited a group of a dozen or so kids who were showing up regularly for meetings of the church's youth group.
Masback's passion and unabashed promotion of youth ministry was infectious, spreading to the church's trustees, deacons, and parents. Buoyed by Masback's leadership and the all-hands-on-deck spirit of the congregation, the church's youth ministry program took off.
The youth group grew to over 200 regularly participating members, and the annual youth group mission trips ballooned to over 170 participants. In addition to the Sunday night youth group, kids joined a Thursday night spiritual exercises group and a Tuesday night Bible study group. Over the years, the church added separate youth groups for 7th and 8th graders, 5th and 6th graders, 3rd and 4th graders, and 1st and 2nd graders. Unsurprisingly, as the number of participants in the youth ministry and alumni missions grew past 700, the church grew as well, from 1175 members in 1994 to over 1900 members in 2013.
***
"Twin Calamities': Read Skip Masback's Reflections magazine article on youth in the church
***
Masback went on to become the church's senior minister. But over the many years that followed, he never stopped focusing on the youth and appreciating the vitalizing force they brought to the congregation.
"I've learned what I think are three fundamental truths about youth ministry," Masback says. "First, youth are blessed with beautiful gifts and capacities for love, acceptance, openness, curiosity, and service. They are not the 'future' of the church; they are indispensable gifts to the 'present' of the church. Second, we are living in a time when adolescents are coping with exceptionally painful sources of suffering. It is a very hard time to be an adolescent in America. Finally, gathering young people into 'beloved communities' where they experience the multi-generational care and support of a Christian congregation can be a powerful foundation for flourishing, joyful lives and a resilient buffer against what YDS Professor Miroslav Volf has called our maladaptive culture."
Youth ministry at YDS
Although less dramatic than the turn that took him from lawyer to divinity student, Masback's path veered again in 2013 when he left the church in New Canaan to become Managing Director of Volf's Center for Faith and Culture at YDS. "I had served on the Center's board since 2007," Masback explains, "and our board was convinced that Miroslav and the Center were poised to make an extraordinary contribution to the development of a theology of human flourishing. We just needed to give him the managerial support he deserved. Moreover, Miroslav's commitment to Christian formation meant there was potential for a collaborating program in youth ministry that could develop resources to support thousands of congregations around the country and around the world."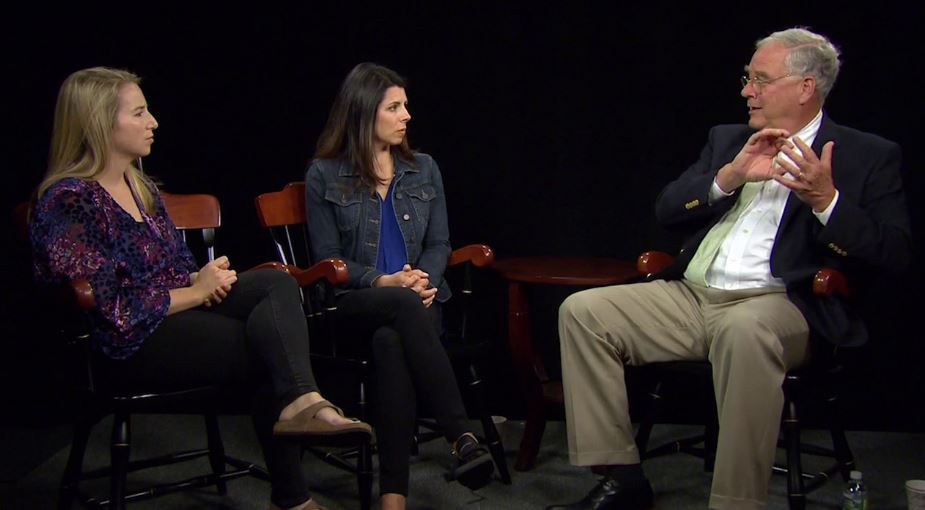 In addition to managing the Center alongside Volf, Masback began bringing in theologians and practitioners to deliver monthly youth ministry lectures. The decision to film and broadcast the lectures and record interviews with the speakers proved astute. As news about the lectures spread, they not only attracted hundreds of area pastors and church volunteers to attend in person—some from as far away as New Jersey and Massachusetts—but they reached hundreds, then thousands, of people around the country and world who were doing youth ministry work.
The program's YouTube collection grew rapidly, to the point where it now contains more than 70 lectures and over 890 short interview clips, all available for free to the public via the YDS website and seven different national Facebook pages in five different languages.
As Masback and his team monitored their impact, they were struck by some crucial facts about their growing audience. For one, it was diverse, encompassing large numbers of pastors and lay leaders of color as well as an eclectic mix of professions and vocations ranging from Buddhist monks and Catholic sisters to non-profit managers. The audience was decidedly urban. And it was extremely international. By the second year of the youth ministry program, it was reaching youth ministers and volunteers in 60 countries (a number that has since grown to 110).
Among those following the program's progress was YDS Dean Greg Sterling. "The youth ministry program was quickly becoming the single most effective outreach that YDS had had in years," Sterling said in a recent interview. "It was bringing in more local pastors and youth workers to YDS than we'd been able to attract through other means. The international reach was truly astonishing."
Surveys revealed that over 80 percent of the audience for the lectures and videos were lay volunteers who had never gone, and were never going to go, to seminary.
That, in particular, was an "aha" moment for Masback. "Our survey results supplied both a diagnostic of who is really doing the work of youth ministry today and a prescriptive of where the field will go and needs to go in the future." Masback says. "Fewer and fewer churches are able to allocate a budget for a separate associate minister to do youth ministry, and fewer and fewer seminary students will commit to preparing themselves for the dwindling number of jobs that exist."
He realized it was lay leaders who stood to benefit the most from the Divinity School's youth ministry program, and that practical training was what they needed most. He and his team gradually began to shift the programming from theory to praxis, offering an increasing number of lectures that focused on the "nuts and bolts" of youth ministry: how to discern a ministry's vision, lead worship, teach the Bible, raise money, and reach out to the congregation, among other practical and vital projects.
Yale's Youth Ministry Institute: an enduring vision
Recognizing the success of the program and its resonance with the Divinity School's mission of service to church and world—and knowing that Masback's retirement was imminent—Sterling saw the need to institutionalize what was happening to ensure its longevity. What had been operating as a youth ministry initiative under the auspices of YCFC was formalized as a distinct program at YDS and elevated in status to become the Yale Youth Ministry Institute. Individual donors, foundations and churches passionate about youth ministry have generously supported this expansion of reach and impact.
Since that change in 2016, the Youth Ministry Institute's list of accomplishments has only grown: In addition to its monthly lectures, it has steadily expanded a weeklong summer symposium running alongside the Divinity School's Summer Study program, attracting about 140 participants each year from across the United States. The Institute's international Facebook pages are now serving youth ministers and volunteers in Africa and countries including Korea, Poland, and Jamaica, with the content translated into the native languages.
The Institute has given scholarships of between $4,000 and $8,000 to over 40 YDS students for special programs in youth work. And it has sponsored Oasis, a vibrant interdenominational youth group bringing together New Haven-area churches that do not have enough young people for their own individual youth groups.
Collaborating with YCFC on a multi-million dollar grant from the John Templeton Foundation, YMI has supported the development and publication of over 50 essays and monographs by YDS professors and scholars from around the world, and it has developed companion curricular materials in English and Spanish that are currently being piloted with partners at Austin Presbyterian Theological Seminary.
It's taken many hands to advance the YDS-based youth ministry work to this point. But to YCFC Founding Director Volf, it all stems from Masback's vision and energy. "I know of no person," Volf says, "who has worked with as much passion, imagination, and insight as Skip Masback on the contribution Christian faith and practices have to make to adolescent flourishing and youth ministry."
Looking back, looking ahead
As he adjusts to retirement, Masback is embracing the new opportunities for rest and reflection and volunteering at his local church. He looks forward to continuing to participate in the ongoing work at YDS and elsewhere to nurture the faith and flourishing of adolescents.
"When the church ministers to its youth with passion, commitment, and professionalism, it provides the nurture they require for human flourishing and reaps the fruits of their regenerative energies," Masback says. "When we do not—because we've set other priorities, or don't mobilize the resources, or undervalue the importance of these ministries—we set a stumbling block before our children. As we have seen, the consequences of this neglect are calamitous for both the churches and the children that we know and love."
"I've been fortunate to have had wonderful opportunities in life," Masback says, "but surely the vocational 'gold ring' is the opportunity to serve where, as Frederick Buechner famously put it, 'your deep gladness and the world's deep hunger meet.' I've been blessed to discover that vocation in youth ministry, and grateful that YDS has given me a path to pursue that passion."