Yale Divinity School's Reflections took top honors as Best in Class for a journal and received the Award for Excellence for its 2017 "God and Money" issue, both awarded by Associated Church Press last month.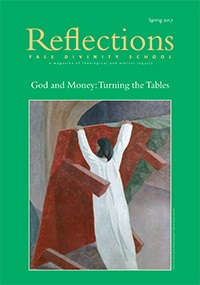 Reflections was cited for overall excellence in the journal category for its two 2017 issues, "God and Money: Turning the Tables" (Spring 2017) and "Reformation: Writing the Next Chapter" (Fall 2017). The Spring issue won first place for writing and reporting on a particular
theme.
Bob Massie '82 M.Div. received Honorable Mention for a Theological or Scholarly Article. His essay, "Simplicity, Balance, Wisdom, Generosity: A New Economy," ran in the Spring 2017 issue.
The ACP awards, covering more than 100 categories, were announced April 20 at its annual banquet in Chicago. ACP is the oldest interdenominational religious press association in North America. 
Reflections is produced twice a year by YDS and mailed to some 17,000 subscribers. The publisher is YDS Dean Gregory E. Sterling. Focusing on one theme per issue, the magazine features essays, interviews, poetry and artwork in an effort to provide theological dimensions to current debates and extend the YDS mission of serving church and world.
The Spring 2018 issue, "Let's Talk: Confronting Our Divisions," was released last month. 
In the Spring 2017 issue, editor Ray Waddle wrote: "Preparing this Reflections issue on 'God and Money,' I've learned from each contributor that it takes tough-minded analysis but also heart and resolve and gospel truth to write about this big thing called the economy. These writers take seriously the world-bending lines from the Lord's Prayer: 'Your kingdom come, your will be done, on earth as it is in heaven.'"