Artist's statement
By Julia Rooney '18 M.F.A.
I first visited the Brancacci Chapel in 2009 during a summer research fellowship in Italy. The chapel, located in the Church of Santa Maria del Carmine in Florence, is an intimate space, accommodating only a few people at once. Perhaps because of this, it is possible to experience the fresco cycle up-close and unhurriedly. Paintings by Masolino, Massacio, and Filippino Lippi line the walls, depicting stories of Saint Peter. Having studied these works in textbooks, I was familiar with the imagery but unaware of their material reality: their intensity of color, surface texture, and scale. Standing in the Chapel, one simultaneously experiences them as illusionistic painting-spaces, and as a continuation of the real architectural space. How these artists managed to achieve this complete and complex fusion of imagined/real, image/space has had a lasting influence on me as an artist.
I returned to the Chapel last summer for the first time since 2009, again on a research trip. Now having a smart phone, I took video footage of the space, interested in capturing it "three-dimensionally," as much as possible—as a moving body and from multiple angles. The Expulsion of Adam and Eve captivated me most, both for its content and its irregular format as a narrow, vertical painting, similar to a column or a door except many feet off the ground. The face of Eve was particularly compelling to me—her expression becoming increasingly distorted as I moved closer towards it (due to its height, and the resulting foreshortening). While her expression was meant to show pain, I saw it equally suggestive of ecstasy—or in short, an outpouring of emotion.
Eve Alone, then, is a meditation on the multivalence of Eve. I focused on only her face to consider how its expression may be variously interpreted—not in comparison to another person or a context, but rather in relation to her own self. Masaccio painted Eve in his (and society's) vision of her, but I wonder what would Eve's self-portrait look like? Staying true to the fresco tradition, I painted Eve Alone on plaster which I poured into a double-sided frame and let harden. The translucent fabric stretched over it mutes the image and softens the otherwise hard surface.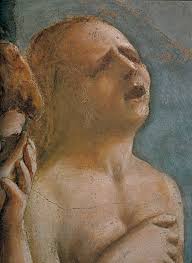 Installed in the Old Common Room at Yale Divinity School, Eve Alone is framed by Portalscreen, another double-sided structure that combines painting with architecture. The screen is made from roofing felt cut into tiles and covered with plaster and house paint. The tiles are stitched together, and embedded with translucent Depression glass, which I inherited from my grandmother, who lived through the Depression. I chose these materials for their associations with home—construction materials used to physically build a space, and domestic materials/processes used when inhabiting it. Depending on how it is installed, the piece may be looked at or looked through, experienced frontally or from both sides. If hung centrally within a room, it may serve as a dividing structure, similar to Anni Albers' hanging textiles. If hung before a wall, it may be considered closer to painting. In designing the pattern of cut-out and opaque forms, I was influenced by a range of architectural traditions, including Jali screens produced in India, rood screens and choir screens seen in many Medieval churches, lancet windows common in Gothic architecture and the rich tradition of byōbu, Japanese folding screens. Depending on the lighting, it may cast shadows onto the floor, or be in shadow itself if lit from the back. When not installed, it may fold up like an accordion, taking up little space. It is, like Eve, a multivalent form.
For more on Julia Rooney and her art, visit www.juliarooneystudio.com.