By Paul Massari, Harvard University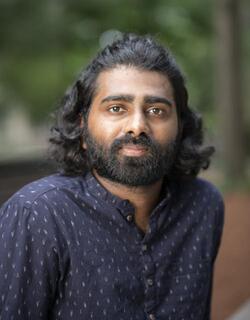 Akhil Thomas held his pregnant mother's hand as they took shelter from a fierce monsoon. They stood under the tin roof of a cobbler's shop, two Indian Christians in the overwhelmingly Hindu megacity of Delhi. After a time, Thomas's mother turned to her four-year-old son and asked an unexpected question.
"She said, 'You are going to have a brother soon, what would you like to call him? Think of a good name, but it can't be a Christian name,'" Thomas remembers. "As it was in some other communities, having a traditional Hindu name was a way for non-Hindus to hide. So, my parents named my brother Nikhil."
Today, Thomas seeks not to hide but to reveal. As a PhD student in religion at Harvard's Graduate School of Arts and Sciences, he studies Hinduism and Christianity, illuminating the influence the traditions have had on each other in his home country in order to expand our understanding of both. In so doing, he hopes to help improve interfaith dialogue in an age of religious nationalism and polarization.
Read the rest of the story at the Harvard Graduate School of Arts and Sciences.