By Kim A. Lawton
In 2018, McKenzie Flowers Fergus '18 M.Div. was working in the Yale Medical School Library when she "stumbled upon" an article describing the suffering of Ghana's mentally ill population. The report, co-authored by Yale Professor of Psychiatry Robert Rosenheck, detailed how thousands of mentally ill men, women, and children are confined in Christian prayer camp sanitariums and chained to inanimate objects such as trees and walls, often forced to fast, pray, and participate in other faith-healing practices. The study found that even when prayer camp residents were given medications as part of a clinical trial, it did not reduce the amount of time they spent in chains.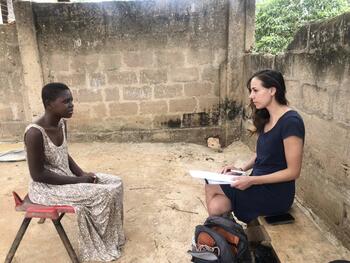 As a divinity student, Fergus was determined to learn more. "I realized that these people who are in chains, and the staff as well, are looking at this issue through a religious angle," Fergus said in a recent Zoom interview. "Yet there are no studies in the religious studies field on this topic."
Today, Fergus is living in Accra, Ghana, researching the country's mental healthcare landscape. She is leading a quantitative and qualitative project for the nonprofit BasicNeeds-Ghana, while simultaneously gathering research data for her Ph.D. thesis at the University of Edinburgh.
Working with BasicNeeds, Fergus and her research team are assessing the socio-economic impact of the COVID pandemic on the mentally ill population. She is in the process of interviewing 200 discharged patients from a prayer camp sanitarium and conducting focus groups in local communities.
The aim, she says, is to help BasicNeeds-Ghana improve its sustainable development programs while advancing funding opportunities, specifically from U.K. sources. She hopes her work will help raise awareness about the plight of the country's mentally ill population and ultimately lead to human rights improvements.
"I'm trying to engage with the people and understand the problem from their perspective," she said.
Atua Anaba, BasicNeeds-Ghana project officer, calls Fergus' study the first of its kind. "I'm optimistic that this research study will be used to draw attention to the severe and unforeseen socioeconomic issues the mentally ill face during the pandemic," Anaba said. "Those suffering mental illness are often forgotten during times of crisis; yet, they especially experience challenges. BasicNeeds-Ghana will use this qualitative and quantitative data to better discern how to address new financial challenges by improving sustainable development programming. This research will be used to promote advocacy issues and help further funding opportunities." 
Few resources for the mentally ill
Ghana and other Western African nations have come under intense international criticism for their treatment of the mentally ill. People with mental disabilities are often stigmatized and ostracized while receiving few resources. Ghana, a nation of 31 million people, has only about 20 practicing psychiatrists and three public psychiatric hospitals, according to international estimates.
Many in the region are convinced that mental illness is caused by evil spirits or demons and must therefore be treated by spiritual means. "Many believe that daily life is determined by the persistent fighting of angels and demons," Fergus said.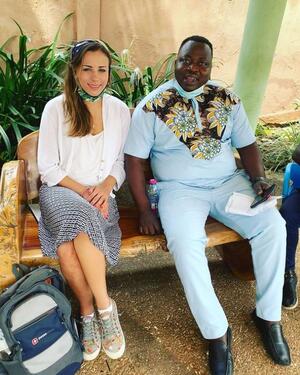 People with mental disabilities are frequently committed—sometimes voluntarily—to faith-based sanitariums, known as prayer camps, where Christian and other traditional healing methods are employed. Many of the camps are part of neo-Pentecostal worship centers. The most severely ill may be chained to inanimate objects until they are considered "fully healed." The camps are run by local religious leaders, often called "prophets," and are not regulated by the government. According to the World Health Organization, the vast majority of Ghanaians support prayer camps as a method to address mental illness.
In a landmark 2012 report, Human Rights Watch documented what it called "severe abuses" in multiple prayer camps. "Nearly all residents were chained by their ankles to trees in open compounds," the report stated. "As part of the 'healing process,' people with mental disabilities in these camps—including children under age 10—are routinely forced to fast for weeks, usually starting with 36 hours of so-called dry-fasting, denied even water."
In 2012, Ghana adopted Mental Health Act 846, which prohibits the use of shackles and other involuntary treatment methods for the mentally ill. A decade later, the law is still not fully enforced. Ghanaian civil and political leaders have asked for assistance from outsiders to help improve the mental healthcare conditions in their country. However, according to Fergus, "Many Western researchers and public health professionals have approached the issue without fully understanding Ghana's religious and cultural context."
Theology on a practical level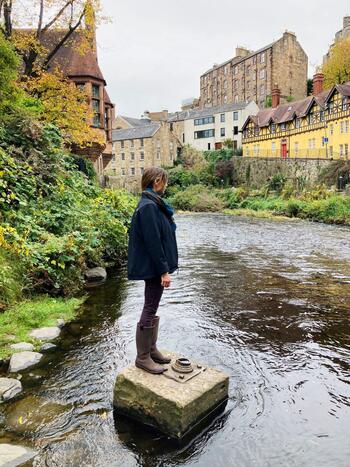 For Fergus, the issue brings together interests in religious studies, anthropology, and public health. She grew up in Abilene, Texas, where her family attended a United Methodist Church. "Religion was always very present in my life," she said, adding that her parents encouraged her curiosity about the world around her and urged her to "pursue questions."
Fergus ultimately decided to take an academic path that would allow her to "apply theology on a practical level." She attended Yale Divinity School from 2015 to 2018, participating in interfaith activities at Yale and, in her senior year, captaining the Yale Graduate Rugby Club.
After she read the 2018 article about  prayer camps, Fergus began discussing the influence of neo-Pentecostal theology with Kenneth Minkema, Director of the Jonathan Edwards Center at YDS. He helped her set up an independent study focused on prayer camps and the view of the supernatural in that part of Africa.
Minkema said he was "incredibly impressed" when Fergus first broached the subject with him. "She wanted to give herself a historical perspective on the work for which she was preparing herself," he said in a recent email.
She also connected with Rosenheck, who provided her with additional contacts and background about his work. Rosenheck described Fergus' work as "deeply felt."
Through the eyes of Ghanaians
Fergus is documenting the complex religious underpinnings of the prayer camps and attempting to understand them with cultural humility. She said they rely on "deliverance theology," the idea of releasing the demonic from one's body, and also with "prosperity gospel theology," which teaches that once the demonic is released, people will be able to achieve health, financial gain, and upward mobility. She said the situation is further complicated by the lingering impact of Western colonization.
"I think we need to look at the root cause of the problem and see it through the perspective of a Ghanaian and not from a Westerner's viewpoint," she said, acknowledging that people there "conceive of faith healing and prayer camps as sacred places." She described her work as "interpreting the problem for outsiders."
Because of all the international criticism, many prayer camps no longer allow reporters and researchers to visit. Fergus has been granted some access because of her relationship with BasicNeeds, but she is not allowed to take photographs inside the prayer camp and declines to describe the conditions in detail.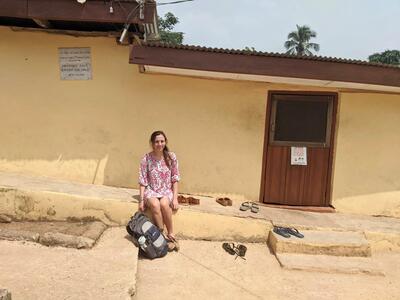 Although she is generally not a social media fan, Fergus has created an Instagram account, , to help draw attention to the situation. In Ghana, people are usually called by their middle names, so Fergus is locally known as "Flowers."
Fergus hopes her work will lead to a better understanding of the complex struggles of Ghana's vulnerable mentally ill population. She said she would like to see the creation of a different model of faith-healing and psychiatric care—"a whole new frontier" in the country's approach to mental health and healing.
"I think McKenzie's approach is very much from the perspective of Christian ethics, that is, treating the mentally ill and disabled with dignity," Minkema said. "She is clearly willing to spend and to be spent in the service of others."
Rosenheck believes Fergus already has made a difference. "Any information on conditions in prayer camps will be helpful because in the absence of such information, people with serious mental illness in West Africa are at great risk of being forgotten and neglected," he said.
Kim Lawton is an award-winning reporter, producer, and writer who has worked in broadcast, print and online media. Lawton is also a Journalist Fellow with the University of Southern California's Center For Religion and Civic Culture. For nearly 20 years, Lawton was Managing Editor and Correspondent for the highly acclaimed national public television program "Religion & Ethics NewsWeekly."