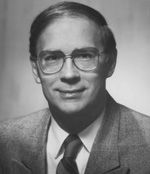 Richard J. Wood '65 Ph.D., who led YDS as dean from 1996 to 2000 before going on to serve as president of the United Board for Christian Higher Education in Asia and, subsequently, the Japan Society, died on August 1 at the age of 78.
Harry Attridge, Sterling Professor of Divinity and former dean, credits Wood with successfully leading YDS through a challenging time. Wood, who had been president of Earlham College before coming to YDS, was a forceful advocate for the school during debates about renovation of Sterling Divinity Quadrangle and oversaw the process to redesign the quad.
All the while, Wood maintained and strengthened the faculty, recruiting professors including Miroslav Volf, John and Adela Collins, Judy Gundry, and Attridge himself.
"His positive and optimistic attitude about the future of YDS no doubt played a major role in bringing new colleagues aboard," Attridge said. "Dick's experience with Japan helped the school to maintain an international vision while it was so focused on the restoration of the physical plant.  Some of his hopes for more international involvement have been realized in recent years, although we are still in the process of realizing a global vision."
After leaving YDS to pursue his interests in Asian education and culture, Wood maintained close ties to YDS and "continued his enthusiastic support for the school and its mission," Attridge said. "All of us who were here during his tenure remember with gratitude Dick's dedicated service to YDS, and we shall remember him fondly."
The Wood Seminar Room at YDS is named in honor of the former dean. In 2010, the government of Japan awarded Wood the Order of the Rising Sun, Gold and Silver Star, for his distinguished achievements. Bestowed in the name of the Emperor, the Order is the Japanese equivalent of knighthood.
YDS Dean Greg Sterling expressed appreciation for Wood's leadership of the school during "a very difficult and turbulent period in the history of YDS" and for the personal support and kindness Wood extended after Sterling became dean.
"I am grateful for his willingness to serve the school and his personal thoughtfulness towards me," Sterling said. "Our thoughts and prayers are for his wife, Judy, and his family."
A memorial service will be announced at a later date. Memorial donations in Wood's memory may be made to the following organizations and educational institutions:
The Richard J. Wood Student Community Commitment Award of the Indiana Campus Compact
American Friends Service Committee
Earlham College
Earlham School of Religion
Yale Divinity School
Whittier College
For more information on Richard Wood's career and contributions, see these articles:
Former Earlham president dies - Richmond, Ind., Pal-Item
Richard Wood - New York Times classified obituaries
Former president Richard J. Wood dies at 78 - Earlham College