May 3, 2023
Yale Divinity School Dean Greg Sterling made the following announcement today.
——
It is my sad duty to inform you that Gene Outka '62 B.D., Dwight Professor Emeritus of Philosophy and Christian Ethics, died Monday at the age of 86. He had not been well for several years but took a turn for the worse about a month ago.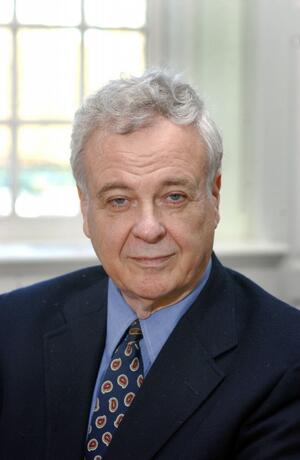 Born in Sioux Falls, South Dakota, Gene attended the University of Redlands, receiving his B.A. in 1959, before matriculating at YDS, where he earned his B.D. in 1962. He continued his studies at Yale, earning an M.A. and then his Ph.D. in 1967. His undergraduate alma mater awarded him an honorary Doctor of Humane Letters degree in 1978. 
Gene's career included appointments in two universities. He initially served in the Department of Religion at Princeton University for 10 years before joining the Yale faculty in 1975, first as Associate Professor from 1975 to 1981 and then as full Professor from 1981 until his retirement in 2011. Gene had a joint appointment in the Divinity School and in Religious Studies.
Gene's impact on his field of ethics was significant. His best-known book, Agape: An Ethical Analysis (Yale, 1972), was acclaimed for its exceptional rigor and insight. Translated into Japanese and Korean and going through multiple printings, the book was a comprehensive account of the love commandment. The Humanities Association Review called it "probably the very best available book about contemporary Christian ethical theory." For those of us of a certain vintage, it was a must-read while we were graduate students. He also published The Ethics of Love and the Problem of Abortion, based on his James C. Spaulding Memorial Lecture. 
Gene co-edited and contributed to numerous other books as well. Among them were Norm and Context in Christian Ethics (with Paul Ramsey); Religion and Morality; and Prospects for a Common Morality (the latter two with John P. Reeder, Jr.). He also published a significant number of scholarly articles in journals such as the Journal of Religious Ethics, Religious Studies Review, Journal of Religion, Kennedy Institute of Ethics Journal, and the Journal of the Society of Christian Ethics as well as in encyclopedias and essay collections. Active in retirement, he was a contributor to the volume The Theological Anthropology of David Kelsey: Responses to Eccentric Existence, published in 2016. His standing in the field is evident from his election as President of the Society of Christian Ethics in 2001.
  
Besides his work as a scholar, Gene also took his turn as an administrative leader. He served as chair of the Department of Religious Studies from 1992 to 1995 and was very active in the New Haven Theological Group, even in retirement. I met Gene and interacted with him personally through this group for whom he often arranged social hours. 
Perhaps his most enduring contribution to YDS was his leadership in the movement to save the Quad in the 1990s. With the greater YDS community rallying to stave off the threat of YDS being moved downtown, Gene spoke for many when he published a letter in the New York Times calling on the university administration to restore rather than raze Sterling Divinity Quadrangle. "The university as a whole bears responsibility for the policy of deferred maintenance," Gene wrote in his Times letter, "and preservation of the quadrangle for its intended use is a compelling obligation Yale should honor."  
Gene is survived by his wife, Ann Crites Outka '88 M.Div., and his children, Paul Harold Outka, Elizabeth Noelle Outka, and Jacqueline Outka. This has been a particularly hard year for Paul and Elizabeth, who have now lost both their father and their mother (their mother was Carole DeVore, who died in December). 
The family plans a private interment but will hold a memorial service here at YDS in the fall. We will inform you when more details become available.
Please keep Ann and the Outka family in your prayers. I am sure that Ann would appreciate a note. You can send one to her at 281 Beaver Brook Road, Lyme, CT, 06371.
We will long remember Gene for his scholarship, leadership, and friendship. I am grateful to have gotten to know the author of Agape and to have formed a friendship with someone who did so much for YDS.
Best wishes,
Greg Sterling