The newest and most significant honor society of YDS supporters, the Mary Goodman Circle has galvanized giving to the Divinity School while lifting up the remarkable story of Mary Goodman, the New Haven laundress who became the first person of color to donate to Yale.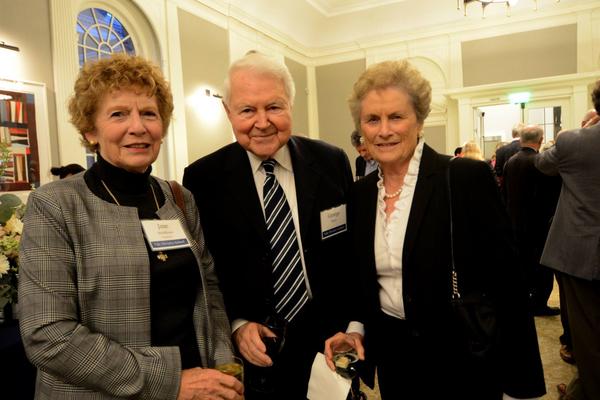 At the fall dinner of the Dean's Advisory Council, YDS hosted the second-annual Goodman Circle installation. During the event in the Divinity School's Old Refectory on October 15, YDS honored several dozen new Circle members and existing members who have now qualified for higher recognition levels.
"YDS extends our deepest appreciation to those who honor the Mary Goodman legacy and support students today by giving so generously," said James Hackney '79 M.A.R., Senior Director of Development. "By supporting these students, donors develop future leaders for church and society and thus make a very real difference in the world."
The highest Goodman Circle level recognizes those who have given $1 million or more in their lifetimes. At this year's installation, YDS recognized George and Carol Bauer—previous Circle members whose giving has now exceeded the million-dollar mark.
***
RELATED STORY: Read more about how George and Carol Bauer have supported planning for the YDS Living Village project.
***
Also recognized were Mr. and Mrs. David Hyduke, newcomers to both the top giving level and the Circle itself for leadership giving to Berkeley Divinity School.
The next giving level—those whose commitments total $500,000 to $999,999—includes two previous Circle members who have changed levels. They are Anne E. Engen and Jean M. Wood '64 M.A.R. That group also includes a new member of the Circle: John Y. Campbell '80 M.A., '84 Ph.D., who made a leadership gift to Andover Newton Seminary at YDS.
***
RELATED CONTENT: View photos from the 2018 Mary Goodman Circle installation.
***
Between now and the Divinity School's 200th anniversary in 2022, all individual donors whose cumulative giving reaches $50,000 or more are recognized as charter members in the Mary Goodman Circle. This includes giving to the following YDS Partners on the Quad:
Andover Newton Seminary at YDS
Berkeley Divinity School at YDS
Jonathan Edwards Center
Yale Center for Faith and Culture
Yale Youth Ministry Institute
For more information concerning membership in the Mary Goodman Circle, contact Jim Hackney at james.hackney@yale.edu.