The installation of Gregory E. Sterling as dean of Yale Divinity School will take place on Tuesday, Oct. 23, 4 pm, but there will be other opportunities during the course of Convocation and Reunions 2012 for alumni to meet and greet the new dean, both formally and informally.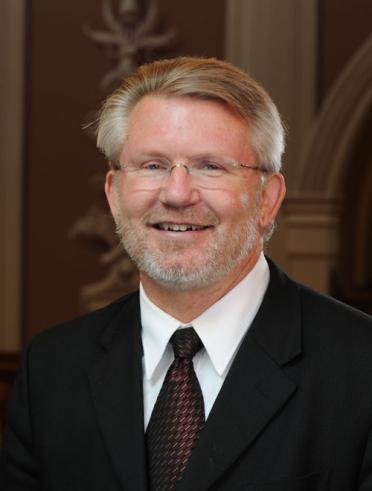 The installation will include an academic procession and worship service in Marquand Chapel, followed by a reception in the Old Refectory. The next day, Oct. 24, Sterling will attend the Class of 1962 50th Reunion luncheon in the Common Room.  And on Oct. 25 he will deliver the annual State of the School address at the Annual General Meeting of Alumni in Marquand Chapel. Immediately following he will host a leadership reception at the dean's residence for past and present YDS Board members, class agents, and class secretaries.
Sterling officially took office on Aug. 1.  Like his predecessor, Harold Attridge, he is a New Testament scholar and, like Attridge, comes to YDS following time at Notre Dame, where he served for more than two decades, most recently as dean of the Graduate School and professor of theology.
In addition to being The Reverend Henry L. Slack Dean of Yale Divinity School, Sterling holds the title of Lillian Claus Professor of New Testament. His scholarly expertise lies in the area of Hellenistic Judaism, and he has concentrated his research on the writings of Philo of Alexandria, Josephus, and Luke-Acts, with a focus on the ways in which Second Temple Jews and early Christians interacted with one another and with the Greco-Roman world.
At the University of Notre Dame, Sterling served in several capacities at the College of Arts and Letters before becoming the first dean of the independent Graduate School. He is the author of several books—Coptic Paradigms: A Summary of Sahidic Coptic Morphology; Armenian Paradigms; and Historiography and Self-Definition: Josephos, Luke-Acts, and Apologetic Historiography—and more than fifty-five scholarly articles and essays.
He is general editor for the Philo of Alexandria Commentary Series (E.J. Brill) and coeditor of the Studia Philonica Annual.  He has held numerous leadership positions in the Society of Biblical Literature, the Studiorum Novi Societas, and the Catholic Biblical Association.
Sterling is a minister in the Churches of Christ, a denomination of about 1.6 million that, among other things, has a heritage of ecumenical involvement and is distinctive in its liturgical preference for a capella music in four part harmony over instrumental music.  For 16 of his years at Notre Dame, until 2009, he served as a part-time minister for the Warsaw Church of Christ in Warsaw, IN.
Sterling and his wife, Adrian, together have four grown children. Adrian Sterling has a bachelor's degree in geography and an MBA from Clark University. She has worked in land surveying and at the Graduate School of Assumption College in Worcester, MA.
Sterling earned a Ph.D. in Biblical Studies/New Testament from the Graduate Theological Union; an M.A. in Classics from the University of California, Davis; an M.A. in Religion from Pepperdine University; a B.A. in Christianity and History from Houston Baptist University; and an A.A. in Biblical Studies from Florida College.  He also did post-baccalaureate work in Classics at the University of Houston.
Read more about Greg Sterling and his selection as dean here.