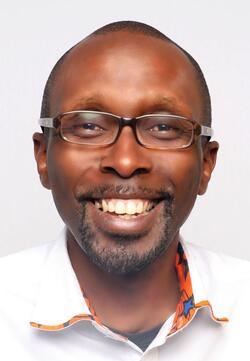 In the new episode of the YDS "Quadcast," Kyama Mugambi discusses how Christianity in Africa is changing the global religious landscape. Mugambi, Assistant Professor of World Christianity at Yale Divinity School, also explains why Christianity in Africa is not a "colonizer" religion and what Christianity has in common with traditional religions on the African continent.
An expert on ecclesial, social, cultural, theological, and epistemological themes within African urban Christianity, Kyama Mugambi joined the YDS faculty in 2022. Prior to that, he was a Senior Researcher and faculty member at the Centre for World Christianity at Africa International University. Dr. Mugambi's 2020 book, A Spirit of Revitalization: Urban Pentecostalism in Kenya, traces the history of Pentecostalism in Kenya and has won praise as a singular contribution to the fields of mission studies, world Christianity, and intercultural theology.
The YDS "Quadcast" series is hosted by Emily Judd '19 M.A.R., who is Senior Communications Specialist at the Higher Committee of Human Fraternity, an international humanitarian organization supported by Pope Francis, the Grand Imam of Al-Azhar, and the leadership of the United Arab Emirates. She previously worked as a journalist in the Middle East.