By Pressley Peters
Over an exceptional life and career, David Dodson '77 B.A., '81 M.Div., '81 M.P.P.M. has lived into his favorite quote from Frederick Buechner: "The place God calls you to is the place where your deep gladness and the world's deep hunger meet."
As former President and now Senior Fellow of MDC, an organization that helps low-wealth communities through education, training, and social mobility, Dodson has helped vulnerable Americans pursue their economic dreams. For these and other efforts he was awarded the William Sloane Coffin '56 Award for Peace and Justice by YDS in 2021.
Recently Dodson established a scholarship in honor of his parents: The Louis & Katherine Dodson Social Justice Scholarship. The scholarship is for students who wish to study and work at the intersection of social justice and faith ministry. In this interview, Dodson answers several questions about his choice to make this planned giving commitment.
What motivated you to honor your parents by establishing the Louis & Katherine Dodson Social Justice Scholarship?
Growing up attending the Washington National Cathedral and singing in the boys' choir meant issues of faith and social engagement were formative for me. I was a young chorister when Martin Luther King Jr. preached for the last Sunday at the cathedral. The next Thursday he was killed. My experiences at the cathedral taught me that faith leaders could challenge and engage people and society to work on justice issues.
Remembering my parents with a scholarship for YDS students is an expression of my thanks to them for involving me in social justice and faith. My parents were dedicated to making Washington, D.C., a better place, especially for children and senior citizens. In the 1960s, and in the '70s when I was at Yale, my father was instrumental in getting church-sponsored elderly housing built. My mom was an elementary school teacher and principal and the first director of Head Start in the inner city. They were drawn to what I was telling them about my experience at Yale and they fell in love with YDS as I did.
It made both of my parents happy that Yale was shaping the broader culture. For example, YDS was pushing for full equality in honoring the gifts of men and women. It was very powerful. I went to an all-boys school and Yale had historically been a men's college, so YDS was a refreshing experience for me in terms of the prominence of exceptional women I encountered as student colleagues and faculty.
How has giving has been joyful to you?
To get something wonderful done is personally rewarding. Giving ought to be joyful. One of my favorite books is The Book of Joy by the Dalai Lama and Archbishop Desmond Tutu. Joy is where I focus my life.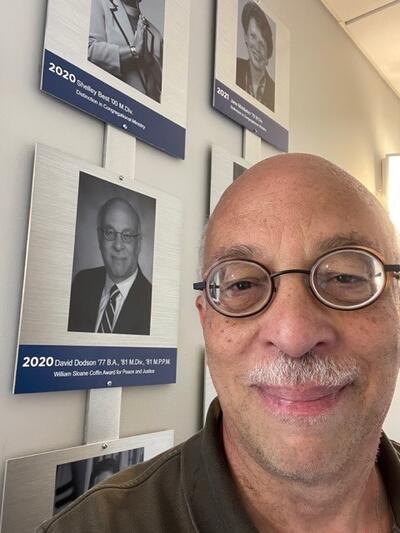 What part of the Divinity School's work today most appeals to you?
The world needs the voice, thoughtful intelligence, and leadership that comes from YDS. The school lives into environmental stewardship as seen concretely in the Living Village campus and into advocacy with William Barber's exciting new Center for Public Theology and Public Policy.
What inspires you about the future of YDS and how its students may impact our world?
I attended Yale School of Management while working on my M.Div. and then went into the corporate world as an ethicist to help navigate moral issues in business as director of corporate responsibility for Cummins Engine Company in Columbus, Ind. Nowhere else could I have prepared for a job like that.
YDS has pushed on the frontiers of cross-disciplinary education for decades. It offers graduate students a host of ways to be immersed within its program and take classes at other Yale schools. YDS continues to stretch itself and grow in new ways.