By Emily Judd '18 M.A.R.
How can one innovate within the Christian faith, a treasure built upon centuries and centuries of tradition? That is the question at the heart of Yale Divinity School's Transformational Leadership program, which brings in faith leaders to help divinity students learn how to cultivate leadership and imagination.
But innovative, imaginative church leaders are also found within the YDS community. Here are three: a student, a staff member/alumnus, and a professor.
Jordan Rebholz, student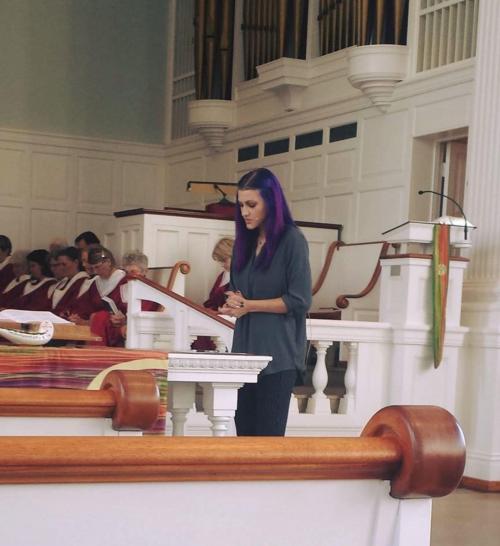 When Jordan Rebholz '18 M.Div. was five years old, someone asked what she wanted to be when she grew up.
"I responded, 'Either Mother Teresa or Cinderella,'" she said.
Now 27, Rebholz is neither Teresa nor Cinderella, but she has discovered her own unique identity and calling. She is seeking ordination in the United Church of Christ while pursuing her education at Yale Divinity School and doing ministry at the Church of the Redeemer in New Haven.
As the church's Minister of Faith Formation, Rebholz directs the adult and children faith formation teams that serve roughly 150 congregants. She oversees the planning of workshops, Bible studies, children's events, and religious education. Her mission is to ensure that the younger generation wants to experience God.
"It's not just Sunday school. It's about helping the children discover a love of Jesus. They get the faith more than adults do, but the church can empower them to speak about God," she said.
At the Church of the Redeemer, Rebholz also preaches, a skill she honed in the YDS course "Principles and Practices of Preaching." In the class taught by Nora Tisdale, Clement-Muehl Professor of Homiletics, students write sermons that are dissected by their peers. Genetics might play a role in her preaching prowess as well. Her father and older brother are both UCC pastors. She calls church ministry "the family business."
"Growing up as a pastor's kid, I got to see what it meant to be a minister from the cradle on," she said. "I saw the good, the bad and the ugly in the church. But I got to see the importance of this line of work."
Before Rebholz started her ministerial position in 2016, she worked as a custodian at a church in Cincinnati, Ohio.
"That job taught me how to see the face of God in other people. You are really serving people when you do that," said Rebholz.
She hopes to continue to serve members of the United Church of Christ in California upon graduation in 2018. 
Herron Gaston, Assistant Director of Admissions & Recruitment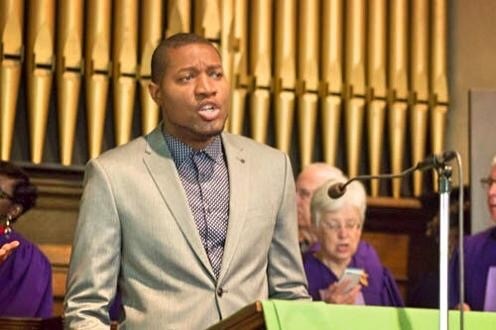 Herron Gaston '14 M.Div. is a church visionary who serves two distinct communities. Gaston works in the YDS Admissions Office, helping prospective students through the admissions process. He also pastors a diverse and socially engaged congregation in Bridgeport, Connecticut.
Originally from Florida, Gaston completed his M.Div. at YDS in 2014 and his S.T.M. in 2015. As he was finishing his divinity education, he responded to the call he felt to serve vulnerable residents of Bridgeport, a city with high rates of homelessness and poverty.
Twenty-eight years old, Gaston is the chief officer of Summerfield United Methodist Church. In this role he preaches every week, conducts mission trips and Bible studies, and manages a childcare center, afterschool program, and food pantry. Gaston credits two YDS courses, "Prophetic Preaching" and "Radical Pedagogy," with giving him the ability and inspiration to carry out these responsibilities with compassion and resourcefulness.
Under Gaston's direction, the Summerfield congregation has grown from 40 to 134 people the past two years. He credits a more welcoming environment and new parish initiatives for the success. Gaston relaxed the dress code, so people of all socioeconomic backgrounds felt welcomed, and he assembled a worship and liturgy team. He started "Dining with the Pastor," a monthly event where small groups of parishioners share a meal with him.
Gaston is not afraid to shake things up in order to ensure the church flourishes internally and out in the community. He stresses the importance of modifying tradition when appropriate and striking a balance between new school and old school.
"Based on my experience in senior church leadership I have found that the seven last words to a dying church are: 'We've never done it this way before,'" said Gaston.
Not all parishioners have accepted the changes proposed by Gaston. He experienced opposition immediately after starting in 2014, a time when the church faced major organizational and financial obstacles.
"I had to make an unpopular decision to remove several key persons from their positions against the advice of one of the senior administrators within the organization. However, the decision that I made to restructure the organization, though unpopular, was in the best interest of the organization," said Gaston.
Gaston, undeterred by the early conflict, continues to pursue and implement what he considers best for Summerfield. His vision and leadership were recently recognized by the City of Bridgeport, which issued a proclamation declaring December 26, 2016, to be "Reverend Herron Keyon Gaston Day." Just weeks later, the city again issued a proclamation in his honor, this time lauding him as a "foot soldier for justice" and for his "limitless advocacy on behalf of those in society whose voices have been rendered mute."
Carolyn Sharp, Professor
Carolyn Sharp experienced a powerful and specific call to priestly ministry during her sophomore year in college. But it would be almost 30 years before Sharp would fulfill this calling and become an ordained priest in the Episcopal Church, in 2012.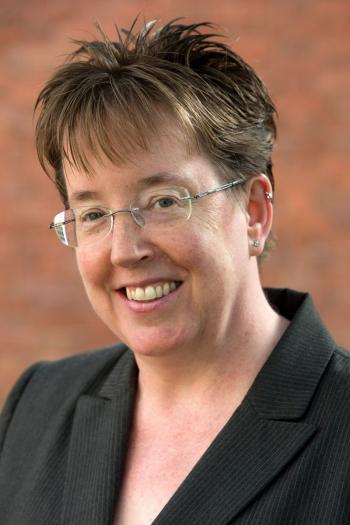 In those intervening years, Sharp discovered another vocation: biblical scholarship. She started teaching at Yale Divinity School in 2000 after completing her Ph.D. in Hebrew Bible/Old Testament at Yale University. Since then, she has published four books and edited six. Professor of Hebrew Scriptures, Sharp has taught over 25 courses, receiving the Fortress Press Teacher of the Year Award for Innovative Teaching at the Graduate Level in 2007. That same year, Sharp felt a renewed call to ministry at a retreat in North Carolina.
"I went back into the process: parish discernment, auditing the Prayer Book course, doing C.P.E. (clinical pastoral education) at Griffin Hospital and a parish internship in New Britain, and taking the General Ordination Exams," Sharp shared. She was ordained deacon in the Episcopal Church in 2011 and priest in 2012.
Sharp currently serves as volunteer Assisting Priest at St. Thomas' Episcopal Church in New Haven, as well as Acting Associate Dean of Academic Affairs at YDS. She sees a clear connection between the two vocations.
"For me, ministry and education are about engaging the insights of gifted and wounded people seeking truth in community. From the vivid prophetic oracles of Micah to the dramatic art of Hieronymus Bosch, from the agony of Job to the anguish of Toni Morrison's Beloved, countless witnesses have testified to the holiness of struggle. I don't think I'd have seen that as clearly without extraordinary privilege of working as a theological educator," explained Sharp.
A true inspiration for students looking to pursue a doctoral degree, ordination, or both, Sharp has two pieces of advice for future faith leaders.
"First, stay present to the staggering beauty of complexity. Cherish the intricacies of every psalm, every theological argument, every family's hesitant steps towards healing. Second: engage centering prayer. Dare to encounter the One who is beneath and beyond the narrative you are continually scripting in your life. What unfolds will astonish you."
Emily Judd is a first-year M.A.R. student and a freelance correspondent for the Associated Press. She plans to pursue a career in religion journalism upon graduation.